Construction of Manayunk Venice Island Facility Named Environmental Project of the Year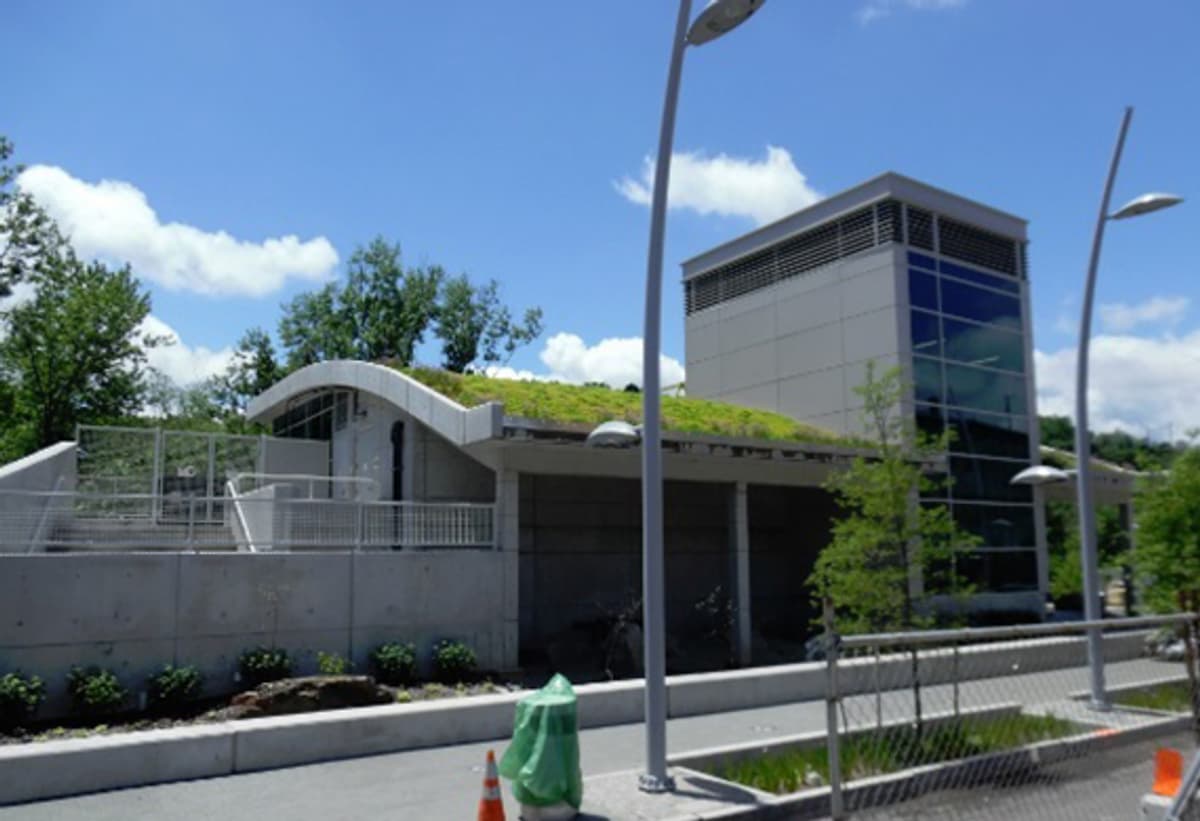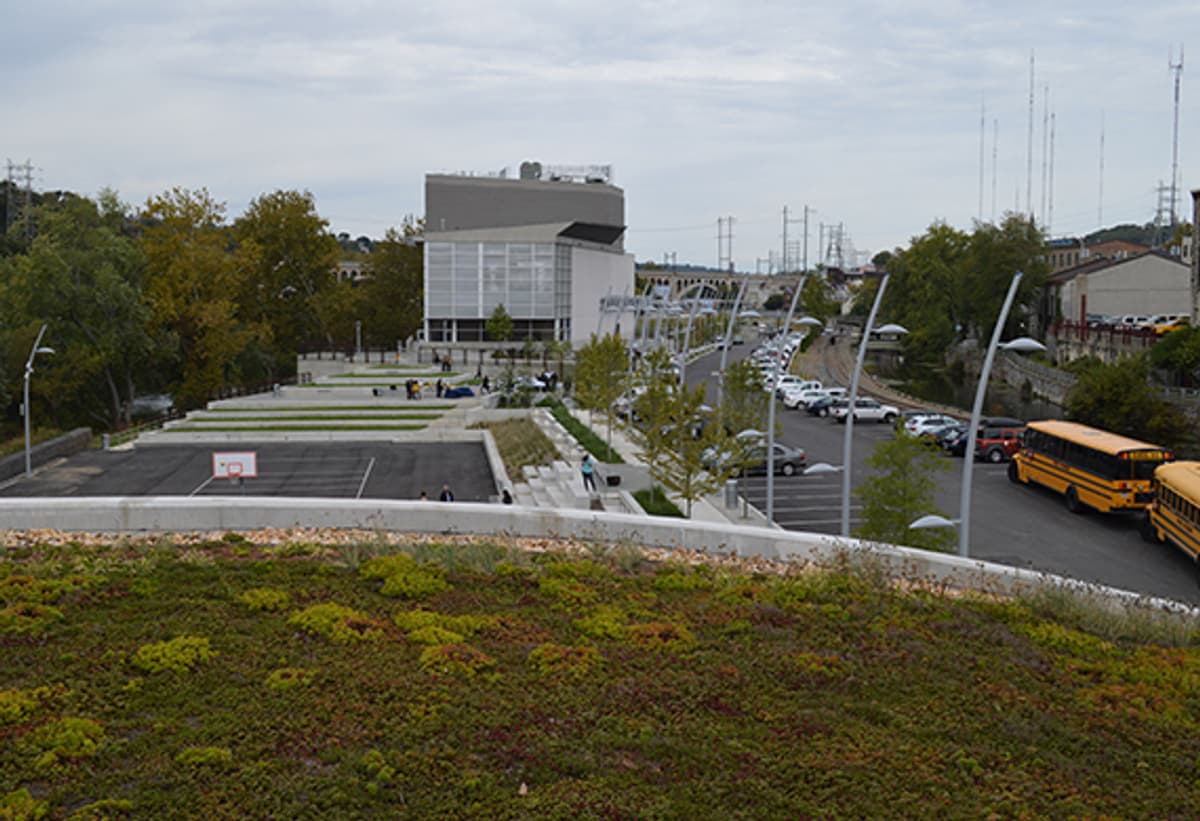 The new facility was built on a compact site between the Schuylkill River and an active railroad and the historic Manayunk Canal and in the vicinity of parkland, a recreational facility, and business district – a sensitive area requiring careful consideration of neighborhood impacts.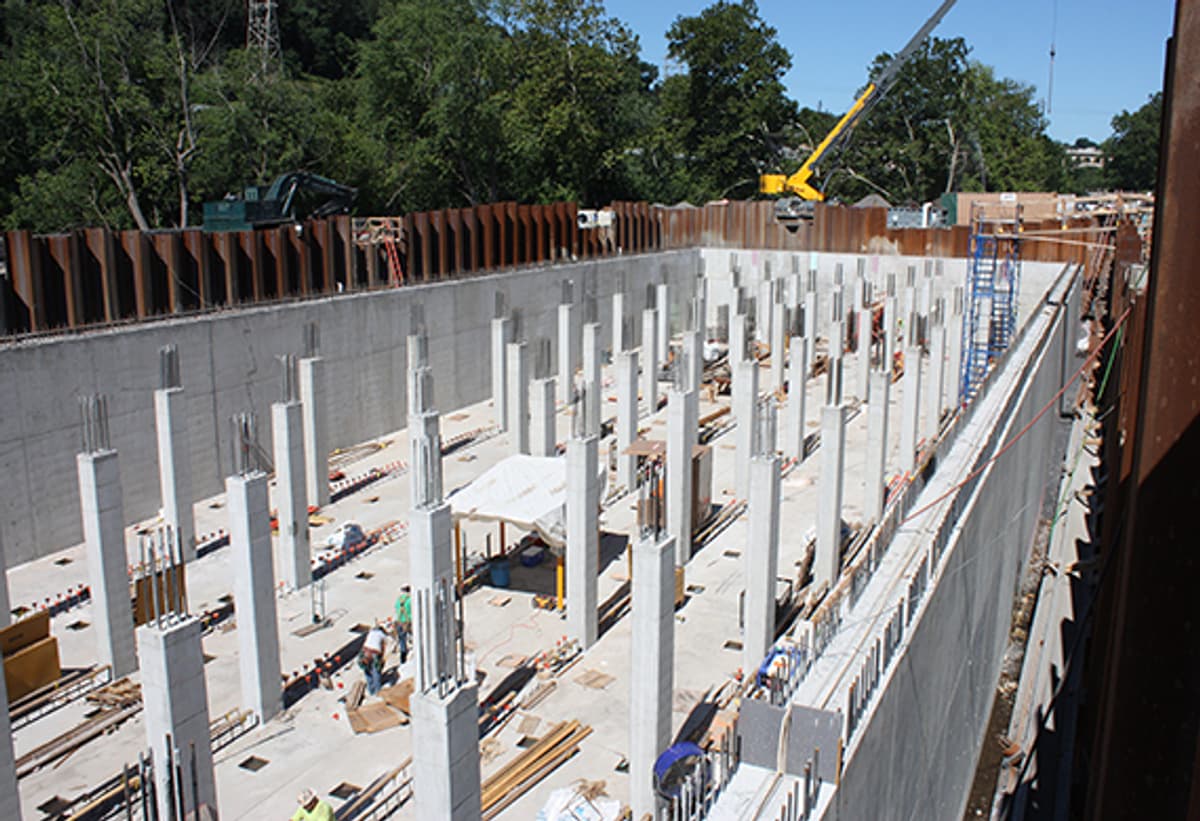 Construction of the undeground sewer basin.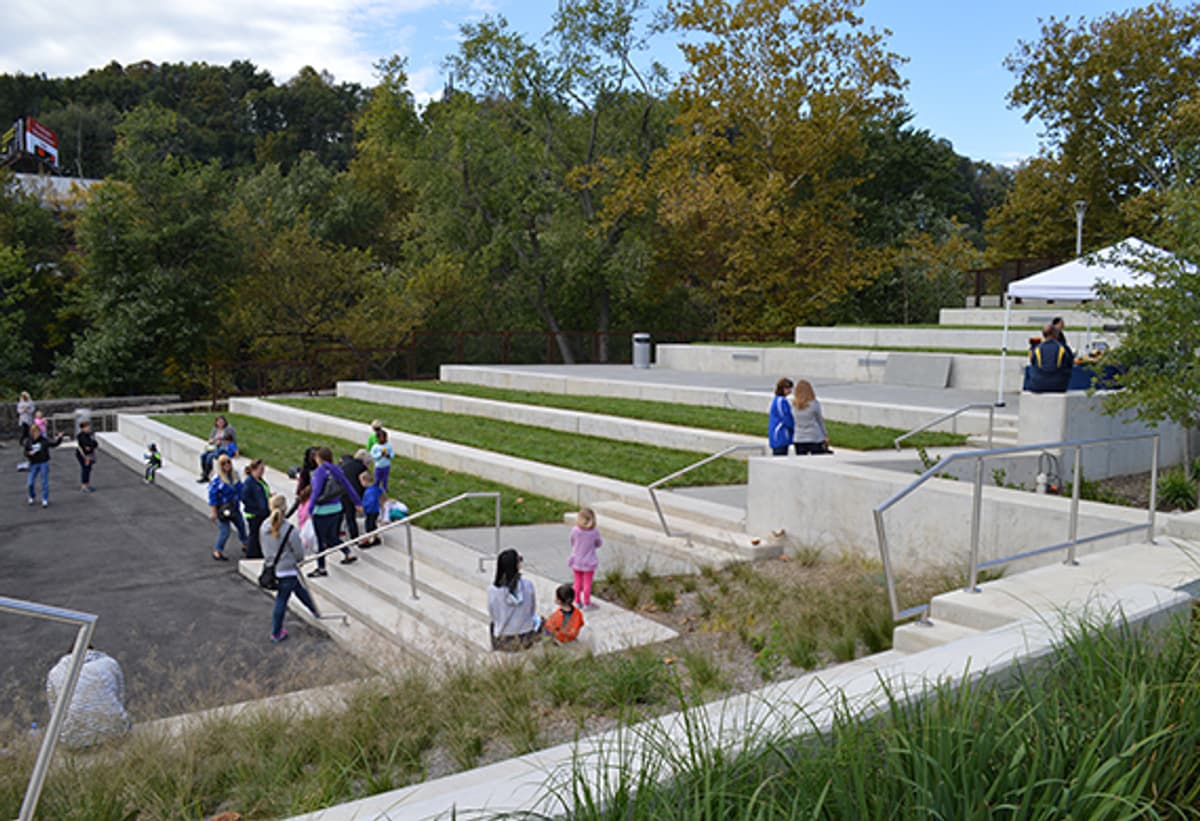 The 4-plus acre site features a public park well-suited for community fairs, markets, or simple relaxation and recreation.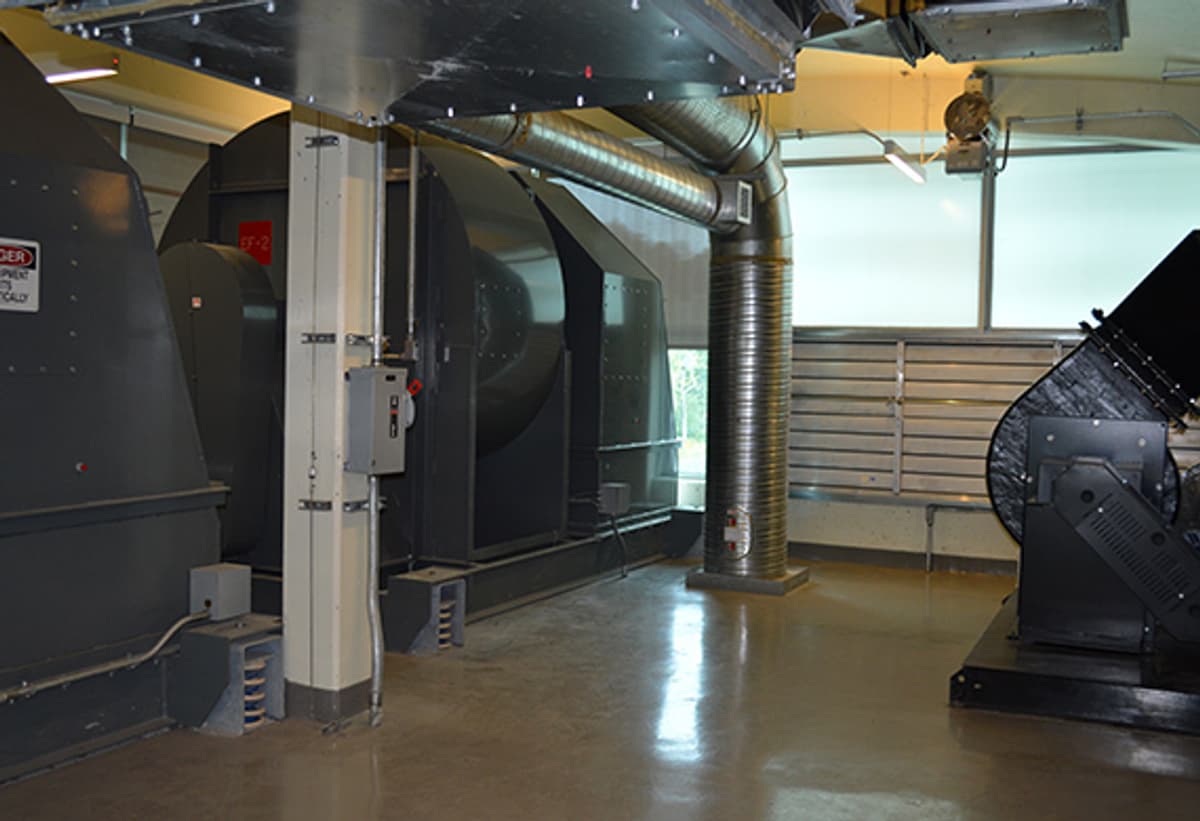 The facility includes windows that reduce the need for artificial lighting and shades that reduce the need for air conditioning, contributing to the energy-efficiency of the building.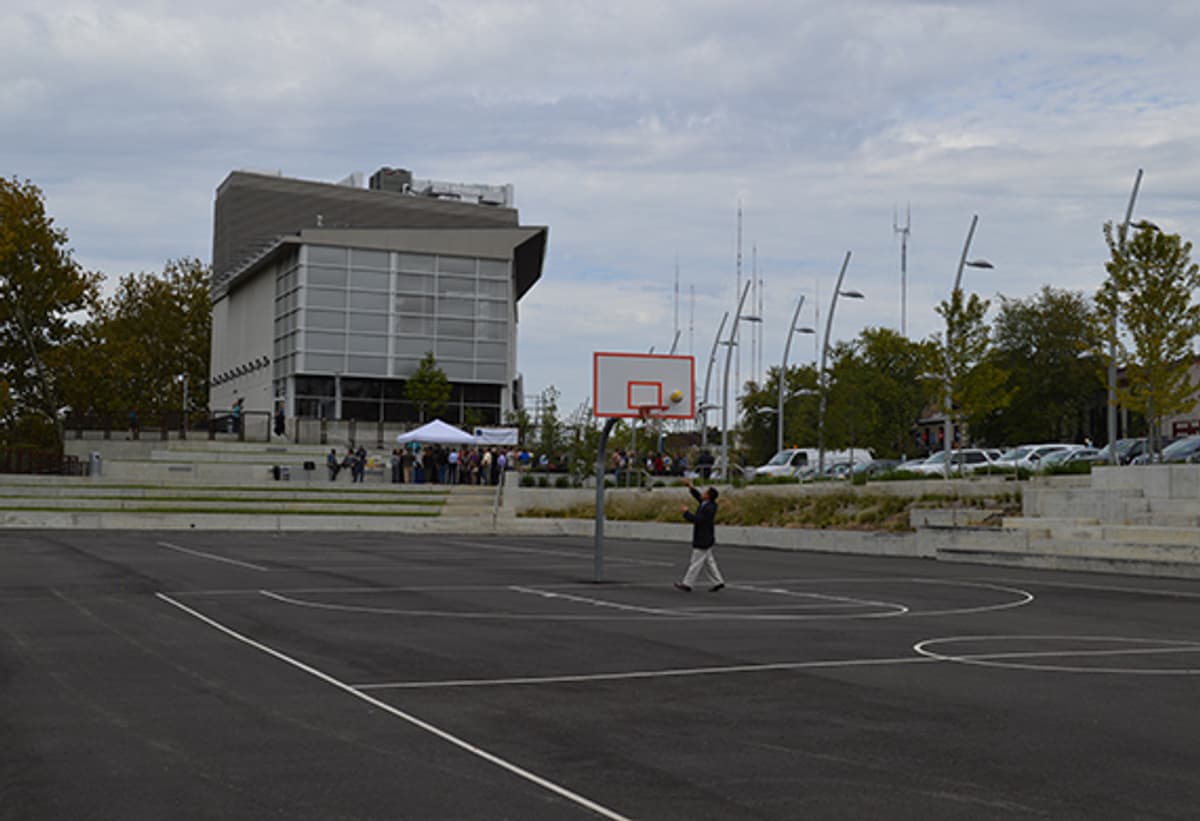 The site also features recreational space that includes basketball courts and a 250-seat performing arts center, seen here near the rear of the photo.
(PHILADELPHIA, PA – July 6, 2015) - The Manayunk Venice Island Sewer Basin Construction and Performing Arts and Recreation Center Reconstruction was named Environmental Project of the Year by the Construction Management Association of America's (CMAA) Mid-Atlantic chapter.
The award was presented to Philadelphia Water and Hazen and Sawyer on June 2. The CMAA highlighted the environmental aspects of the Venice Island work in bestowing the award.
As "designers of record" at Venice Island, Hazen and Sawyer designed an innovative, LEED Silver-eligible structure to house the equipment associated with the Combined Sewer Overflow (CSO) detention facility, comprised of a concrete basin that receives flows by gravity when the adjacent interceptor becomes surcharged during storm events. The CSO detention basin was constructed underground, with public parking and facilities redesigned and restored atop the basin. The Pump House that sits atop the basin is a LEED Silver-eligible building with numerous energy-saving and sustainable design measures.
Hazen and Sawyer's constructed facility includes a "living" roof system with drought-resistant plantings; rain gardens throughout the site to manage storm water runoff; a glass stair tower to allow light to enter all sides of the building and reduce the need for interior lighting; light and occupancy sensors for energy efficiency; shade and reflection devices for sun control that reduces the need for air conditioning; and water-conserving plumbing fixtures.
Since our founding in 1951, Hazen and Sawyer has focused on two things: providing safe drinking water and controlling water pollution. Our range of services encompasses "all things water" including the planning, design, and construction management of water and wastewater-related projects – from clean water treatment, storage, and distribution to wastewater and stormwater collection, treatment, and reuse.