Brenan Buckley Joins Hazen as Associate Vice President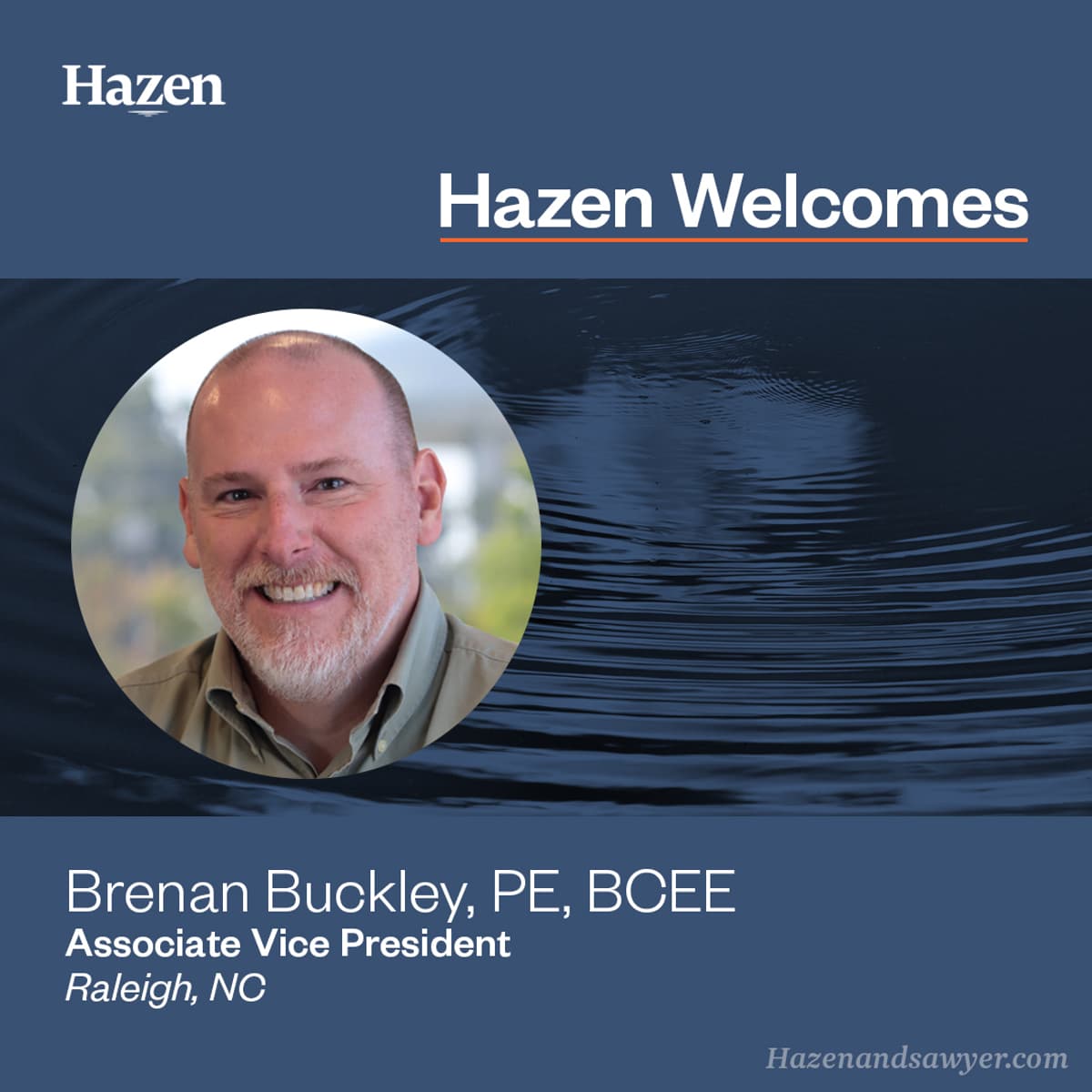 (RALEIGH, NC - October 9, 2023) - Hazen and Sawyer has announced the appointment of Brenan Buckley, PE, BCEE as Associate Vice President out of the Raleigh, NC office.
Brenan is an environmental engineer with 28 years of experience in the planning, analysis, permitting, design, procurement, and construction administration oversight of over $550M in water, wastewater, and stormwater infrastructure projects for municipalities across North Carolina. His varied experience includes water and wastewater treatment plants, pump stations, and collection systems; heavy civil and environmental projects including earthen and roller-compacted concrete dams; stormwater conveyance and treatment systems; stream restoration and stabilization; wetland construction in high-profile urban settings; master planning for wastewater and drainage systems; and the planning, development, and implementation of stormwater utilities and rate studies.
He began his career as a resident project representative, where he learned first-hand the importance of proactive and open communication between the designer, owner, and contractor for delivering projects on time and within budget. Since then, Brenan has fulfilled a variety of technical, business development, and operational roles, most recently as Raleigh operations leader and senior client service manager for a national firm focused on the water industry.
"Brenan's vast experience across the water cycle will be of great value to our clients both in the Carolinas and nationwide," said Alan Stone, Mid-Atlantic Regional Manager. "Aside from his engineering expertise, he has extensive experience leading public stakeholder facilitation, and he excels at client communication and successful project management. I am thrilled to welcome him to Hazen."
Brenan is also active in industry associations, having served as a past President of the American Public Works Association – North Carolina Chapter's Water Resources Division and as a current member of the Water Environment Federation. He has a M.C.E. in Civil Engineering and a B.S. in Civil Engineering from North Carolina State University, is a registered PE in North Carolina, and is a Board Certified Environmental Engineer.