Buckhorn Dam and Reservoir Expansion
Hazen and Sawyer provided comprehensive engineering services to the City of Wilson for the expansion of Buckhorn Reservoir, the city's primary water source, increasing impounding capacity from 0.7 to 6.7 billion gallons and safe yield to 29 mgd.
Services included planning studies, environmental and regulatory permitting preliminary design, final design, construction and post-construction services.
Project Outcomes and Benefits
Selection of RCC instead of conventional earthfill saved $3 million in construction costs and reduced construction time by more than a year.
During the initial impounding sequence in September 1999, after the one-two punch of Hurricanes Dennis and Floyd, Buckhorn Dam successfully passed a flood equal to almost ½ of the probable maximum flood.
Ongoing services include regular inspections and regulatory compliance services.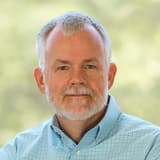 Jeff Powers has served as a technical lead specializing in high hazard dam design and rehabilitation, river and floodplain hydraulic analysis, culvert and bridge analysis, and levee rehabilitation.
Related Topics:
Ensuring Supply With Innovation
Innovative RCC monolith design provided stable construction on a weathered rock foundation and major savings in intake construction.