Hazen Experts Showcase Leading Solutions at Dam Safety 2023 Conference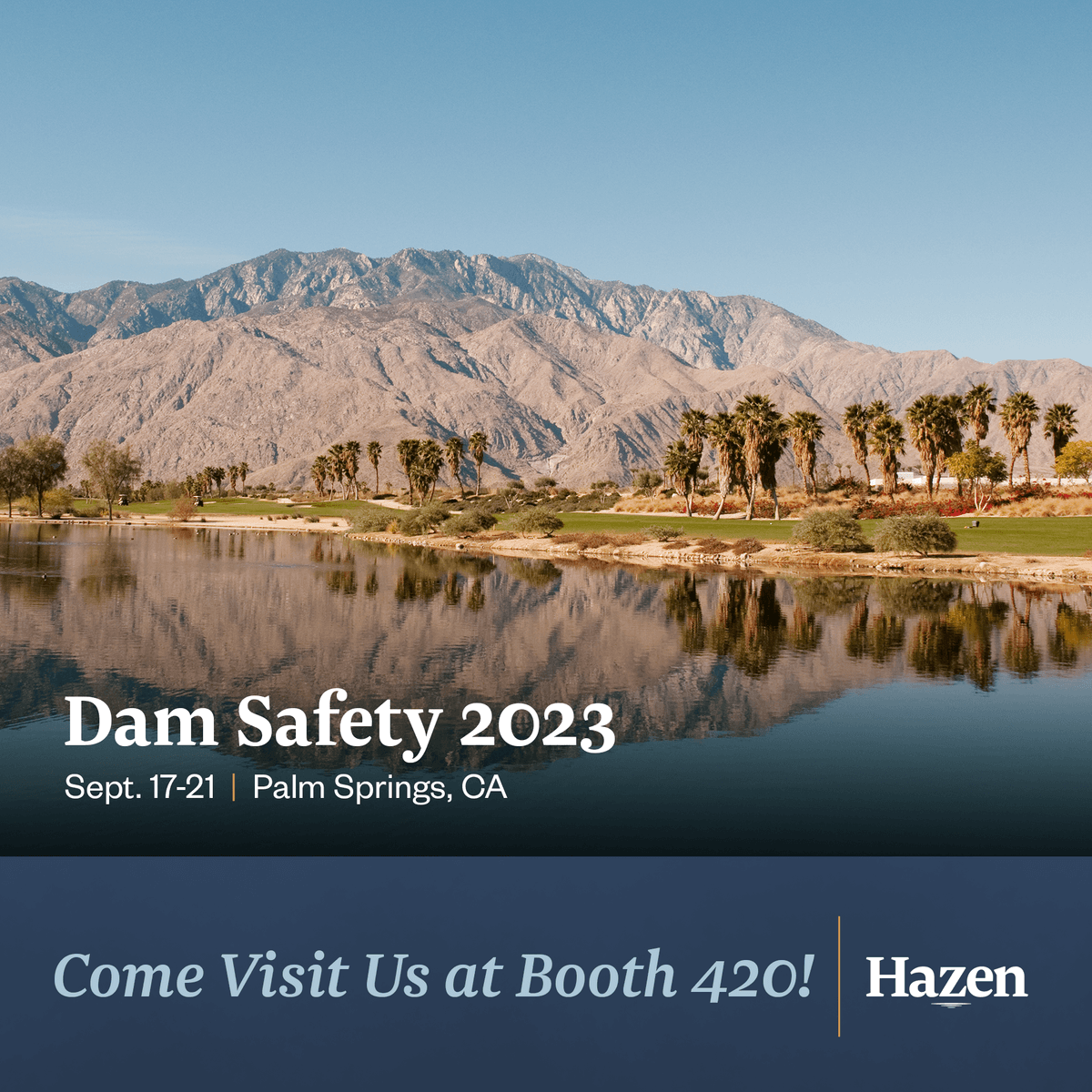 (LOS ANGELES, CA – Sept. 11) – Hazen and Sawyer will be attending and sponsoring the Dam Safety 2023 conference from Sept. 17-21 in Palm Springs, California. Organized by the Association of State Dam Safety Officials (ASDSO), the five-day event focuses on advancing dam safety practices and fostering collaboration among industry professionals. Six members from Hazen's Water Resources Infrastructure (WRI) group are moderating, attending workshops, and presenting a poster session, covering wide-ranging topics that include risk communication, emergency planning, and inundation mapping.
The Hazen poster presentation – led by National Dams, Reservoirs, and Levees Practice Lead Jeff Powers, Senior Principal Engineer Kate Naughton, and Principal Engineer Kevin Chapman – highlights a challenging emergency planning evaluation for the Savage River Dam in Maryland. Constructed in 1952, the 182-foot-high dam maintains flood control and low flow augmentation to uphold the integrity of the water source, which also serves the greater District of Columbia area.
"The Dam Safety conference is an excellent opportunity to address the evolving challenges we have faced in our wide-ranging projects and highlight the importance of safeguarding our nation's critical infrastructure," said Powers. "As long-standing sponsors of the event, we always look forward to exchanging ideas, discussing the latest advancements, and collaborating with peers."
Hazen is a Sustained Member and an avid supporter of ASDSO and the Dam Safety conference, with Powers and Senior Associate Scott Arends serving on the Advisory Committee, and Powers and Naughton on the Technical Training Committee. The Firm's commitment to improving dam safety aligns with the core objectives of Dam Safety: facilitating knowledge sharing, promoting innovation, and enhancing the resilience of dams and related infrastructure.
In addition to sharing engineering expertise, insights, and experience, Hazen will also host a booth (number 420). Attendees are invited to stop by to learn more about Hazen's comprehensive contributions to dam safety improvements nationwide.

For more information on Hazen and Sawyer's Dams, Reservoirs, and Levees engineering services, please visit: Dams, Reservoirs, and Levees | Hazen and Sawyer.

Related Topics: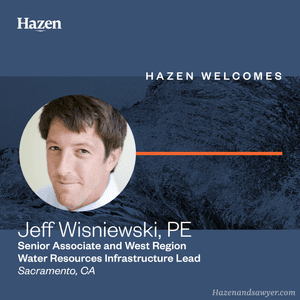 Related News: Hazen and Sawyer welcomes Jeff Wisniewski, who joins the Firm's Water Resources Infrastructure (WRI) group as Senior Associate and West Region WRI Lead.