Hazen to Attend Dam Safety 2022 Conference
Hazen to lead discussions on EAPs and field inspections at four-day event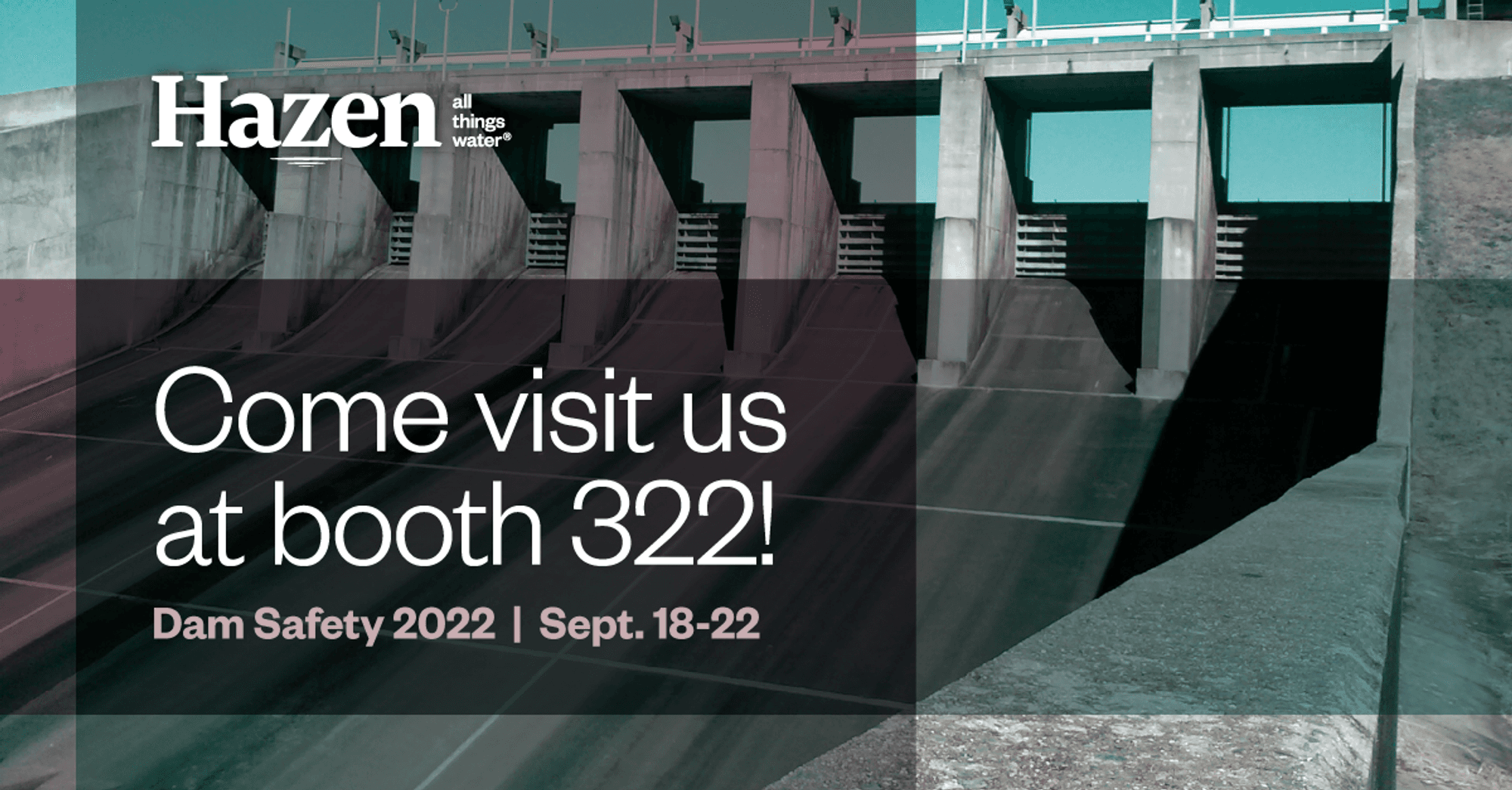 (BALTIMORE, MD – Sept. 1, 2022) – Hazen and Sawyer is attending the Dam Safety 2022 conference from Sept. 18-22 in Baltimore. Nine dam experts from the firm will join 1,200 industry professionals from across the country to discuss dam and levee safety. Organized by the Association of State Dam Safety Officials (ASDSO), the goal of the conference is to encourage collaboration in the dam community and increase awareness among public and private stakeholders.
Hazen staff are giving two presentations at the conference. The first -- "Goldilocks and the Three EAPS: Working with EAP Templates and Inundation Mapping Guidelines to Ensure They are 'Just Right' for your Dam" -- highlights the importance of using engineering judgment, coordinating with stakeholders, and working with regulators when developing inundation maps and populating EAP templates to ensure they provide maximum benefit to all stakeholders.
The second presentation is titled: "A lot of Dam Data!: Using ESRI's Survey123 and Field Maps Applications To Efficiently Collect Data and Standardize Quarterly Inspection Packages for 30 Dams." The session focuses on the extensive work Hazen carried out for the 30 dams owned and operated by the Gwinnett County Department of Water Resources, which included routine inspections and the delivery of detailed, high-quality documentation packages.

In addition, Hazen staff are moderating several panels throughout the four-day event that feature topics ranging from ASDSO resources to improving inspections. Hazen is also staffing a booth to interact with attendees and share success stories from the firm's various projects across the U.S.

One of the highlights of this year's conference is Hazen Principal Engineer Kate Naughton being named an ASDSO Young Professional of the Year. The award is given in recognition of professionals under the age of 40, who have made significant contributions to the organization and their field.

"We could not be more pleased about Kate's award win for her outstanding accomplishments in the dam industry," said Hazen Dam Safety Lead Jeff Powers. "Hazen has been attending the annual Dam Safety conference for years, participating in various committees and contributing to panel discussions, speaker selection, and event organization. It is a great opportunity for us to exchange ideas with colleagues and remain at the forefront of an evolving industry."
Hazen is a leader in dam, reservoir, and levee engineering, successfully completing some of the most complex and challenging dam projects in the country. A testament to the firm's dedication to dam safety, Hazen has forged a strong working relationship with ASDSO that has seen Jeff and Senior Associate Scott Arends serving on the ASDSO Advisory Committee, and Jeff and Kate on the Technical Training Committee.

For more information on Hazen speakers and panels, visit: Dam Safety 2022 | Association of State Dam Safety
For more information on Hazen and Sawyer's Dams, Reservoirs, and Levees engineering services, please visit: Dams, Reservoirs, and Levees | Hazen and Sawyer.