Increasing Water Supply and Reliability in Tampa, FL
Hazen recently completed Tampa Bay Water's Long-Term Master Water Plan, evaluating three water supply alternatives for increasing the availability and reliability of water supply through 2040. We then further evaluated the feasibility of one of the top-ranked options: optimization and expansion of the existing Regional Surface Water Treatment Plant, which has the potential to increase regional water supply by up to 20 mgd.
Project Outcomes and Benefits
Results of the Feasibility Study clearly identified, described, and quantified requirements for expansion, including cost, timing, and regional integration implications.
Identified optimization opportunities, including yield, operations, and cost implications.
Evaluated existing source water quality and treatment with respect to existing and potential future water quality goals, spanning regulatory, contractual, and public health guidance limits.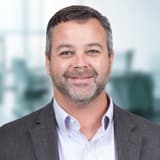 Andre Dieffenthaller successfully manages projects within budget and on schedule, including under challenging conditions.
Related Topics:
Ensuring Plentiful Supply
Our analysis found that plant expansion could be done to increase available supply by 20 mgd.