Creating Consistency and Optimizing Operations to Address Lead and Copper Rule Revisions
Hazen provided efficient and effective turnkey solutions for a water authority in Georgia to comply with Lead and Copper Rule revisions.
At a Glance

The Hazen team identified an effective corrosion control treatment meeting the client's requirements while remaining in regulatory compliance
Geospatial analysis of distribution system and water treatment process evaluation set the stage for treatment identification and implementation
Identified strategies to improve process control in finished water pH consistency
Developed a loop-testing plan, and constructed and operated two pipe-loop systems
The Cobb County-Marietta Water Authority (CCMWA) in the Atlanta metro area approached Hazen to optimize corrosion control to reduce copper pitting in homes receiving drinking water from two of its water treatment plants (WTPs). Although operations at the plants had largely remained in compliance with regulations, proactive measures were needed in light of the 2021 revisions to the U.S. Environmental Protection Agency (US EPA) Lead and Copper Rule (LCR).
Hazen was engaged to audit and evaluate the current measures used by CCMWA, provide a viable strategy that would reduce pitting of copper pipe while complying with the latest US EPA guidelines, including the LCR revisions, and incorporate industry best practices. The most significant challenge was ensuring that corrosion control measures did not increase lead levels and water quality was maintained.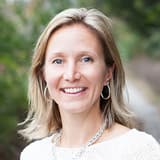 Becki Rosenfeldt, a nationally recognized corrosion control expert, assists utilities with Lead and Copper Rule (LCR) compliance, corrosion control treatment optimization, and locating and replacing lead service lines.
Related Topics:
To accommodate the client's needs, an implementation plan was developed providing recommendations on treatment alternatives to improve corrosion control as well as training for CCMWA staff on system operations and management.
Mitigating Copper Pitting and Optimizing Corrosion Control

Hazen identified corrosion-control treatment alternatives to minimize lead release into drinking water and reduce the potential for copper-pitting corrosion. Once CCMWA identified preferred alternative treatments, additional pipe testing was carried out to cover alkalinity/Dissolved Inorganic Carbon (DIC) adjustment, and phosphate inhibitors.
Results from pipe-loop studies revealed that the use of phosphoric acid reduced the potential for copper pitting and provided optimal corrosion control to reduce lead leaching into drinking water. Approval from the Georgia Environmental Protection Agency was obtained for the full-scale implementation of phosphoric acid for corrosion control at both of CCMWA's water treatment facilities.