Give CFD a Pat on the Back - Tracing Footprints of CFD Model through the Water Treatment Plants
Sean Zhang, Matt Valade, Julie Herzner, Bill Becker, Rich Peters - Hazen and Sawyer
Last Modified Jul 11, 2022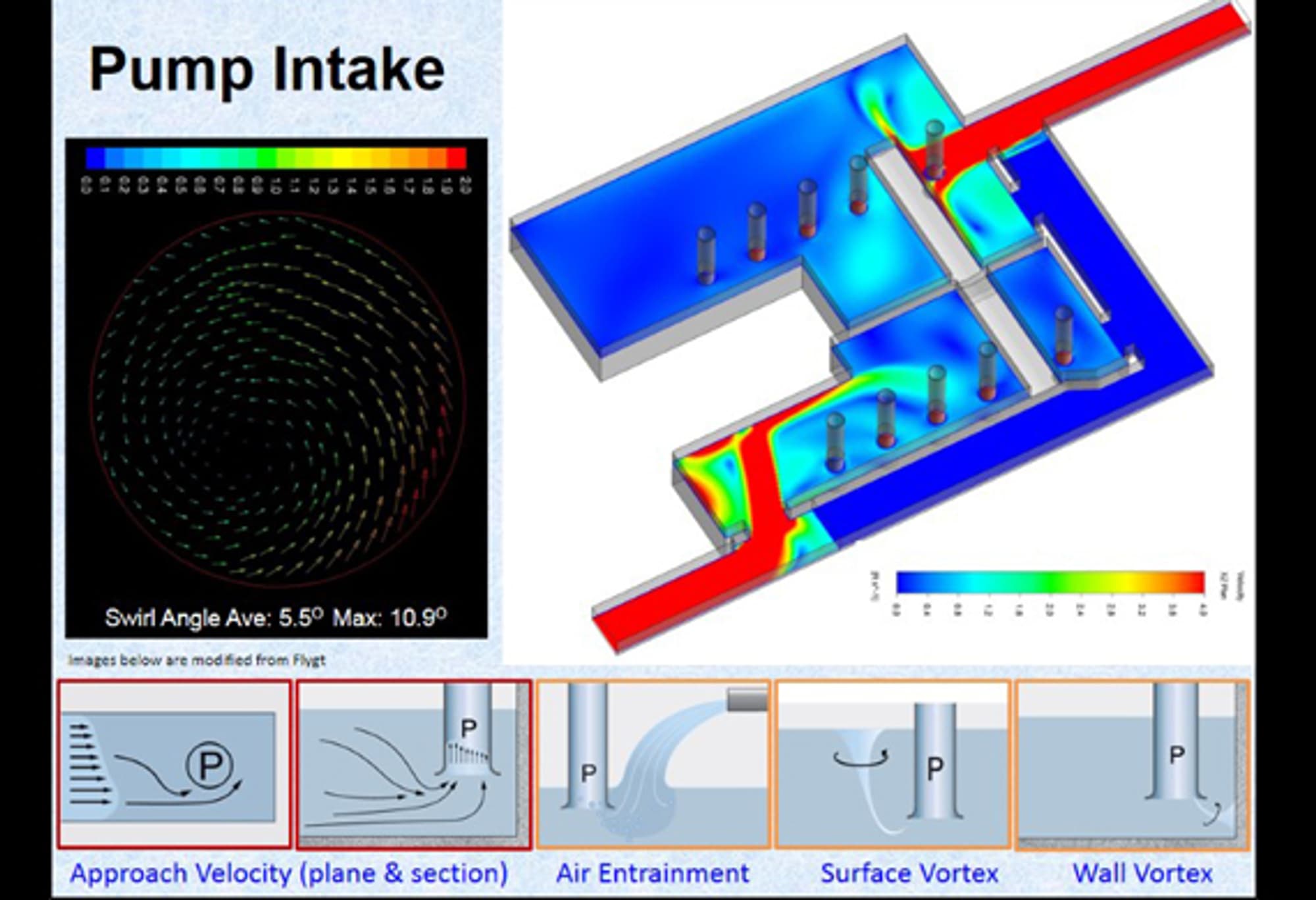 CFD left its footprints throughout the water treatment plants. Key areas of CFD's influence included equalization reservoir, raw water and treated water pump stations, flash mixing and flocculation basins, dissolved air floatation (DAF) tanks, filter and underdrain systems, ultraviolet disinfection units, and hypochlorite multiport diffuser injection system for final chlorination before connecting to transmission and distribution system.
This paper leads us through a mosaic tour of how various CFD modeling technologies forayed into classical engineering design, some applications are conventional, and more others are innovative. An example of classical application is pump wet well design. CFD was to evaluate multiple design alternatives, optimize the most promising alternative before sending the final design for conformation physical modeling per Hydraulic Institute Standards. Discrete Particle Module was used for sedimentation and silt curtain design in a raw water equalization reservoir. Multiple Reference Frame was used for mechanical mixers in the flocculation tank. Population Balance Model was used for bubble-induced stratified flow in Dissolved Air Floatation tank. Porous zone and porous jump boundary condition were used for filter medium and underdrain system. User Defined Function was used for reduction equivalent dose calculation of UV unit.
Our successful experiences demonstrated that CFD has evolved into a reliable, robust, and cost-effective technology in the past 15 years. With the advance of software and hardware technology CFD is expected to be integrated even more into design and the results continuing to be more accepted by the engineering community and approving agencies.