More than Maps: The Integral Role of GIS in All Things Water
Hazen's GIS group is continuously expanding its ability to support and collaborate on a variety of projects throughout the Firm's portfolio. The recent designation as an ESRI Partner Network Silver partner is just one example of how GIS is helping to drive Hazen's continued successful project delivery to clients.
At a Glance
Hazen's team of expert GIS analysts provides extensive services to both internal and external stakeholders that go well beyond basic mapping functions. The team has developed web applications, StoryMaps, hubs, and more to ensure client satisfaction, project efficiency, and collaborative success.
The GIS group created a story map for The City of Charlottesville and a Lead and Copper Rule Revisions hub for a client in New Hampshire. Both projects help connect the public to relevant data and information while helping the clients build positive relationships through transparency.
To further support teams and their clients, the GIS group is now a proud ESRI Partner Network Silver partner and can offer Hazen staff direct access to ESRI staff for service and project coordination.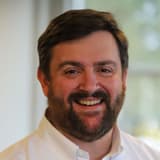 As Director of Geospatial Services at Hazen, Ryan O'Banion coordinates with teams across the Firm and practice areas to ensure clients obtain the ideal GIS solution for their needs. He specializes in integrating Esri software, Microsoft Power BI, Python, and R to provide lasting and impactful deliverables that enable utilities to capitalize on their locational data insights.
Related Topics: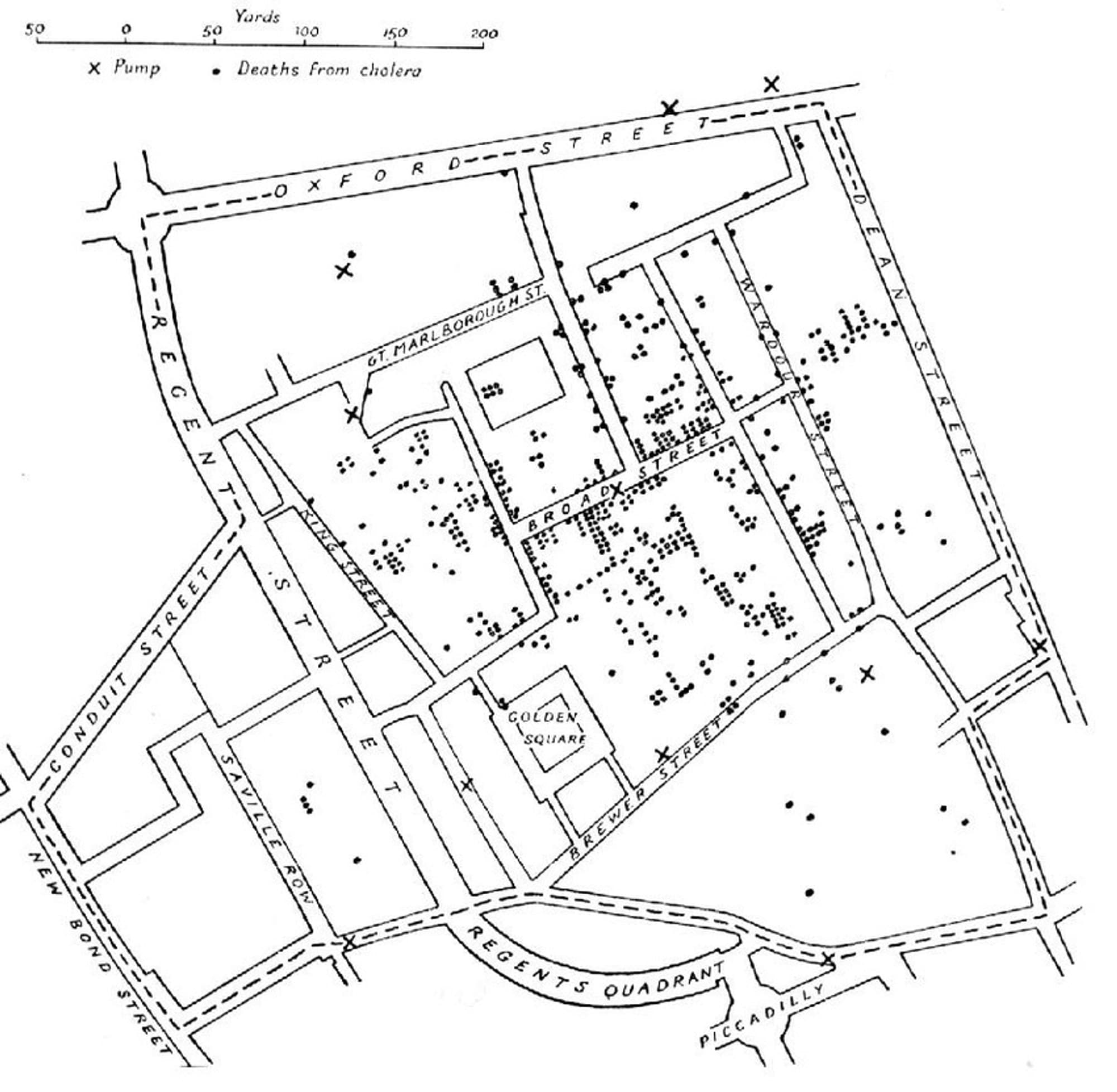 The Roots of GIS
Less than a hundred years before the founding of Hazen and Sawyer, Dr. John Snow used the first known application of spatial analysis to solve the mystery of the 1854 London cholera epidemic. He carefully plotted the locations of disease outbreaks on maps of property boundaries, roads, and water lines, creating the 19th century equivalent of geospatial layers and features to trace the contamination back to a single water pump.
Today, the water industry has moved beyond paper mapping and plotting points by hand. The dynamic digital world of water resources means that GIS now provides much more than layers of infrastructure and asset locations. For Hazen, the robust work of the GIS group has become a vital part of delivering the highest quality projects and supporting client success.
John Snow's original map of cholera deaths in Soho, London, UK, indicates deaths (•) centered around a water pump (X) on Broad Street. Source: Keenan, Peter. (2008). Geographic Information and Analysis for Decision Support. 10.1007/978-3-540-48716-6_4.
Tools that Connect People to Place
When the City of Charlottesville, Virginia, partnered with Hazen to design a restoration project for the Schenks Branch Tributary, many residents did not know about the struggling waterway that was hidden from view in a wooded area with little foot traffic. Because the stream was out of sight and out of mind, one of the project's major challenges was to find a way to connect the community to the water.

During the assessment and stream restoration phases of the project, Hazen's team obtained aerial drone video of the stream and took 360-degree photos of its severe bank erosion. They combined these visuals with an interactive map, information about public meetings, project contacts, and timelines of key project dates. They told the important story of Schenks Branch Tributary in a way that spoke to the community's values and needs. The result was an engaging and educational ArcGIS StoryMap.
Hazen's GIS group created a detailed StoryMap to connect residents of Charlottesville with the Schenks Branch Tributary Restoration project. One of the unique features of the StoryMap is a slider that shows the dramatic differences between Schenks Branch Tributary before and after the extensive restoration work, which can be found under the Examples section in the StoryMap above.
Ryan O'Banion, Director of Geospatial Services at Hazen, emphasized Hazen's readiness to support all types of GIS projects for both internal and external stakeholders. "We have the ability to produce StoryMaps and hubs so we can make a single website that becomes a point of contact for either a project team or even the public," he added. "Supporting narratives by adding visual interest and a connection to place without sacrificing trust is the true value of these GIS tools."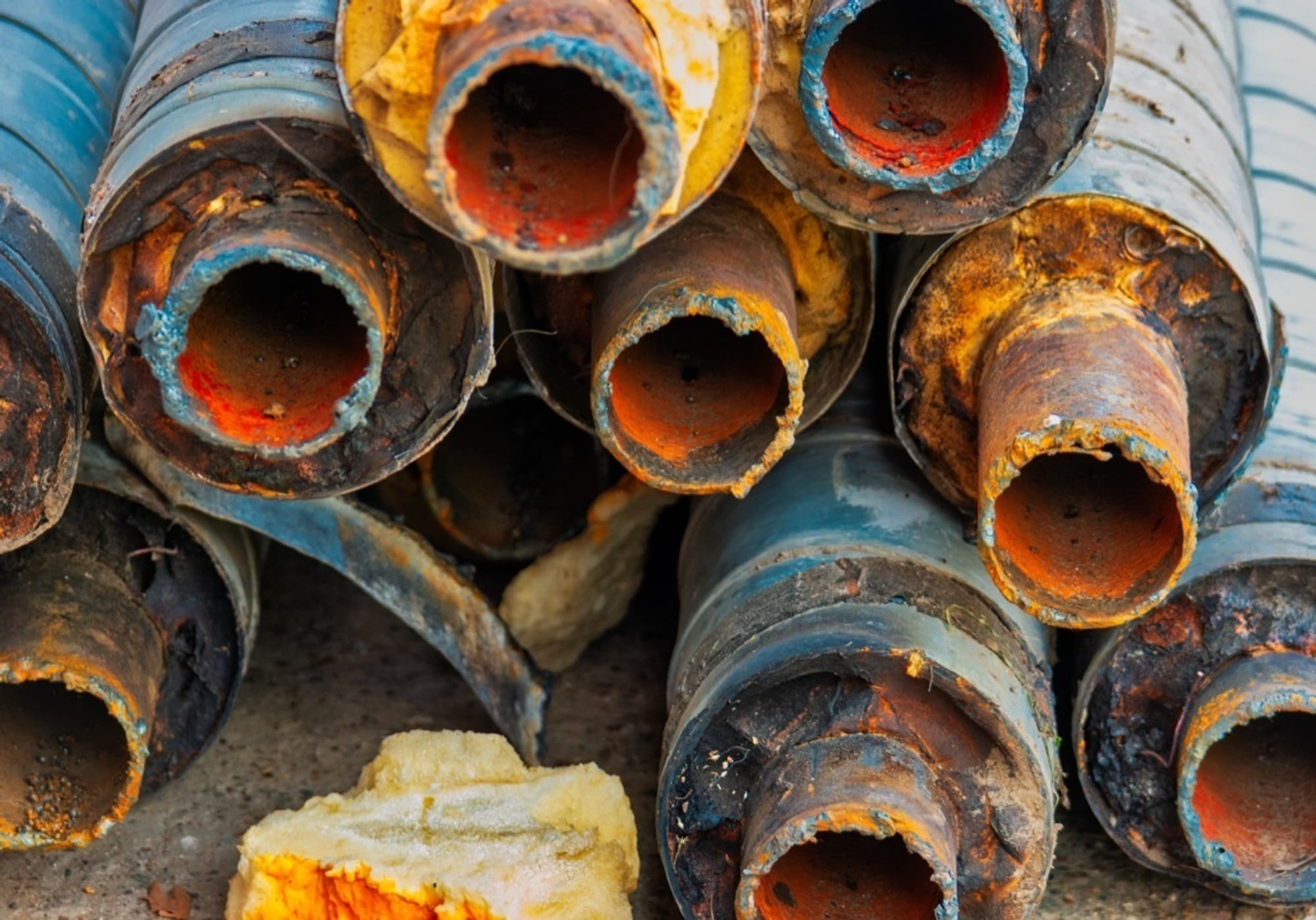 Cultivating Trust and Transparency
As the October 2024 compliance deadline looms, many states are looking for credible and effective ways to share information and resources with the public about the new EPA Lead and Copper Rule Revisions (LCRR). The LCRR is the first major update to national drinking water regulations in over ten years, and compliance will keep drinking water safe for millions of people across the country, especially children.
A client in New Hampshire hired Hazen to develop a hub to manage the LCRR compliance for over 200 communities throughout the state, ensuring public access to critical information about the changes. Director Ryan O'Banion is especially proud of the hub that his team members developed for the client.

"It's a single URL with both public and private content. Communities can see specific progress towards Lead and Copper Rule compliance for their community. It also advertises a calendar with dates for the next public meetings, provides a survey for inputting information about service lines in their community, and provides a tracking dashboard to see how far their local water systems are towards identifying service line materials. It's a really pertinent application of a hub that Hazen can create."

As clients increasingly look for innovative ways to manage their data and create dynamic solutions to challenges, Hazen's team of GIS professionals are excited to offer even more new GIS-centric services. Setting up database schemas, deploying enterprise environments, migrating to a utility network, and even providing a comprehensive view of facilities in a 3D context by integrating Building Information Modeling (BIM) and vertical facilities into GIS environments are just a few of the services the team can offer Hazen's clients.
The GIS group works closely with Hazen teams and clients to deliver a variety of high-quality assets. The interactive hub created in New Hampshire for the implementation of the EPA's Lead and Copper Rule Revisions is just one example of how the GIS group can add essential value to any project.

Hazen and ESRI: A Winning Partnership
One of the most exciting and beneficial changes to Hazen's GIS capabilities is the Firm's new status as an ESRI Partner Network Silver partner. This designation means that Hazen staff in all departments now have direct access to ESRI for project support and coordination. ESRI professionals can also join project teams to strengthen their capabilities, further sharpening Hazen's already competitive edge.
ESRI Silver partner status adds value to an already robust group of GIS analysts that truly live and breathe their craft. Whether it's helping teams find innovative ways to use GIS from the beginning of their projects or optimizing the consistency and efficiency of deliverables, the GIS group is an integral resource for the delivery of exceptional work to Hazen's clients.