Providing Technical Expertise and Business Acumen for Utility Management Solutions
Leadership, strategy, and risk management among top topics Hazen to cover at 2023 Utility Management Conference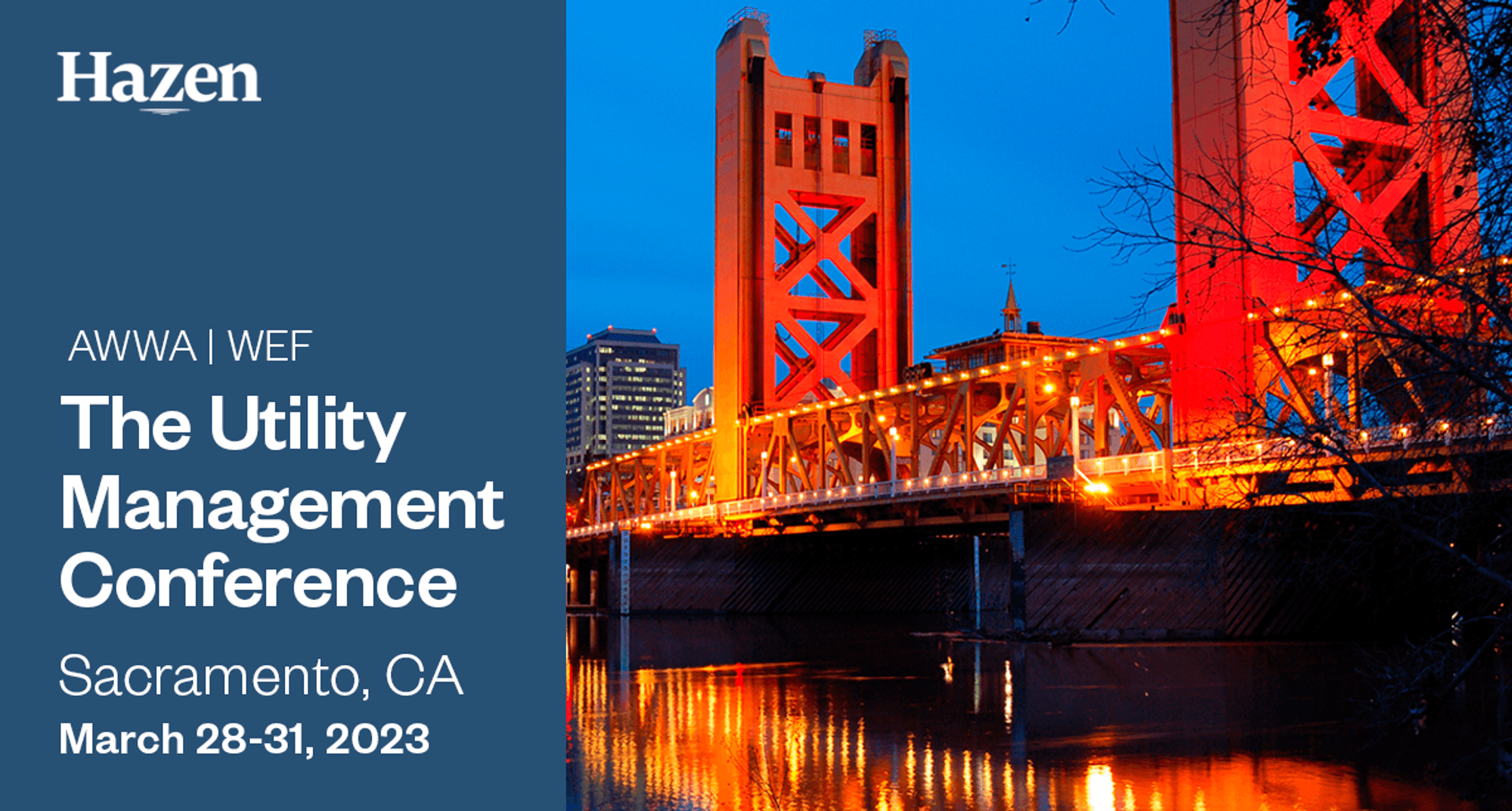 (SACRAMENTO, CA – March 16, 2023) – From March 28-31, Hazen and Sawyer will be attending the 2023 Utility Management Conference, which is jointly hosted by the American Water Works Association (AWWA) and the Water Environment Federation (WEF). The firm will be leading four presentations at this year's event, covering utility leadership, strategy implementation, regulatory concerns, and risk management, among other topics.
Hazen staff will delve into recent projects and research that involve the development of a diagnostic tool designed to identify and resolve leadership challenges for the City of Englewood in Colorado; examine the benefits of regionalization in five North Carolina Communities; address regulatory concerns with federal funding programs included in the Bipartisan Infrastructure Law; and the risk management approach adopted to assess 10,000 Fairfax County sewer assets in Virginia.
"At Hazen, we are committed to providing utilities with a comprehensive range of management solutions – from process optimization to workforce development – that combine technical expertise with utility business acumen," said Hazen's Utility Management Solutions Group and Asset Management Leader Ryan Nagel. "We are excited to share the challenges, successes, and lessons learned at UMC that we've accumulated through the years working with our utility partners and industry peers."
Hazen's specialized Utility Management Solutions Group consistently carries out a multitude of large-scale management projects each year, providing strategic business planning, asset management, funding assistance and financial services, stakeholder communications, and digital strategy development to major utilities throughout the U.S. The firm's holistic approach helps facilities meet the daily challenge of efficiently and reliably delivering high-quality drinking water to the communities they serve and collecting and treating wastewater to preserve public health and protect the environment.
As UMC brings together leading utility executives and managers from across the U.S., it is the ideal platform for Hazen to exchange ideas, research, and expertise with like-minded industry professionals. In addition to moderating discussions and presenting during various conference sessions, Hazen will also host several networking events to provide further knowledge-sharing opportunities, including a "Morning Mingle" focused on how water utilities are "doing more with less."
For more information on Hazen's Utility Management suite of services, click here.