How a Regional Solution Allows Municipalities to Benefit From Shared Infrastructure
Through expert planning and the use of transparent analysis tools, Hazen helped five North Carolina municipalities realize their future treatment goals in one shared infrastructure.
At a Glance
The rapid growth of Sanford, NC necessitated expansion of water treatment facilities, and its neighbors—Fuquay-Varina, Holly Springs, Pittsboro, and Chatham County—were trending in the same direction.
Hazen proposed a system of cost- and equipment-sharing based on percentage use and participant agreement, requiring that any arrangement be beneficial to all partners.
Hazen developed a dashboard tool that visualized cost, capacity, and use of each partner, potential allocations, and impact of grant funds, enabling partners to calculate equitable cost-sharing, ensuring transparency and trust throughout the process.
Background
The City of Sanford, NC has been growing at a rate that requires expanding its water treatment facilities. Many of the neighboring communities are experiencing similar growth pressures, creating an opportunity for collaboration in the form of a regional infrastructure solution. The City is now leading a regional coalition of five communities that are pursuing a joint expansion of the Sanford Water Filtration Facility, more than doubling the existing capacity of the facility from 12 mgd to 30 mgd.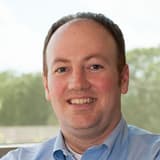 Tim Devine is an expert in water and wastewater utility financial analysis and leads Hazen's Economic and Financial Services Group.
Related Topics: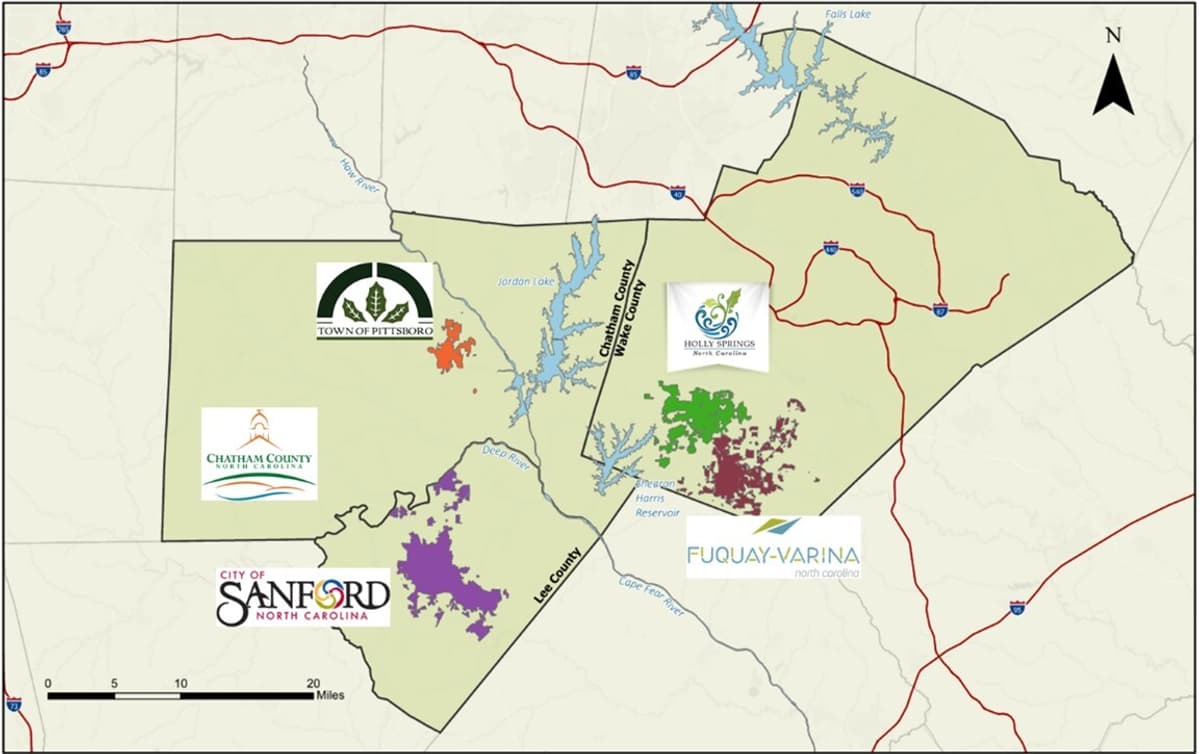 How It Works
Regionalization works by creating the most efficient use of community resources through shared design. Hazen, working with Sanford, recommended a baseline requirement that any shared design be mutually beneficial to all involved. The key to meeting this requirement was establishing open and continual communication early, and then fostering it throughout the process. This transparency would create the trust between partners necessary to share a design.
The first step in this communication process was for the City to share the opportunity for collaboration with potential partner utilities; owning assets is expensive for municipalities, and regionalization is a way to share those burdens while improving treatment. The fundamental questions for potential partner utilities were: how much capacity would be available, and what cost would be associated with that capacity?
To provide answers that would be accessible and actionable, Hazen built a dashboard-based dynamic cost allocation tool that evaluated partner-cost responsibilities. The tool is dynamic, displaying each partner's contribution under different cost-sharing and capacity purchase alternatives. Hazen developed the tool to:
Visualize capital cost responsibilities for potential regional partners, with sliders to simulate different capacity purchase scenarios
Evaluate different cost-sharing methodologies, such as total facility capacity, incremental facility capacity, or user-designated custom percentage cost allocations
Assess the impact of grant funds on total- and partner-cost responsibilities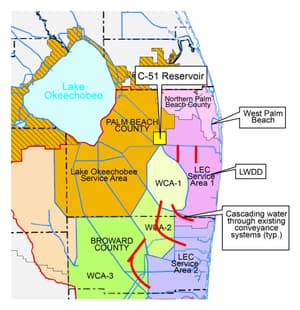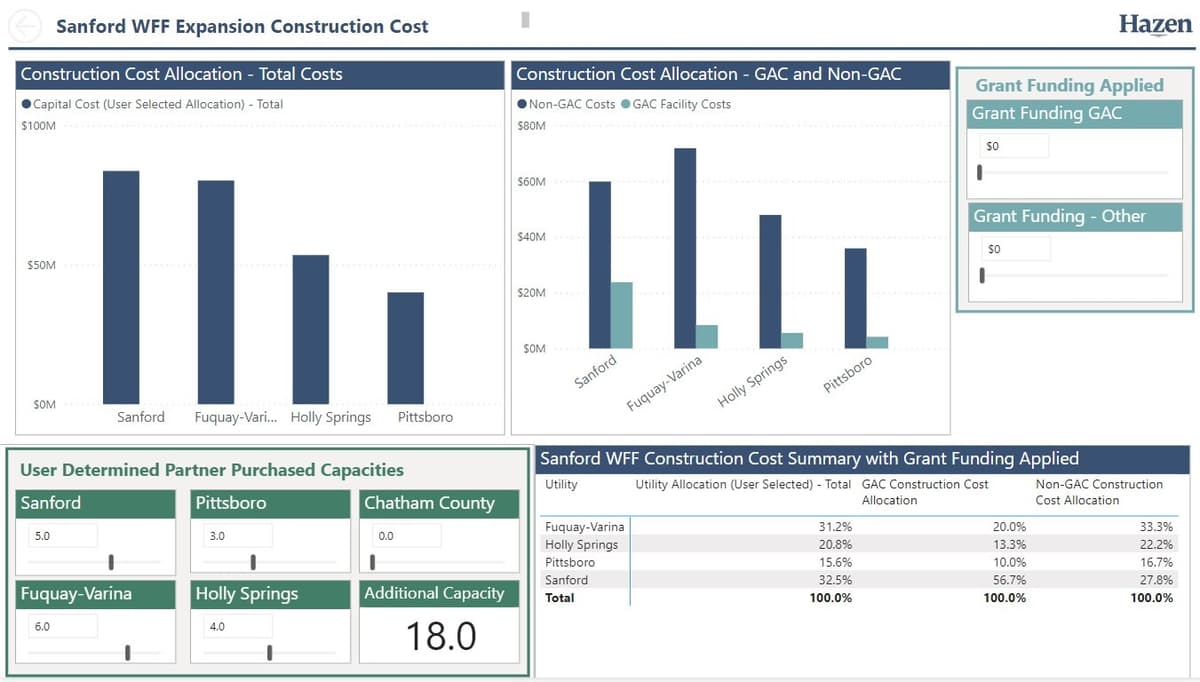 Using the tool, the partners have been able to equitably set custom cost-allocation rates that met the requirement of mutual benefit. This, in turn, has created the necessary trust between the partners.
Finally, the dashboard communicates to partners what technology would be involved in the upgrades. Cost-sharing allows groups to use more cutting-edge treatment techniques than they may have been able to afford or implement individually. In this case, the five municipalities were able to introduce granular activated carbon into their treatment chain, strengthening PFOA/PFAS treatment.
Regionalization shows that efficiency and benefit can come from trust-based cooperation. Hazen's expert design and proven communication method allowed five municipalities in North Carolina to realize these benefits in an expanded 30-mgd facility, to become greater than the sum of their parts.