Dashboard Tool Streamlines Leadership Training and Task Prioritization
Diagnostic platform aids in succession planning and leadership development, with a focus on public sector needs.
At a Glance
Diagnostic tool helps quickly identify and resolve leadership challenges such as employee attrition, evolution of flexible work practices, and organizational gaps in expertise.
Framework is customized to help new senior leaders in the public sector quickly assess and prioritize key issues.
Tool is adaptable for use at other utilities-based organizations.
The public sector is experiencing rapid change and workforce challenges including employee retention and retirement, evolution of flexible work practices, and senior leadership-level gaps in talent and experience. In response, City of Englewood Utilities (COE) and South Platte Renew (SPR) of Englewood, Colorado partnered with Hazen to design a utility diagnostic tool for succession planning and leadership development. A utility management framework was necessary to help new senior leaders prioritize their time to make the greatest impact for the utility.
Meeting Workforce Challenges
Unlike other frameworks that attempt to diagnose all issues across the utility, this diagnostic is focused on leadership and helping those new to a senior role quickly assess gaps and issues. The tool is meant to be a laser-focused diagnostic that can be completed in less than two hours per senior leader. Results help identify and prioritize key areas to allocate work efforts over a three-to-six-month time horizon.
Dr. Ben Stanford leads digital services, developing advanced technology solutions for drinking water, water reuse, and wastewater utilities. He has worked on dozens of risk management, digital strategy, executive leadership development, regulatory, treatment, and public communication projects to support water utilities worldwide.
Roger Austin is Hazen's Intermountain Regional Manager, with experience advising utilities in the planning, finance, and implementation of public infrastructure.
Related Topics:
"Automating task prioritization is a significant time-saver and providing access to past expertise gives our new senior staff members a stronger start."

~ Jamie Safulko, Deputy Director of Engineering, South Platte Renew

Key lessons from experienced senior staff were built into the diagnostic tool and used to enact a framework that can be applied to new and emerging leaders at COE and SPR. Three new deputy directors at COE and SPR served as case studies from the initial assessment to a follow-up assessment three months later.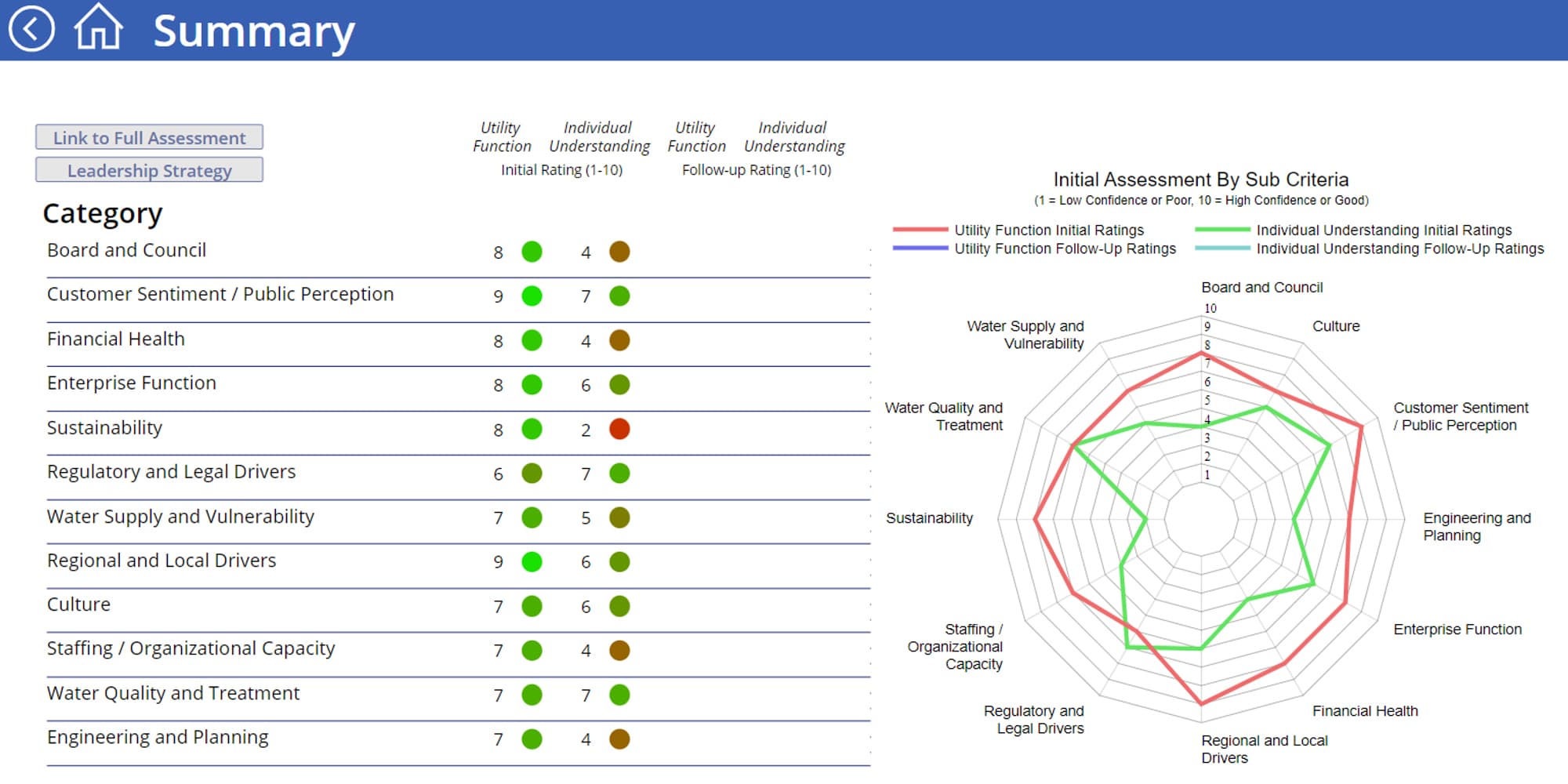 A total of 12 distinct areas are incorporated into the tool including board relations, customer perception/sentiment, financial health, culture, organizational capacity, and sustainability, among others. These goals are easily customizable to suit other utilities and organizations in need of a management framework.
Cultivating Future Leaders
Utilities and municipalities will need to demonstrate their resiliency and proactive approach in their development of the next generation of leaders. Using dashboards to streamline data is quickly becoming essential to recruitment, development, and retention of industry talent. The new leadership diagnostic tool is a strong step in this direction.
(Above) The app-based tool focuses on 12 leadership and utility management categories with sub-questions that help guide the interview process, leading to enhanced insights into opportunities for collaboration and utility-wide impact.