Utility Website Redesign for Better Customer Experience
Hazen was brought in to provide an assessment and spearhead reorganization of the Gwinnett County Department of Water Resources (DWR) website, a site that hadn't been comprehensively updated in nearly 10 years. Hazen developed a new information architecture after a web analytics audit, meetings with the client's leadership team, and interviews with staff throughout each department. In just over three months, DWR restructured its website to educate its main audience — customers — and reinforce the benefits the utility provides every time they go to the website to pay their water bill.
Our Work
Hazen helped DWR simplify navigation and emphasized key page helping customers pay their water bill or report a problem.
The website reorganization also included a sustainable website management plan to keep the site fresh over the long-term with minimal effort by the client.
Project Outcomes and Benefits
Content and usability audit
Analytics audit
Restructured information architecture geared toward customers, reducing homepage navigation items from 23 to 11
Formulation of key messaging used in website content
Rewritten content in plain language
Illustration and graphic design appropriate for the target audience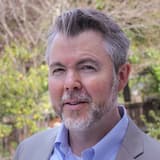 For more than 20 years, Jeff Neale has man­aged com­mu­ni­ca­tions and out­reach pro­grams that have shaped the nar­ra­tive around envi­ron­men­tal and pub­lic health projects.
Related Topics: