Engineering Trust in Water Reuse
Hazen presentations at 2023 WateReuse Symposium address water quality and quantity challenges with demonstration and data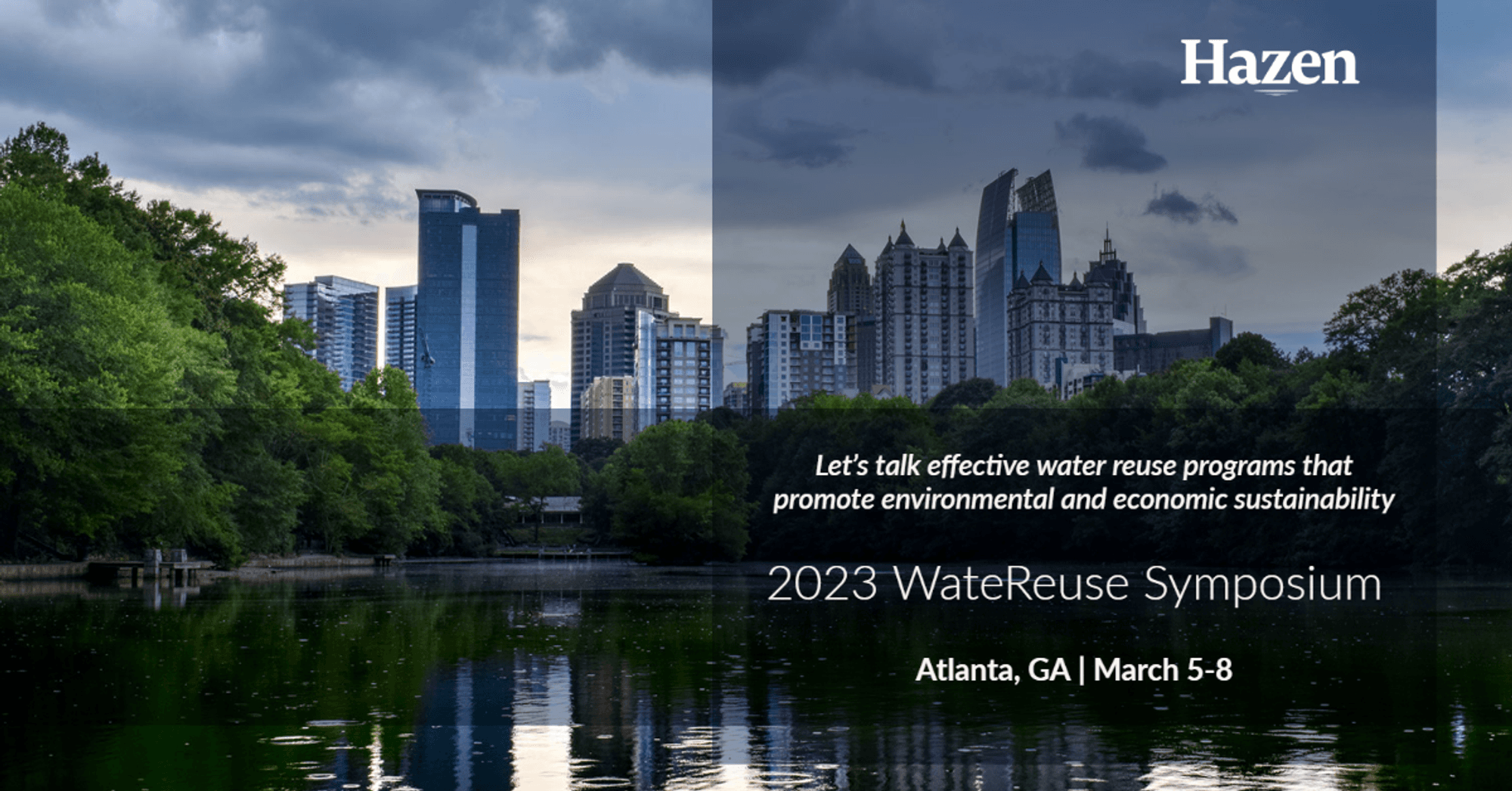 (ATLANTA, GA – Feb 23, 2023) – Hazen and Sawyer is attending the 2023 WateReuse Symposium in Atlanta from March 5-8, delivering six presentations on innovative projects that incorporate the latest water reuse technology. Planned by the WateReuse Association in coordination with the Water Research Foundation, the symposium centers on the essential role of water reuse in the field of water management.

During its panel presentations, Hazen staff will review recent successes contributing to effective water reuse programs that promote environmental and economic sustainability, as well as public health in both large and small communities. Presenters will discuss projects across the U.S. – from California to New York – with outcomes ranging from helping to develop reuse regulatory frameworks to designing innovative data management approaches for systems that incorporate membranes, carbon adsorption, and biofiltration, among other technologies.
"We are looking forwarding to sharing our recent successes with reuse in presentations that cover a diverse portfolio of projects, featuring many of the different ways that water reuse can contribute to a community's success," said Hazen's Water Reuse Practice Lead Troy Walker. "There's a temptation to look many of these approaches as novel or cutting-edge, but honestly this is the kind of work we must be doing to continue to thrive on this planet."
Hazen has been closely involved with the WateReuse Association over the years. In addition to hosting the annual symposium, the association focuses on advancing laws, policy, funding, and public support of recycled water. As the nation's only organization solely dedicated to reuse, the symposium attracts water professionals from around the world, making it the ideal forum for Hazen to network, collaborate, and exchange knowledge with other industry insiders.
For more information on Hazen's water reuse service, click here.
For more information on Hazen's WateReuse Symposium presentations, visit: Technical-Program-Draft_v6_1-17.pdf (watereuse.org)