Cost-saving Nutrient Removal System Debuts on West Coast
A successful remote pilot of PANDA, a new nutrient removal method, at a Seattle-area wastewater plant could help West Coast facilities facing tighter nutrient limits.

At a Glance
Hazen, with Virginia Tech and the Water Research Foundation, successfully used an innovative nutrient removal technique called PANDA (partial nitrification-denitrification-anammox) to achieve nutrient removal targets at a wastewater resource recovery facility (WRRF) discharging to Puget Sound.
Many WRRFs discharging to the Sound will likely have to meet such targets soon, and WRRFs across the West Coast could face similar nutrient removal requirements. The pilot showed that PANDA could be a cost-effective way for them to meet those requirements.
The pilot—which was automated and remotely run—also used bacteria to remove phosphorus from wastewater through a process called enhanced biological phosphorus removal (EBPR).
The pilot achieved less than 3 milligrams per liter (mg/L) of total inorganic nitrogen and less than 0.15 mg/L of orthophosphate, an indicator of phosphorus.
The pilot used 100% less carbon and 30% less oxygen during secondary treatment. During tertiary treatment, it used up to 50% less carbon compared to a conventional biological nutrient removal setup—demonstrating significant potential savings with lower environmental impacts.
Yewei Sun uses mathematical models to help design a variety of advanced biotechnologies—including PANDA—for water and wastewater treatment systems.
Related Topics:
Frequent storms on the Puget Sound (above) can pose challenges for the wastewater resource recoveries discharging to it.
The Big Picture
More states and localities are considering stricter nutrient limits for wastewater resource recovery facilities (WRRFs) that discharge to surface and coastal waters.

The limits would attempt to help curb nutrient pollution in bays, estuaries, and other coastal waters, where it can trigger harmful algal blooms. But many coastal wastewater plants aren't currently equipped to remove nitrogen and phosphorus, the primary nutrients of concern.
That's the case for 58 WRRFs that discharge to Puget Sound, the country's second biggest estuary.
A state nutrient permit for the Sound took effect in 2022 and requires those facilities to ramp up their nutrient removal capacity. Many of them—including Everett Wastewater Treatment Plant (WWTP), where the pilot was run—are exploring how to do so.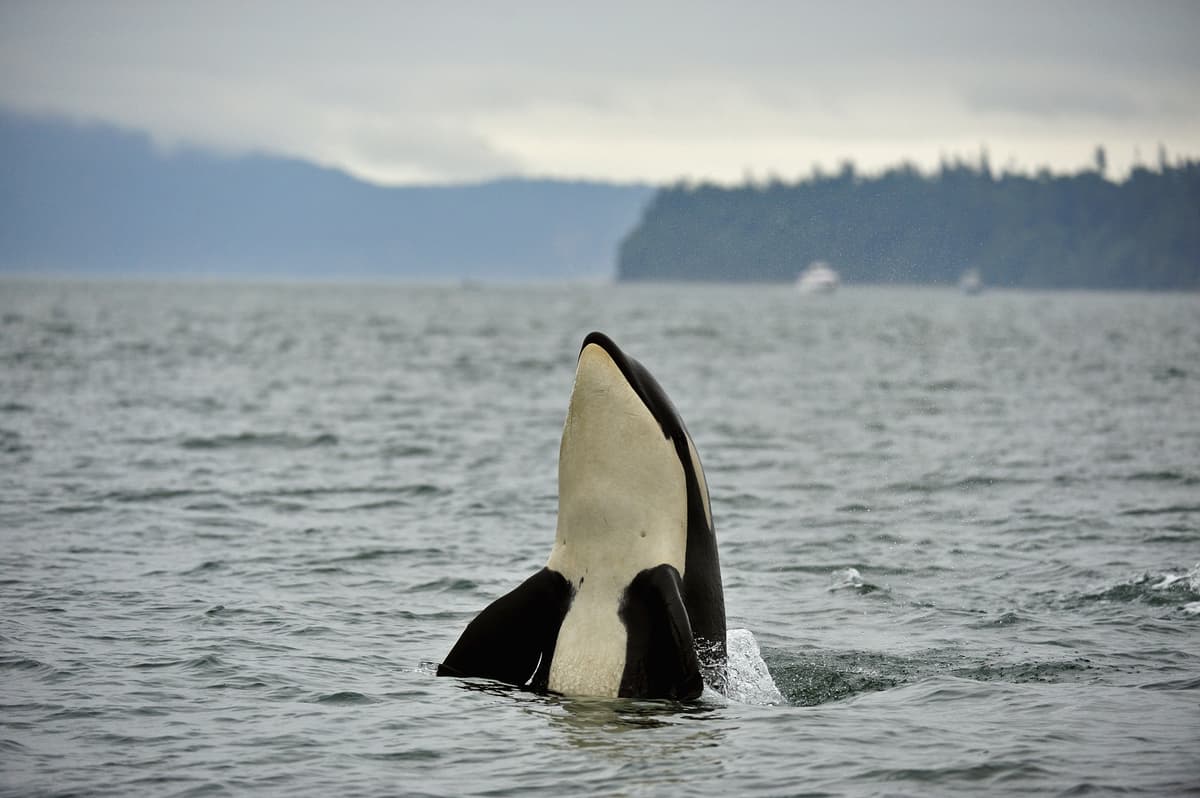 Cost Concerns
Biological nutrient removal (BNR) uses microorganisms to remove nitrogen and phosphorus from wastewater. It has long been the industry's go-to nutrient removal method.
But the process requires aeration—typically done by pumping air into the water—and, sometimes, the addition of supplemental carbon such as methanol or glycerol.
The aeration and supplemental carbon can drive up the cost and energy footprint of BNR, especially for plants with strict nutrient limits.
The Pilot
The Water Research Foundation invited Virginia Tech and Hazen to prove that a novel nitrogen removal technology called PANDA (short for partial nitrification-denitrification-anammox and sometimes called PdNA) could help utilities like Everett WWTP remove nutrients in a sustainable, economical way.
PANDA uses a combination of microorganisms to remove nitrogen in a more efficient way than conventional BNR. The key to its success is anammox bacteria. Anammox bacteria don't need supplemental oxygen or carbon, so the process can save money and energy compared to conventional BNR.
The pilot aimed to show that combining PANDA and enhanced biological phosphorus removal (EBPR)—a process for removing phosphorus—could produce high-quality, low-nutrient effluent at a competitive cost.
Remote Control
Hazen Scientist Yewei Sun, who was responsible for running the pilot, is based in Virginia. To minimize trips to the site, Sun and the team developed a control strategy for remotely operating the pilot.
A laptop containing a program for the remote operation was connected to turbidity, dissolved oxygen, nitrate, and ammonia sensors in the pilot. The program used sensor readings to control how much oxygen and glycerin (a supplemental carbon source) were pumped into the pilot.
For seven months, the team remotely monitored and controlled the pilot. If the system detected anything amiss, it emailed an alert to Sun. Operators at Everett WWTP handled routine maintenance and sampling for the system.

We gained a lot of experience with how to remotely operate a pilot system from this project, and we demonstrated that PANDA can work in an environment with a lot of storms.
~ Yewei Sun, PhD, Scientist, Hazen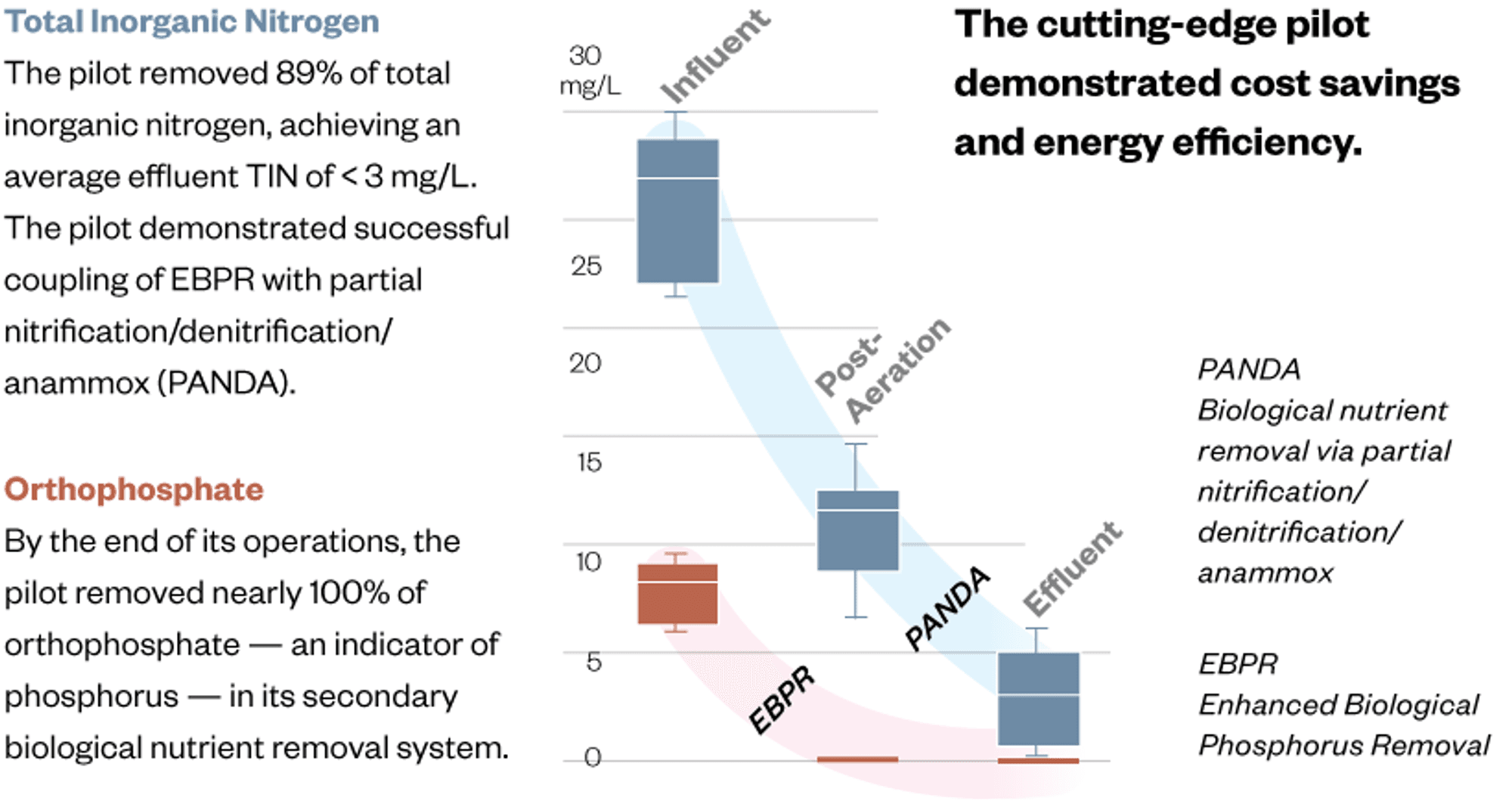 The Results
By May, the automated system was consistently producing wastewater with very low nutrient levels. It performed well even during storms common to the Seattle area, and also achieved densification of the sludge.
Average total inorganic nitrogen (TIN) levels in the wastewater stayed below 3 mg/L during the benchmarking period, while orthophosphate (O), a key indicator of phosphorus removal, remained undetectable (less than 0.15 mg/L) during that window.
Compared to a conventional MBBR system,* the pilot used 100% less external carbon in secondary treatment and up to 50% less in tertiary, along with 30% less oxygen in secondary treatment.
The Bottom Line
The pilot showed that PANDA and EBPR can achieve nutrient removal for a real facility (Everett WWTP) in the Puget Sound region. Based on the results, the technique could help West Coast plants affordably meet lower nutrient requirements.
Hazen, meanwhile, will keep honing the control strategy. Sun said this was the most complex remote pilot the firm has achieved to date, and he's working to incorporate machine learning into the controls.
*MBBRs are tanks with bits of plastic suspended in the wastewater; the bacteria that grow on the plastic remove nitrogen and other nutrients.