Paul Meyerhofer Joins Hazen as Senior Associate
(CONCORD, CA - August 2, 2023) - Hazen and Sawyer has announced the appointment of Paul Meyerhofer, PE as Senior Associate.
Paul is an expert in drinking water treatment, with over 40 years of experience focused on planning, designing, and constructing water supply and water purification projects throughout the United States and internationally. Over the course of his career, Paul has served in the roles of project design engineer, project manager, project technical reviewer/advisor, and executive director. In total, he has been responsible for managing the design and construction of more than 250 water projects, with a total construction cost of over $1.5 billion. Paul previously served as Group Manager of a large international firm's Water Services Division, a unit of 700 engineers responsible for providing planning and design services for the firm's water projects.

In addition to his extensive professional experience, Paul has taught civil engineering and water supply/treatment courses and seminars at universities in California, Colorado, and Utah. He has also published technical papers and presented technical presentations at international engineering conferences.
"I am thrilled to welcome Paul to the Hazen team," said Hampik Dekermenjian, Vice President. "His decades of experience helping municipalities with water system design, water treatment design, and treatment plant operations will be a tremendous asset to our clients, particularly those in the West and Southwest as they work to overcome unprecedented drought and climate challenges."
Paul holds an MSCE in Environmental Engineering from University of California, Berkeley and a BSE in Civil Engineering from Loyola University of Los Angeles. He is a licensed Professional Engineer in California.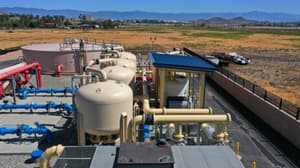 Related: We helped a utility in California fast-track the installation of a PFAS treatment system for its water well.