Fort Lauderdale Horizontal Directional Drilling Project Wins Three Awards
(HOLLYWOOD, FL – March 22, 2022) – A project that used 17 horizontal directional drillings (HDD) to upgrade 7 miles of large-diameter pipeline in the City of Fort Lauderdale was recently honored with 3 different awards.
The awards include a Grand Award from ACEC-FL, Trenchless Technology Honorable Mention, and ASCE-FL Broward Branch Project of the Year.
In December 2019, the City of Fort Lauderdale experienced numerous breaks to its aging 7-mile major sewer transmission main, resulting in over 200 million gallons of sewage spilling into nearby waterways. After these breaks, the City declared an emergency and awarded two design-build contracts within two months of the first break. Utilizing the design-build delivery method to expedite the project, the project was divided into the north and south sections and awarded to two teams to design, permit, and construct each phase concurrently.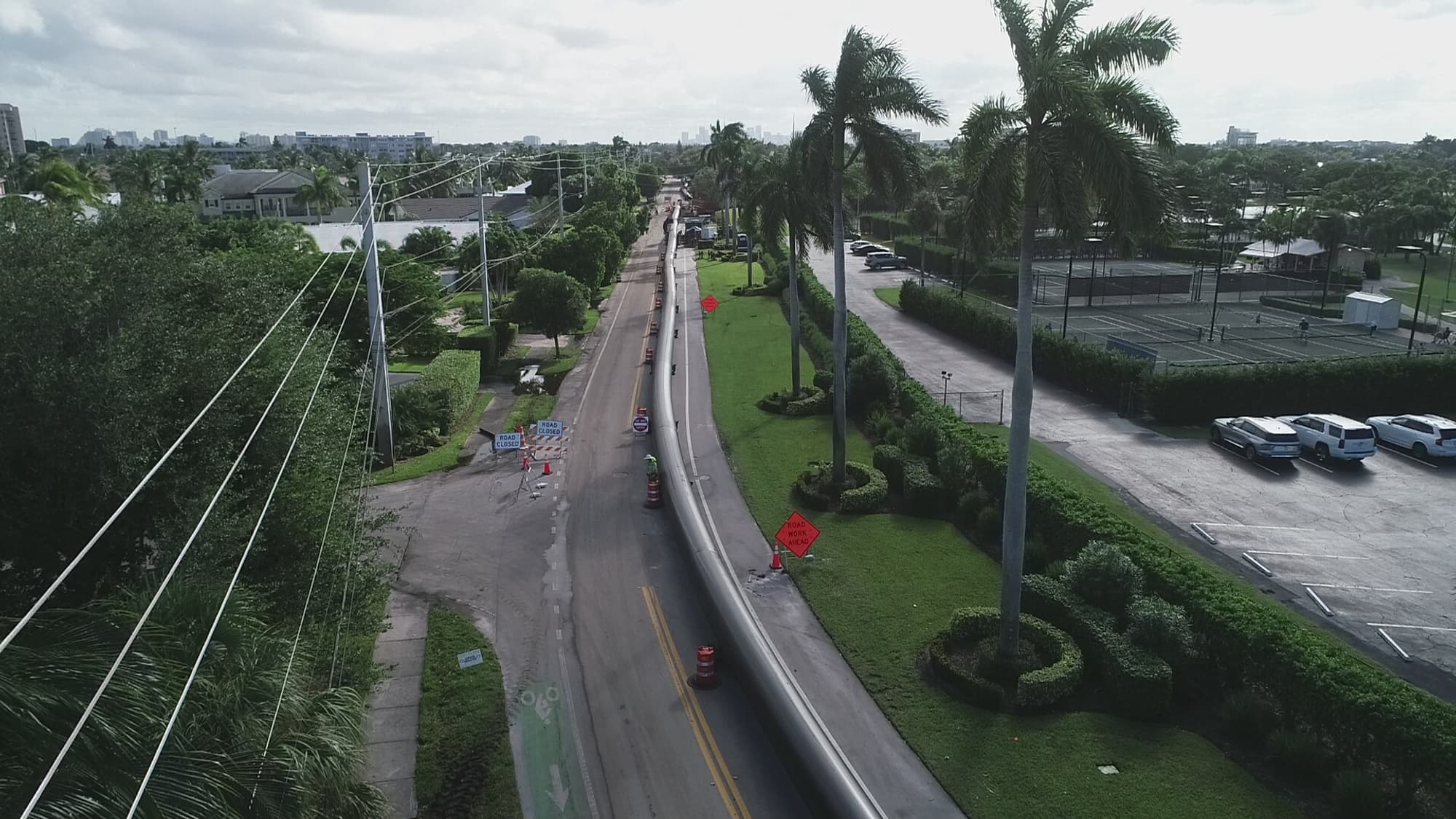 This emergency pipeline project included installation of a new 7-mile, large-diameter (48-inch and 54-inch) high-density polyethylene (HDPE) force main. To expedite installation and based on previous successful projects, approximately six miles (85% of the total 7-mile length) of HDPE pipe was installed using trenchless technology via 17 HDDs through the heart of downtown Fort Lauderdale and adjacent residential areas. This project falls under the City's Sewer Design and Implementation Program that includes a series of projects that are included in a Florida Department of Environmental Protection's Consent Order.

As Program Manager for the City's Sewer Design and Implementation Program, Hazen assembled a team to assist the City with evaluating potential alternatives, including different routes for the new force main, construction technology, and the type of contract required to complete the project in record time. Once the method of delivery was selected, Hazen provided design criteria, bidding assistance, permitting assistance, and construction administration for this project.
The project's original schedule was 49 months. Using design-build delivery, trenchless technology, and HDPE pipe, the project was completed within 18 months – an impressive feat considering that the project, which required procurement of pipe with unique sizing and dimension ratio, was executed during a pandemic.