Offline Storage Facility and Park Improvements Project Named WEF Design Excellence Award Winner
The project team, including Hazen as designer, was recognized for this innovative dual-use facility.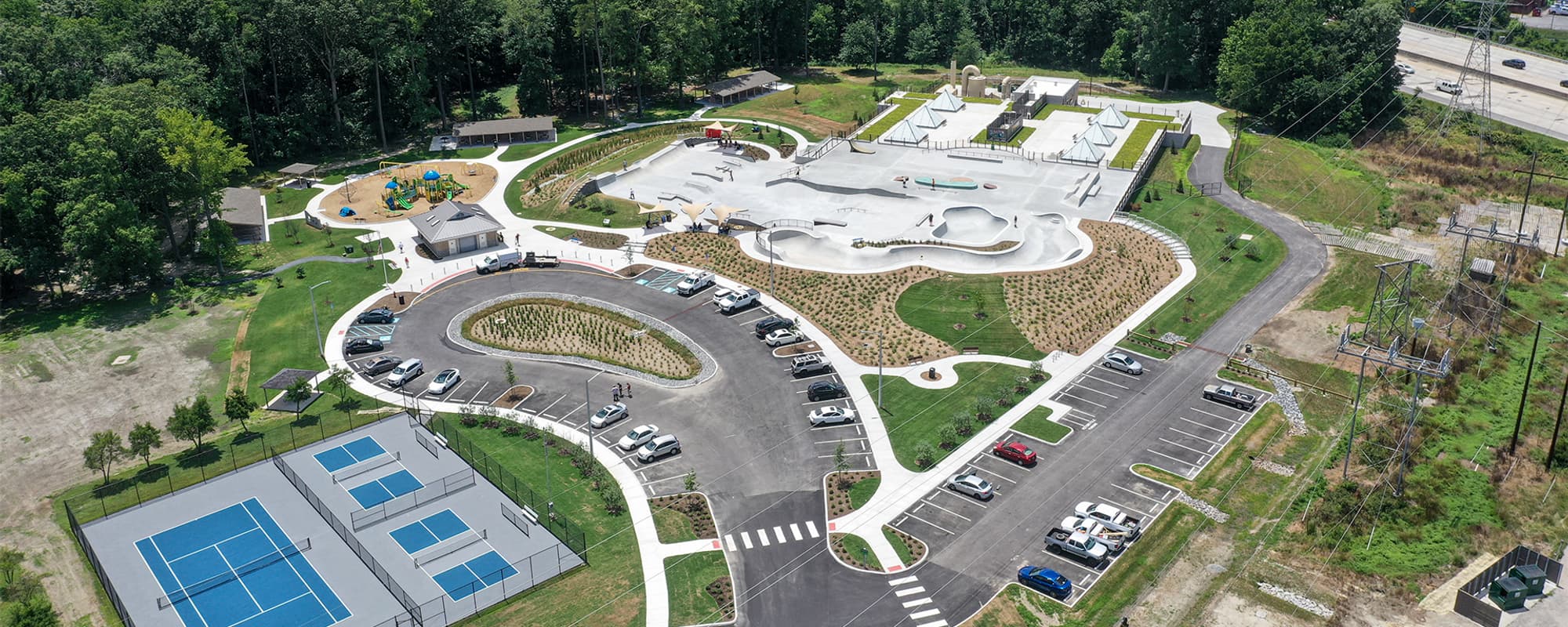 (VIRGINIA BEACH, VA - August 31, 2022) - The Hampton Roads Sanitation District (HRSD) Providence Road Offline Storage Facility and Woodstock Park Improvements project was recently named an Operational and Design Excellence Award winner by the Water Environmental Foundation (WEF).
This project provided a rare opportunity to address two major community needs in one endeavor. HRSD and Virginia Beach Parks and Recreation partnered to construct a 5.2-million-gallon wastewater storage and pumping facility within the existing 13-acre Woodstock Park in Virginia Beach. For the two organizations, the proposal was a win-win: the critical holding tank was located on the grounds of Woodstock Park, which needed repairs, and because the City and HRSD combined their financial resources, considerable savings were passed on to the local communities.
This combination of recreational space and critical infrastructure benefits both organizations and serves as an example for future collaborations. The project was recognized with a WEF Excellence Award due to innovative solutions, which include:
Dual-Use Site
Rather than struggle to disguise the wastewater storage tank, its unique architectural features were integrated into the overall design. The design plan includes a 30,000 square foot skate park, with 10K square feet situated along the flat top of the storage tank and 20K alongside.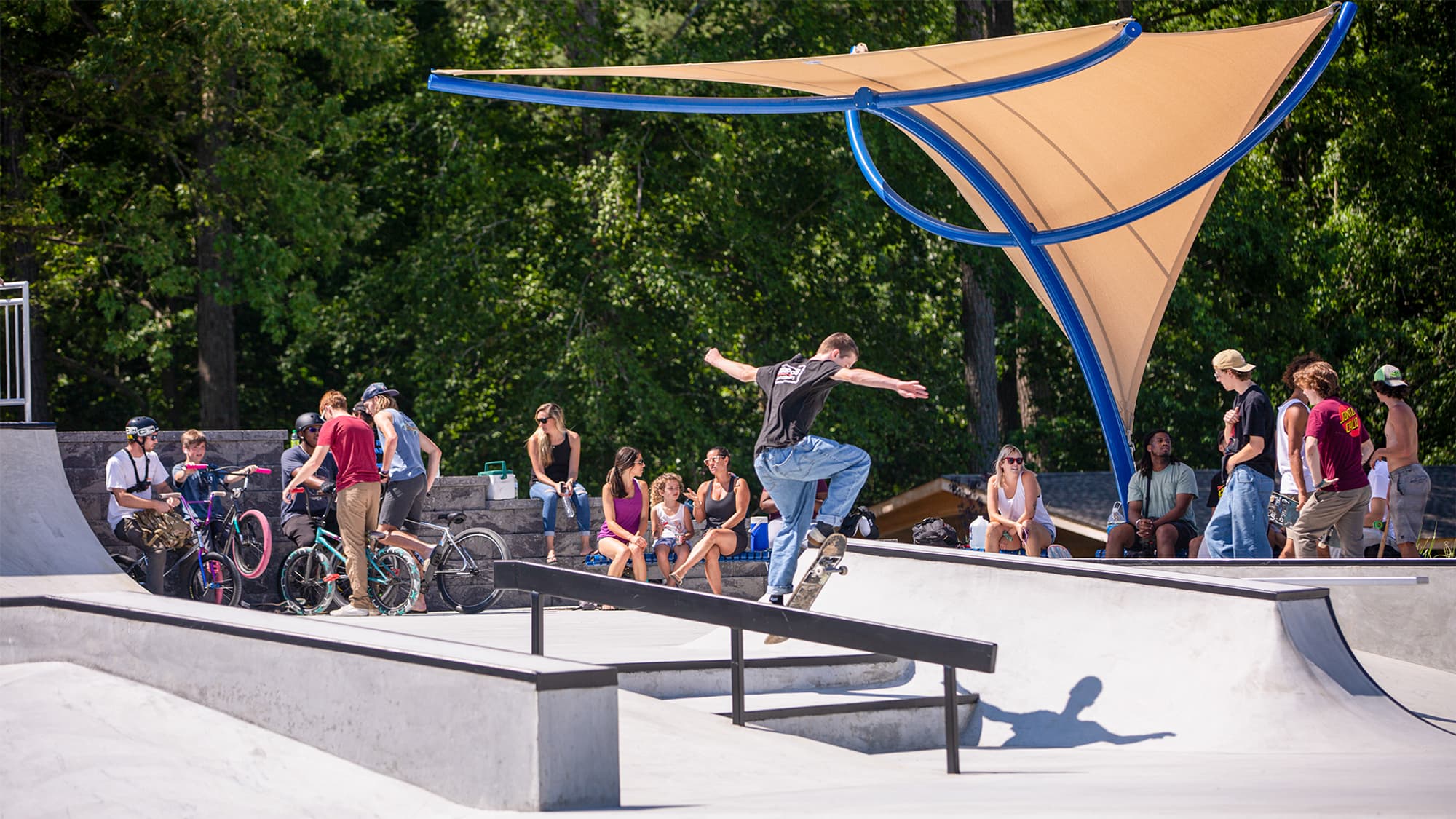 Storage Capabilities
The facility is comprised of four main parts – a storage tank, a pump room, a control room, and an odor control system. The unit is designed to blend seamlessly into the immediate surroundings. During a major weather event, an offline tank will kick into operation, diverting heavy flows into secure backup facilities. This corralling of excess water helps prevent sewer overflows, allowing operators to strategically plan its re-release after conditions return to normal.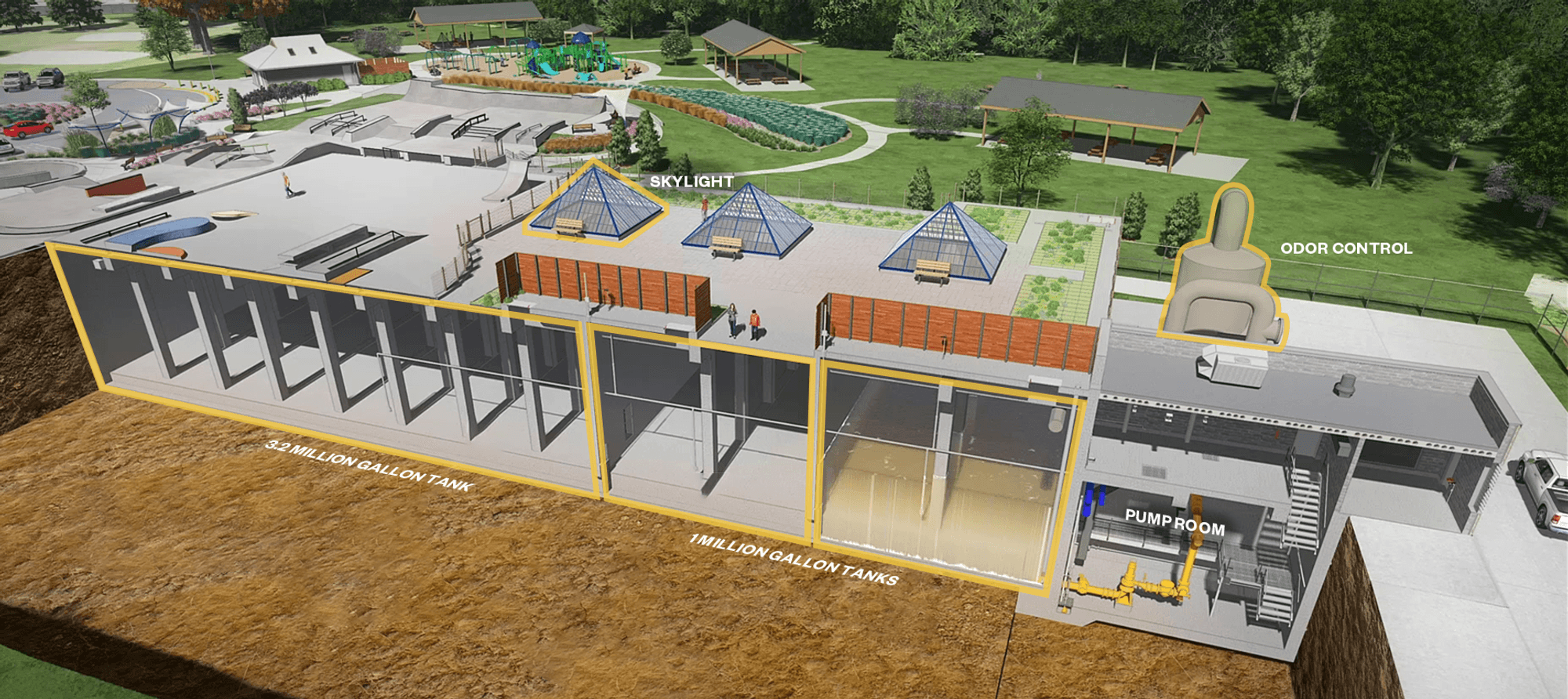 Rainwater Collection
Rainwater that lands on the site is treated by three onsite BMPs and two cisterns. The cisterns capture all the tank rooftop water for use by the tank cleaning system. Additional treatment of the rooftop rainwater is provided by 5,600 square feet of pre-vegetated green roof.
Educational Opportunities
To engage the public and promote environmental education, interpretive displays were strategically placed throughout the park to highlight its unique blend of form and function. Local artwork was installed along utility fencing, turning utilitarian elements into creative and welcoming spaces that invite guests to learn about conservation as they relax and explore the surroundings.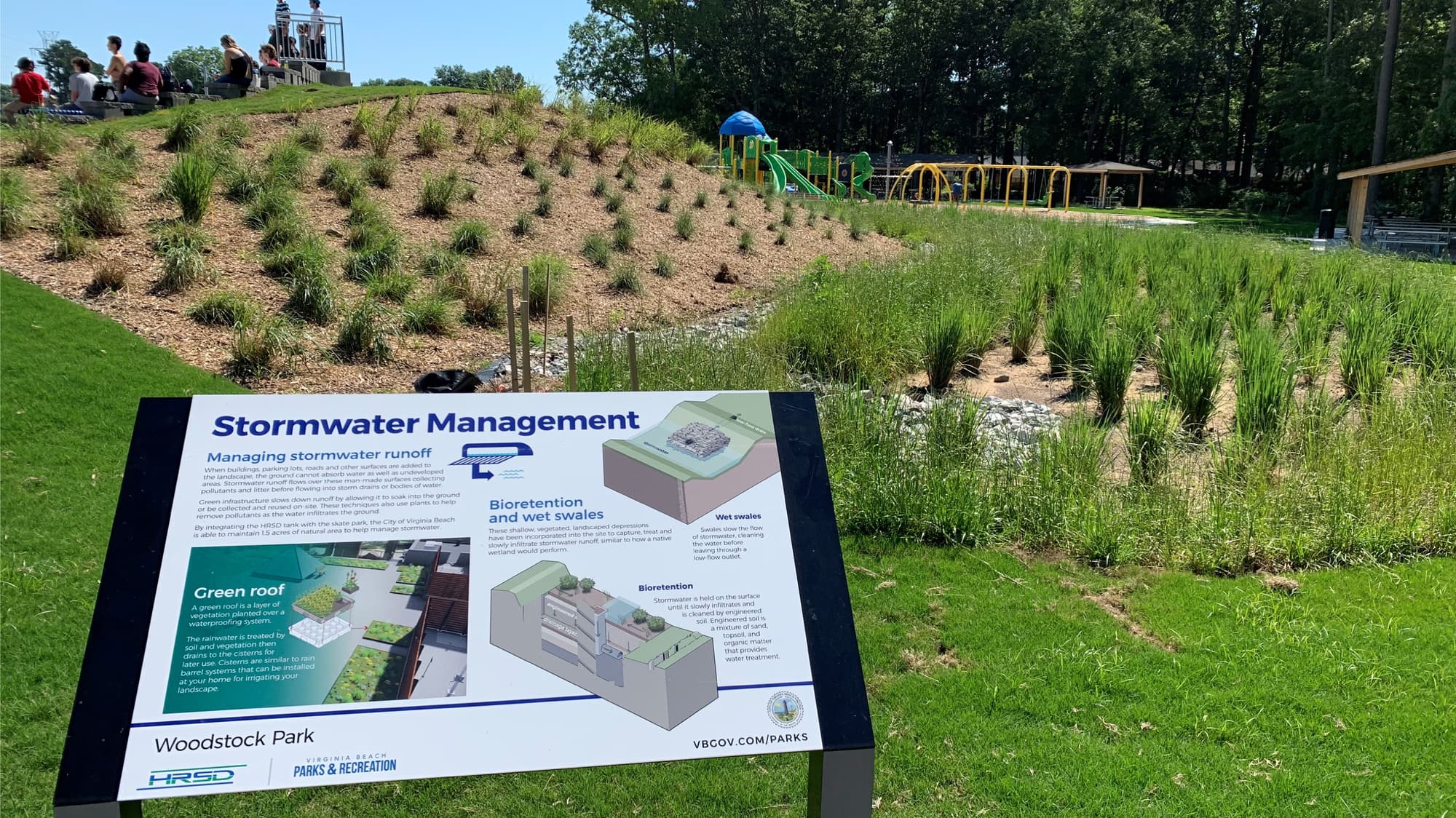 Automated Tank Cleaning
Use of a pump/deluge system that utilizes rainwater for tank cleanout means fewer moving parts and, in turn, lower construction costs, diminished risks of mechanical failure, and simpler long-term maintenance. When compared to initial project plans, the tank cleanout innovation saved roughly $500,000 in build costs.

Park Amenities
Assets include a staging and warm up area, shelters to provide shade for spectators, and a wide variety of runs and training features to accommodate athletes of all ages and abilities. For lighting, a cost-and-environmentally friendly option was found via installation of pyramidal skylights along the top of the tank. These allow light without a power source and double as easy access points during routine maintenance procedures, saving an additional $250,000 in build costs.
This year, WEF awarded over 70 individuals, companies, and organizations for their outstanding and diverse contributions to the Water Environment industry. The awards will be presented at WEFTEC 2022, to be held October 8-12th in New Orleans, LA.