Rehabilitate or Replace?
Using Innovative Assessments to Save Costs on Aging Infrastructure
The aging of water and wastewater infrastructure has long been a concerning topic for utilities in the United States (US). The American Society of Civil Engineers' (ASCE) Infrastructure Report Card grades US water and wastewater systems at a D and D+, respectively. Additionally, a 2020 ASCE report on the economic benefits of investing in water infrastructure determined that total capital spending on water infrastructure was $81 billion short of what is needed.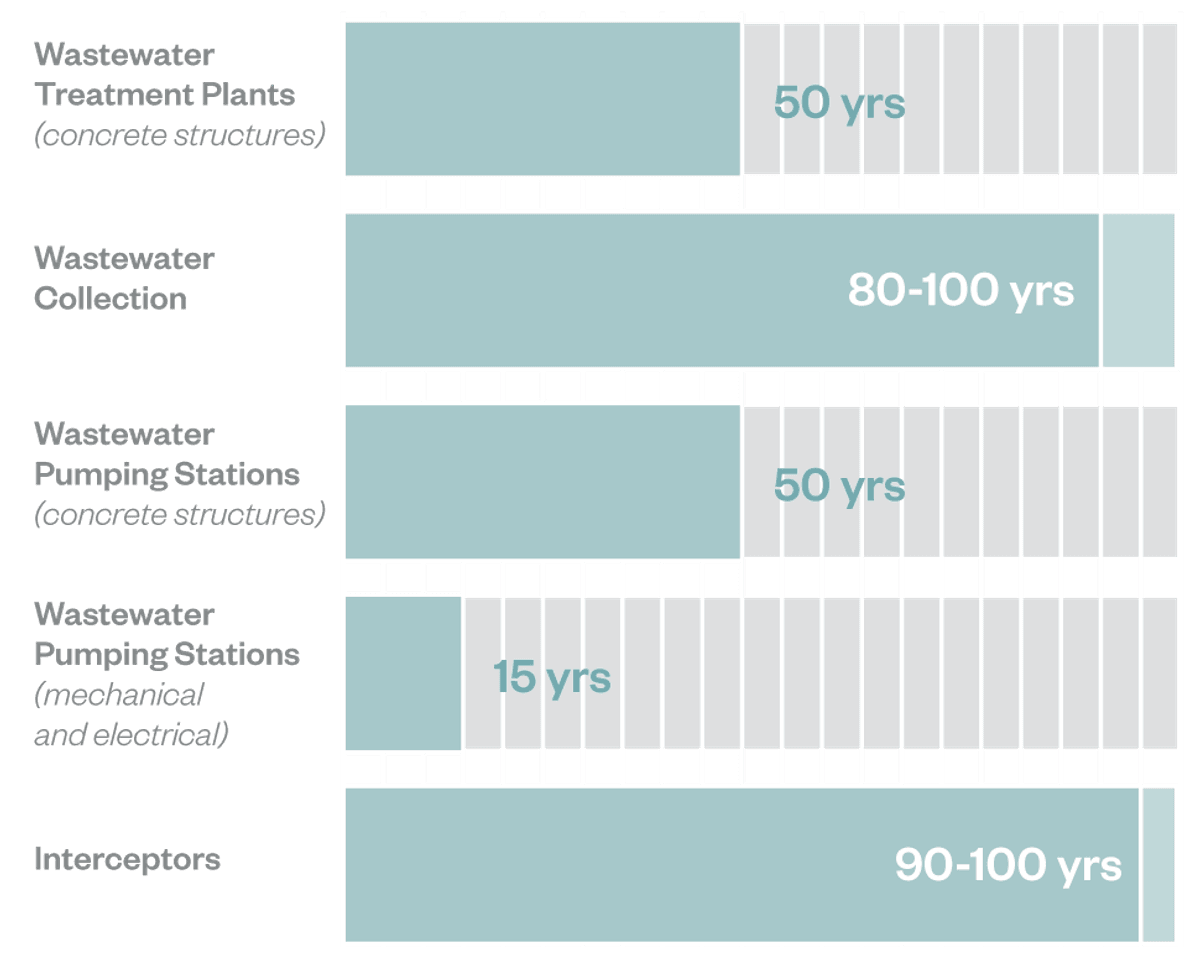 Township of Ocean Sewerage Authority Offshore Ocean Outfall Replacement
Ocean Township is a township of about 27,000 residents on the Eastern shore of New Jersey. Near New York City and several popular Atlantic beaches, the Township is served by the Township of Ocean Sewerage Authority (TOSA). TOSA also receives wastewater from other nearby boroughs, making its service area approximately 30,000 customers.
TOSA discharges treated effluent into the Atlantic Ocean through a 36-inch, 6,000-foot-long outfall pipe which extends approximately 2,000 feet offshore at a depth of 35 feet. The outfall was originally built in 1967, and at more than 50 years old was long past the average useful life for an ocean outfall. As the outfall is a vital asset with no backup, TOSA needed to perform a condition assessment to determine how much rehabilitation was required. TOSA selected Hazen to perform the assessment, which needed to confirm the size and materials of the onshore and offshore portions of pipe, identify any locations of damage or defect, determine the extent and type of repairs required, and design cost-effective methods to perform the repairs.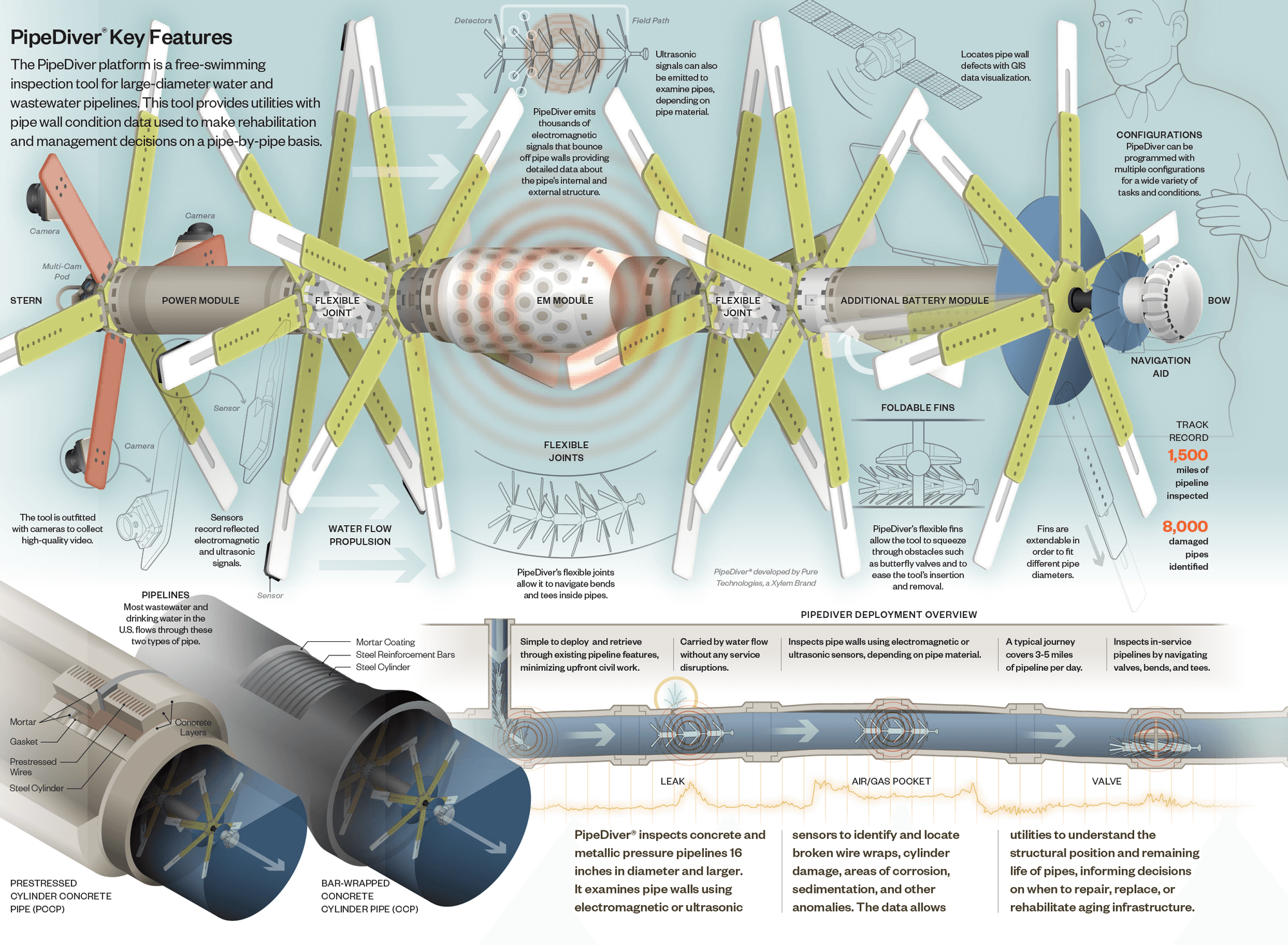 Hazen teamed with Pure Technologies, a Xylem Brand, to use PipeDiver®, a state-of-the-art electromagnetic underwater inspection tool which performed an electromagnetic inspection to collect data concerning existing physical conditions inside the pipeline. The PipeDiver is neutrally buoyant and has flexible fins that are used to center the tool within the pipe and ensure that it can navigate valves and bends in the pipeline while traveling long distances. Propulsion for the PipeDiver is provided by the plant's operating flows (reduced and within acceptable range), meaning no plant shutdown or flow bypass were needed for the inspection. The PipeDiver ascertained a magnetic signature for each pipe, identifying areas of corrosion, reduced wall thickness, or locations of broken pre-stressing wire wraps, depending on the pipe's material.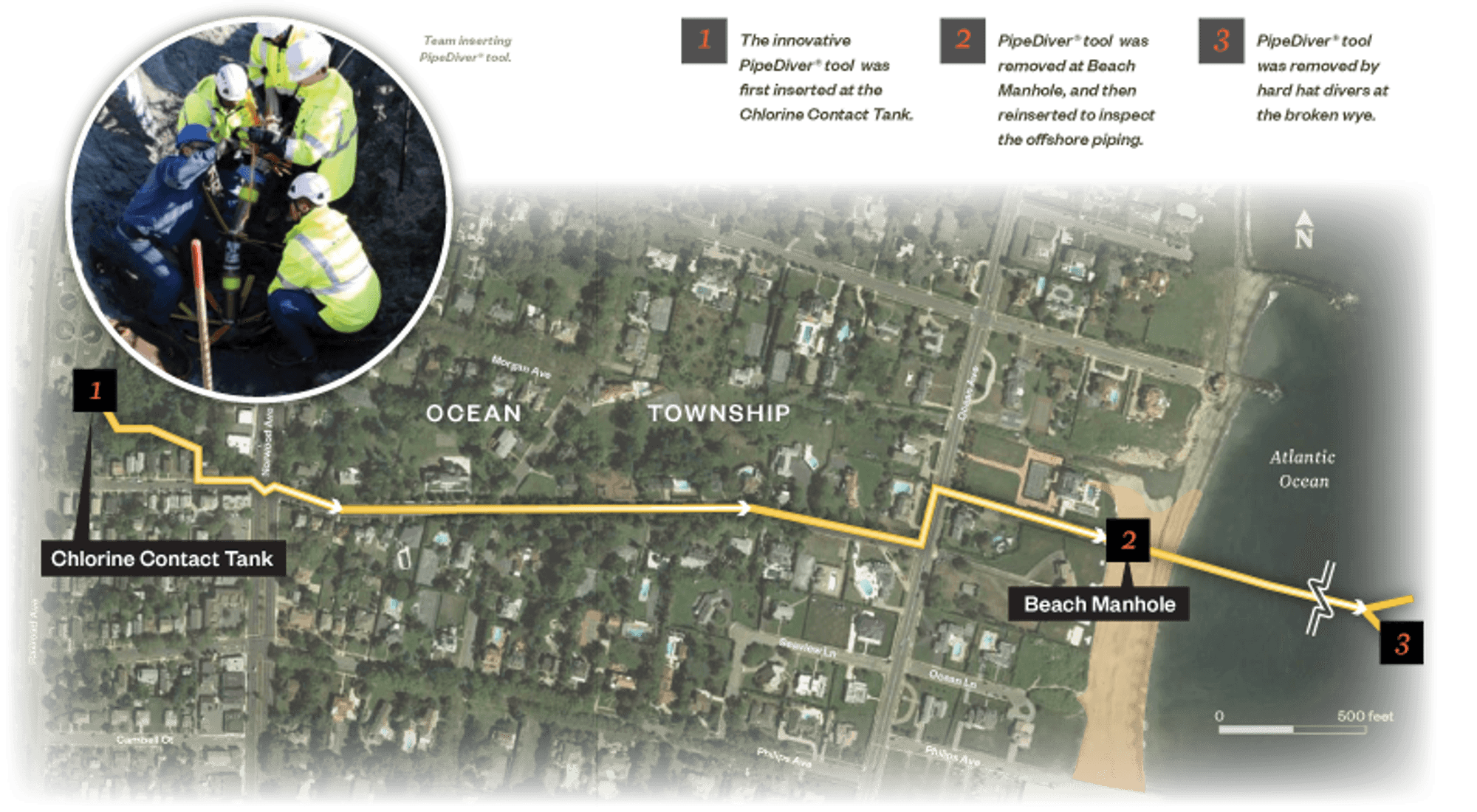 Inspection Revealed Most of Outfall Pipe Was Functional
This in-depth inspection confirmed that the onshore and most of the offshore portions of the outfall pipeline were still functional and only the last 814 feet required replacement – a savings of over $30 million compared to original estimates for replacing the entire outfall. Hazen then employed a collaborative team approach to design the necessary replacement pipeline, accounting for an unforgiving ocean environment, the inability to shut down the pipeline during construction, and operating at depths of 30-40 feet. As part of the design process, the team also performed geotechnical/bathymetric surveys; hydraulic, hydrodynamic, and water quality modeling; and corrosion prevention evaluations.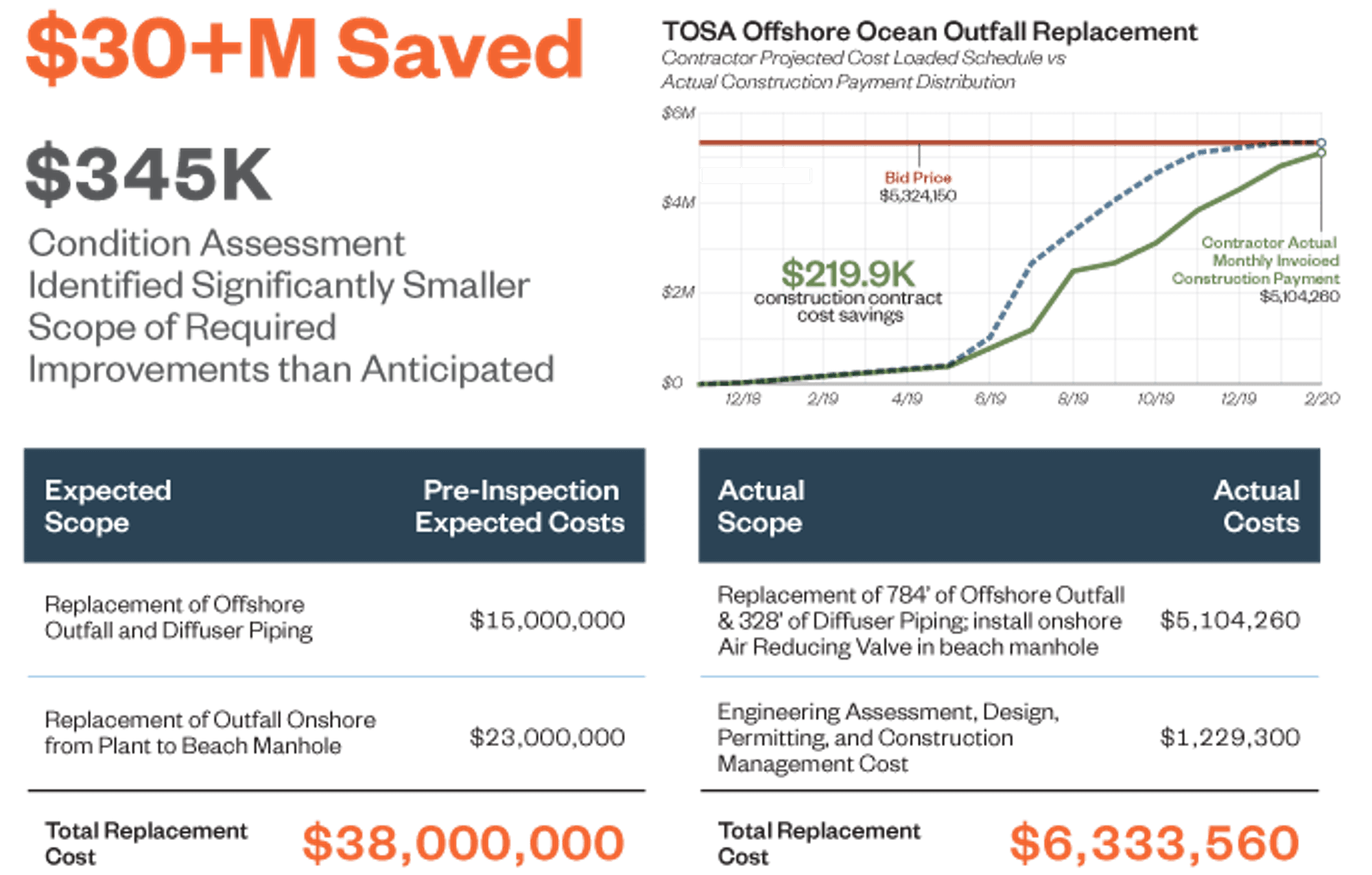 Assessment Aftermath
A coastal community, the population of Ocean Township increases during the summer months and access to the beach is essential for tourism. By only needing to replace a portion of the offshore pipeline, onshore work was minimized and there were no beach impacts during construction. Materials were built and fused at Weeks Marine, Inc. in Jersey City before being towed by barge to the outfall site for connection to the existing outfall. The abandoned outfall section was then transformed into an artificial reef, benefitting both the environment and the economy of the Township that TOSA serves.
This type of infrastructure rehabilitation will likely become more common over the next several years, due to most ocean outfalls being constructed around the time of the 1972 Clean Water Act and its associated regulations. The need for awareness of this issue prompted the New Jersey Department of Environmental Protection (NJDEP) to request Hazen present to its staff on the subject. Similar pipe distress will inevitably increase for ocean outfalls being used by coastal communities – while they have operated for decades in an aggressive, unforgiving ocean environment, quick fixes can only last so long. Taking early action to precisely determine any possible damage to unseen infrastructure and necessary repairs can save on capital improvement costs, protect the environment, and ensure uninterrupted operations for decades.