Tactful Offshore Ocean Outfall Replacement
Bill Gettings, Edward Barboe, Nichole Johnson, John Wojnas - Hazen and Sawyer; Dennis Galvin - Township of Ocean Sewerage Authority
Last Modified Mar 17, 2022
The Township of Ocean Sewerage Authority (TOSA) in Monmouth County, NJ needed to perform a condition assessment of its 50+-year old, 6,000-foot ocean outfall with limited access and determine the required rehabilitation. TOSA originally thought that the entire outfall may require replacement. The lack of available drawings depicting the 1967 as-built conditions and materials of construction further complicated the inspection, since inspection devices vary for different pipeline materials. In addition, TOSA was concerned that rehabilitation of the onshore portion of the outfall pipeline could disrupt beachgoers during the crowded summer season.
TOSA retained Hazen and Sawyer to perform an innovative pipeline assessment, which ultimately determined that replacement was required only for the easternmost offshore section. This resulted in a cost savings of over $30M compared to the originally-conceived budget for pipeline replacement, while providing a durable and reliable solution. Hazen and its specialty contractor, Pure Technologies, employed PipeDiver, a state-of-the-art electromagnetic underwater inspection tool, to identify the types/extent of deterioration along the outfall, locations of corrosion, reduced wall thickness, and/or broken pre-stressing wire wraps.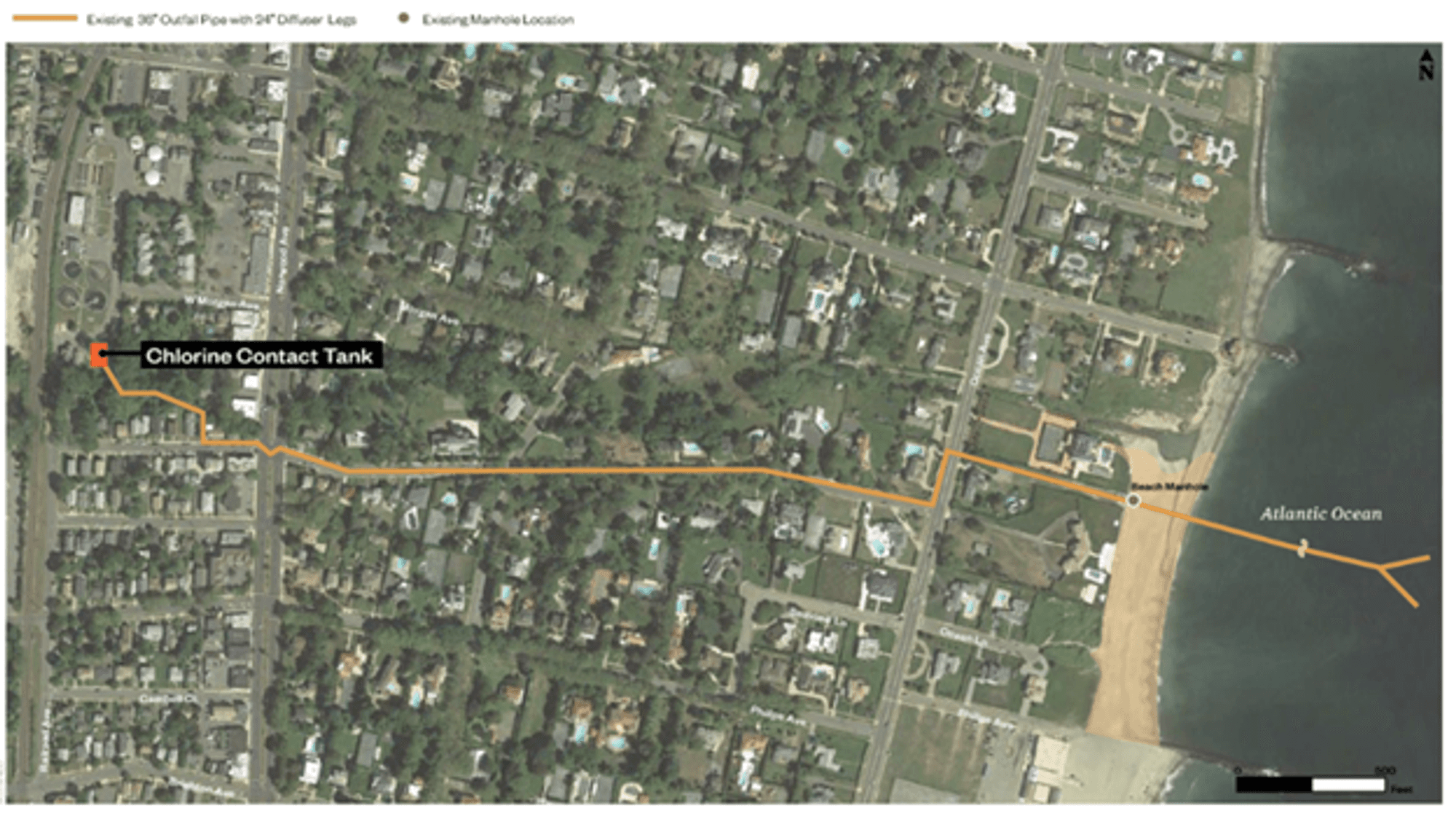 Inspection of the onshore portion focused on locating sections of the 36-inch Prestressed Concrete Cylinder Pipe (PCCP) that may have broken pre-stressing wires, impacting its structural integrity. The onshore inspection data found that only one 16-foot section of the PCCP appeared to exhibit five or less broken wire wraps, and structurally the pipe meets AWWA standards, therefore no repair or replacement is warranted at this time.

The inspection also found that only the last 814 feet of piping required replacement, at an ocean depth of approximately 30 to 40 feet.
The Hazen team also performed geotechnical/bathymetric surveys; hydraulic, hydrodynamic, and water quality modeling; and corrosion prevention evaluations, integrating the results to prepare a robust design that will provide decades of reliable service for this vital asset that has no backup. Barging materials to the site minimized truck emissions and congestion from road transport. Improved water quality and creation of an artificial reef from the abandoned outfall are sustainable environmental enhancements.
In implementing this project, several unique complexities were addressed in an innovative manner as follows:
Two different PipeDiver types were deployed, each designed for a specific pipe material.
Ensuring pipeline stability on the seabed was a critical design factor, since the pipeline would be subject to varying environmental storm conditions that greatly increase drag and uplift forces. A hydrodynamic study identified measures needed to safeguard long-term reliability.
Following completion of a corrosion study, a welded slip-on flanged connection was used to mate the existing 36-inch coated steel outfall pipe to the new 42" HDPE section, with subaqueous shielded metal arc welding and associated underwater epoxy coatings.
Water quality modeling ensured that the new single diffuser leg would improve the regulatory dispersion allowance established for the existing wye diffuser.
HDPE pipe was fused in Jersey City and towed to the outfall site for connection to the existing outfall. Articulated mats for anchoring the new pipeline were also barged to the site and sunk in place.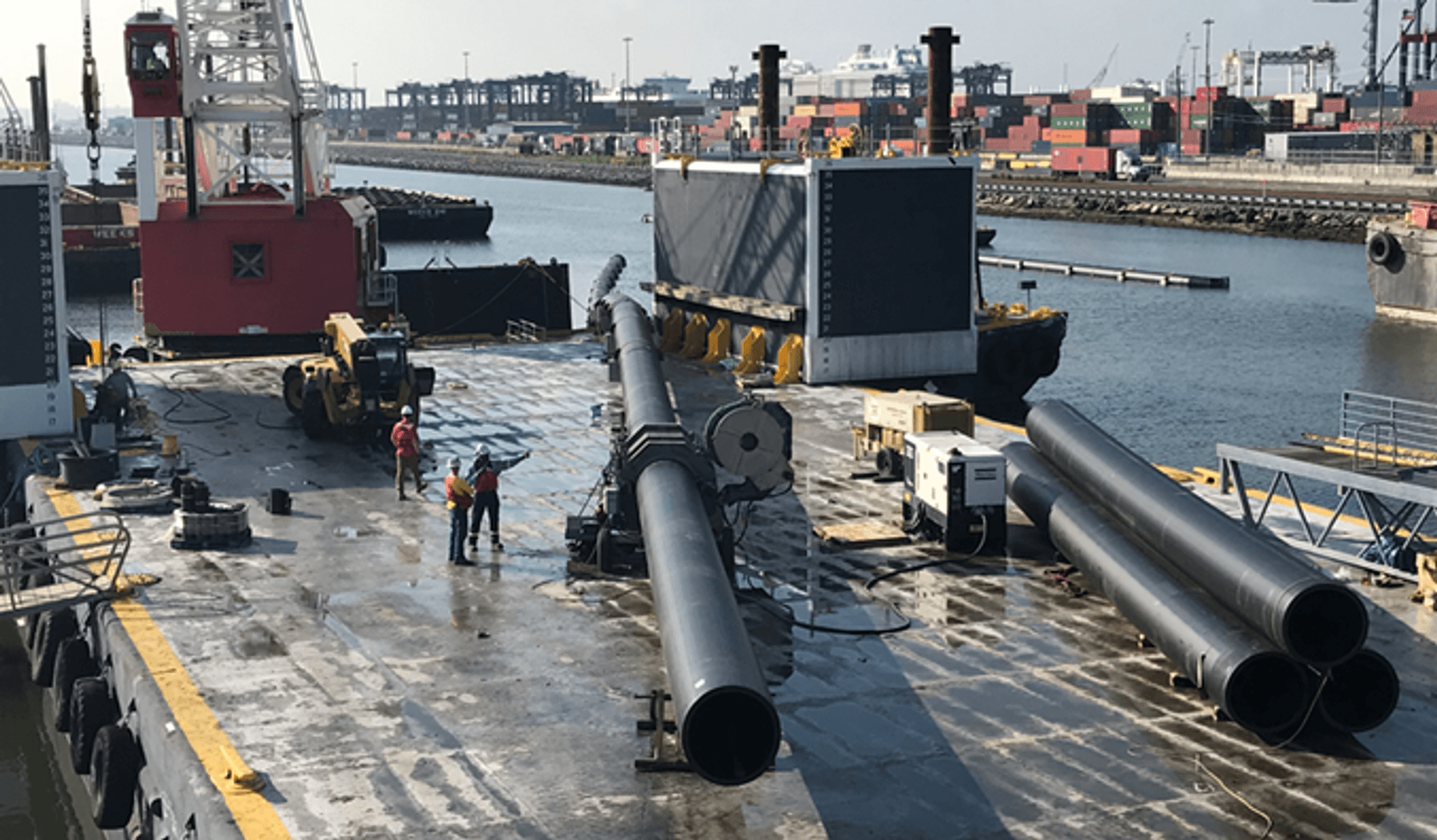 Innovative, state-of-the-art underwater inspection techniques were employed to identify material and defect types and locations, resulting in a greatly reduced scope of required pipeline replacement, compared to that originally anticipated and budgeted for by TOSA. Only 814 feet of the 6,000+-foot outfall, comprising the easternmost offshore section had to be replaced, saving over $30 million from the original project budget. This is based on TOSA's tactful spending of $345,000 on the outfall's condition assessment in advance of initiating design.

The approach of performing and integrating the results of multiple studies using specialty consultants – bathymetric, geotechnical, hydrodynamic, hydraulic, water quality, and corrosion control – resulted in a robust design that provides a cost-effective and durable solution while also yielding significant environmental benefits.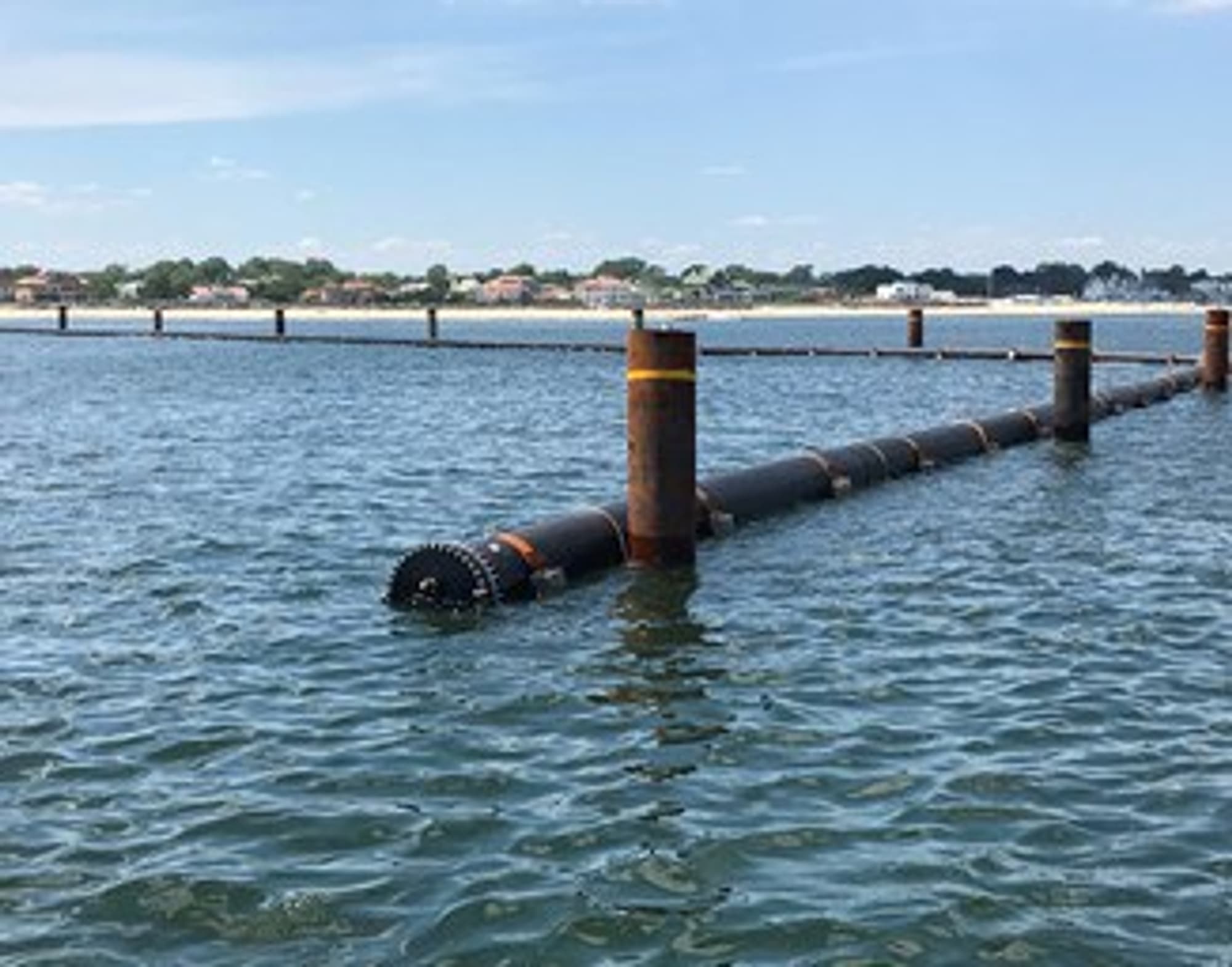 The challenges and complexities of designing and implementing rehabilitation of an underwater pipeline were successfully addressed through the engineering studies and effective construction techniques. These included ensuring stability on the seabed through the use of anchoring mats, effective dispersion of effluent through water quality modeling, prevention of corrosion using a specially-designed welded slip-on flanged connection to mate the existing 36-inch coated steel outfall pipe to the new 42-inch HDPE section, and barging of pre-assembled pipe sections and anchoring materials to the site to reduce both costs and vehicle emissions.

The techniques employed throughout the study, design, and implementation phases can serve as a successful protocol for other industry professionals, wastewater agencies and regulators throughout the United States to use in evaluating and rehabilitating aging outfalls.
The environmental benefits resulting from this project have enhanced public perception of TOSA as well as the engineering profession, through the improvement of water quality, prevention of future beach closures due to potential plant upsets, elimination of land and beach impacts during construction, minimizing truck emissions and congestion through barge transport of project's materials, and creation of an artificial reef from the abandoned portion of the outfall.

The project demonstrates how to combine results of specialized investigations to develop a robust, cost-effective design that will provide many decades of reliable, safe service for a vital asset that has no backup. The new outfall will withstand future environmental conditions in an era of increasing climate change. Improved water quality and the creation of an artificial reef (i.e., former remaining outfall) are important sustainable environmental enhancements that have also resulted from project implementation. The project utilized the latest technologies to do repair vital infrastructure for lower cost and less public disruption.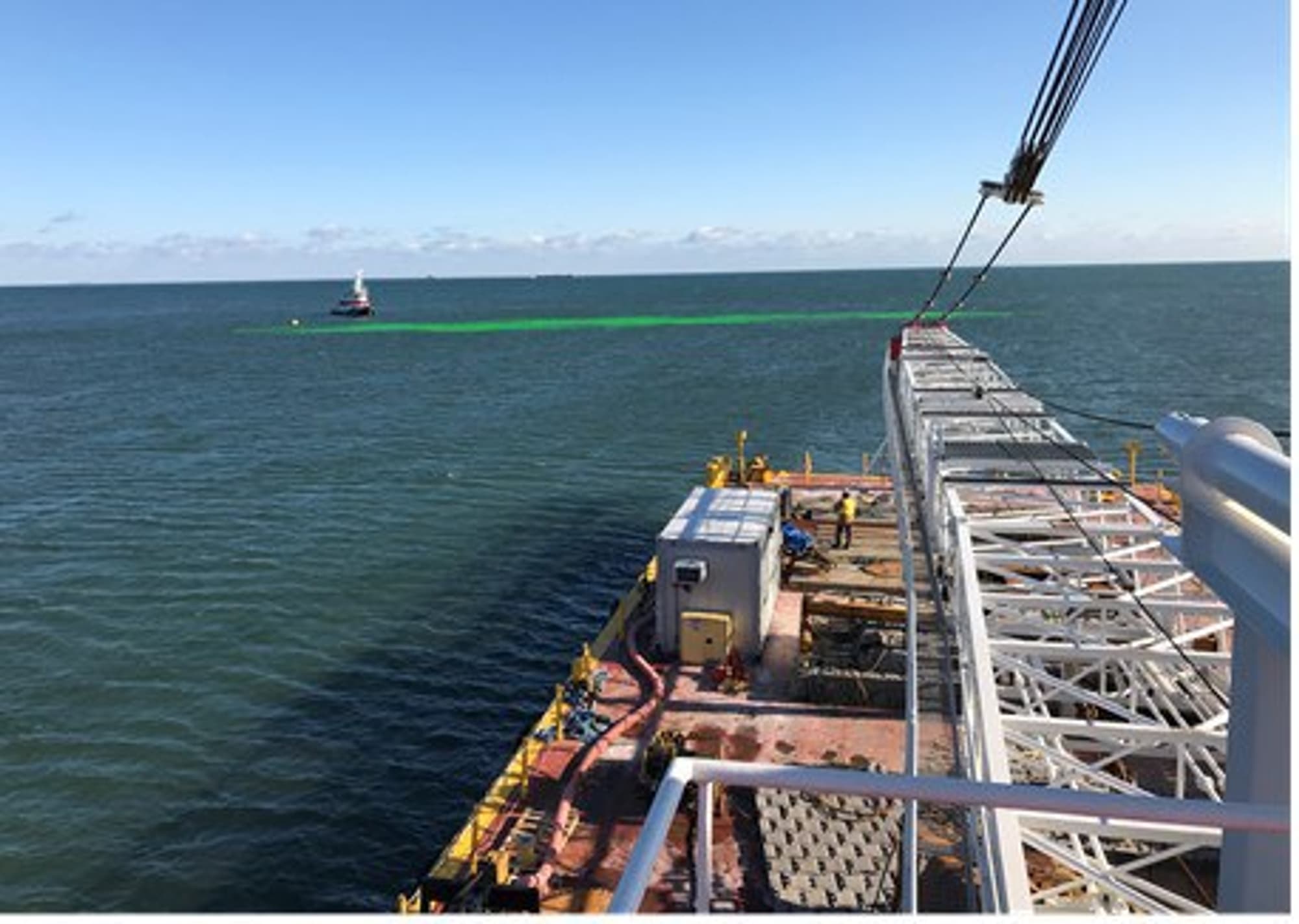 With the successful demonstration of results using dye testing to prove effective effluent dispersion, the project was completed under budget and ahead of schedule, thus exceeding client expectations. The savings of $30M, achieved by reducing the anticipated scope of pipeline replacement to only 814 feet as a result of the underwater inspection, was also greatly appreciated by the client and the public it serves.