East Side Coastal Resiliency EIS Named ACEC National Honor Award Winner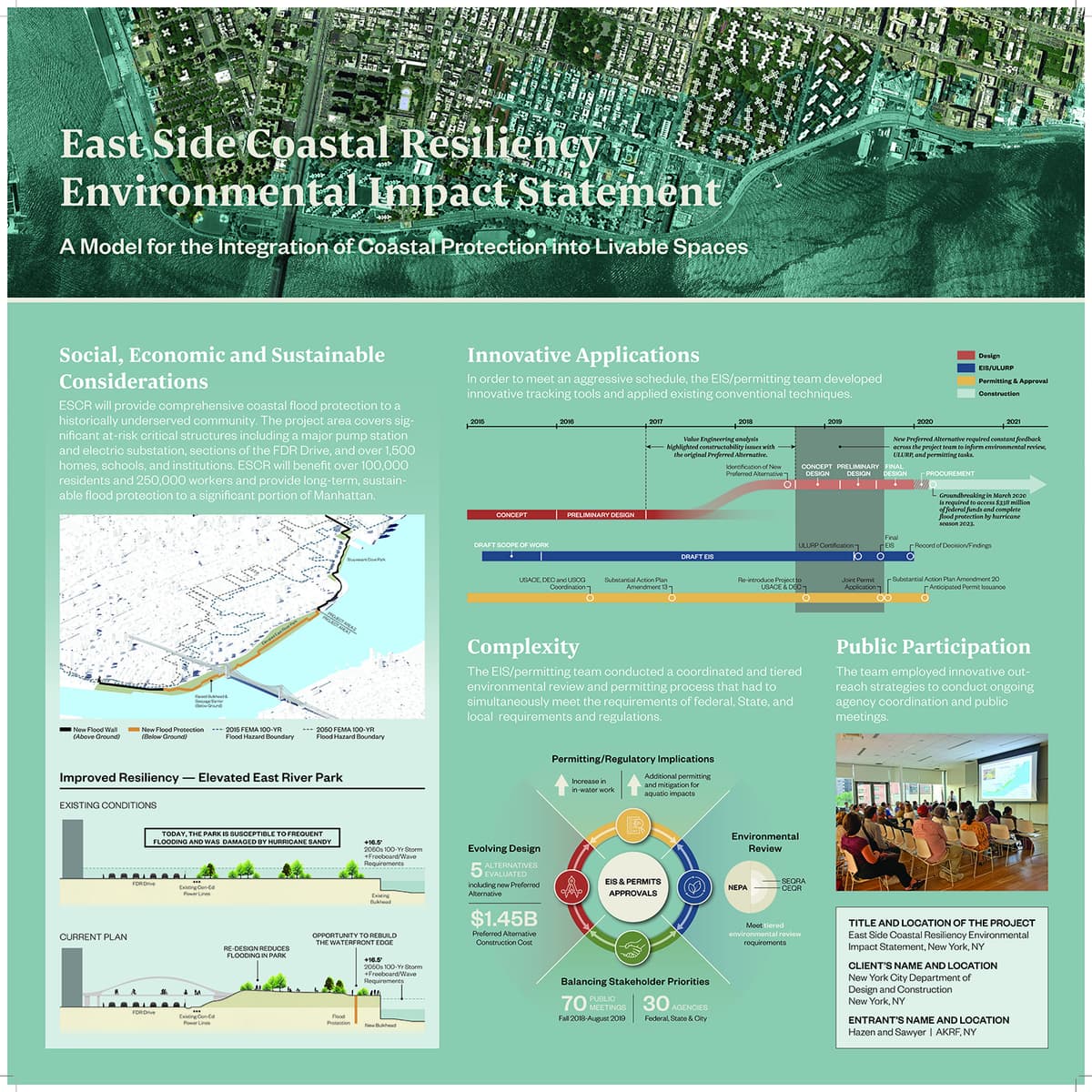 The $1.45 billion East Side Coastal Resiliency (ESCR) project required a comprehensive design, coordinated environmental review, and complex permitting to obtain HUD funding, requiring the project team to develop unprecedented procedures for concurrent design, environmental/public review, and permitting to meet the groundbreaking in March 2020.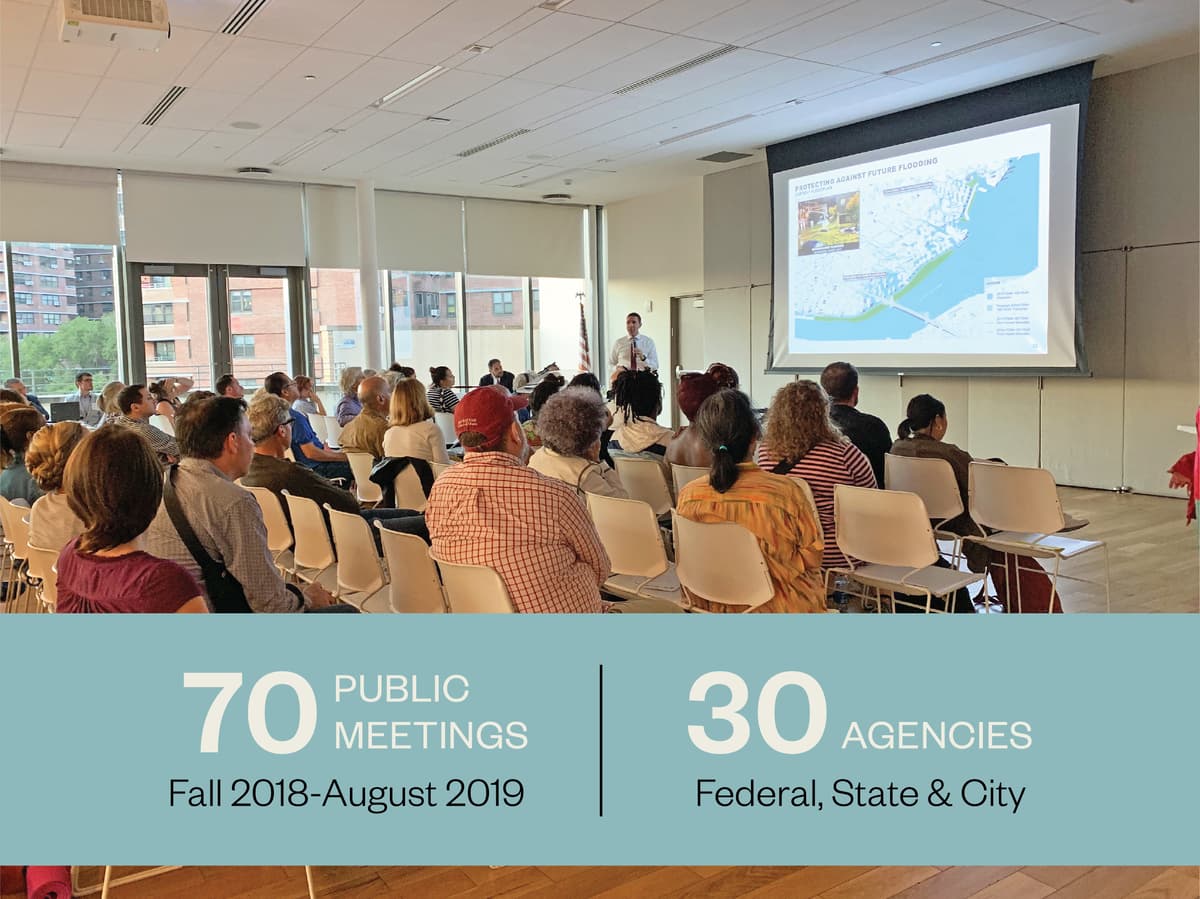 Over 70 public hearings and focused stakeholder meetings were conducted in less than one year to ensure stakeholder input, manage public perception, and consider community feedback. A number of innovative engagement strategies were employed, such as live design charrettes, open houses, and public engagement workshops. The project has created a road map for future resiliency projects in New York City.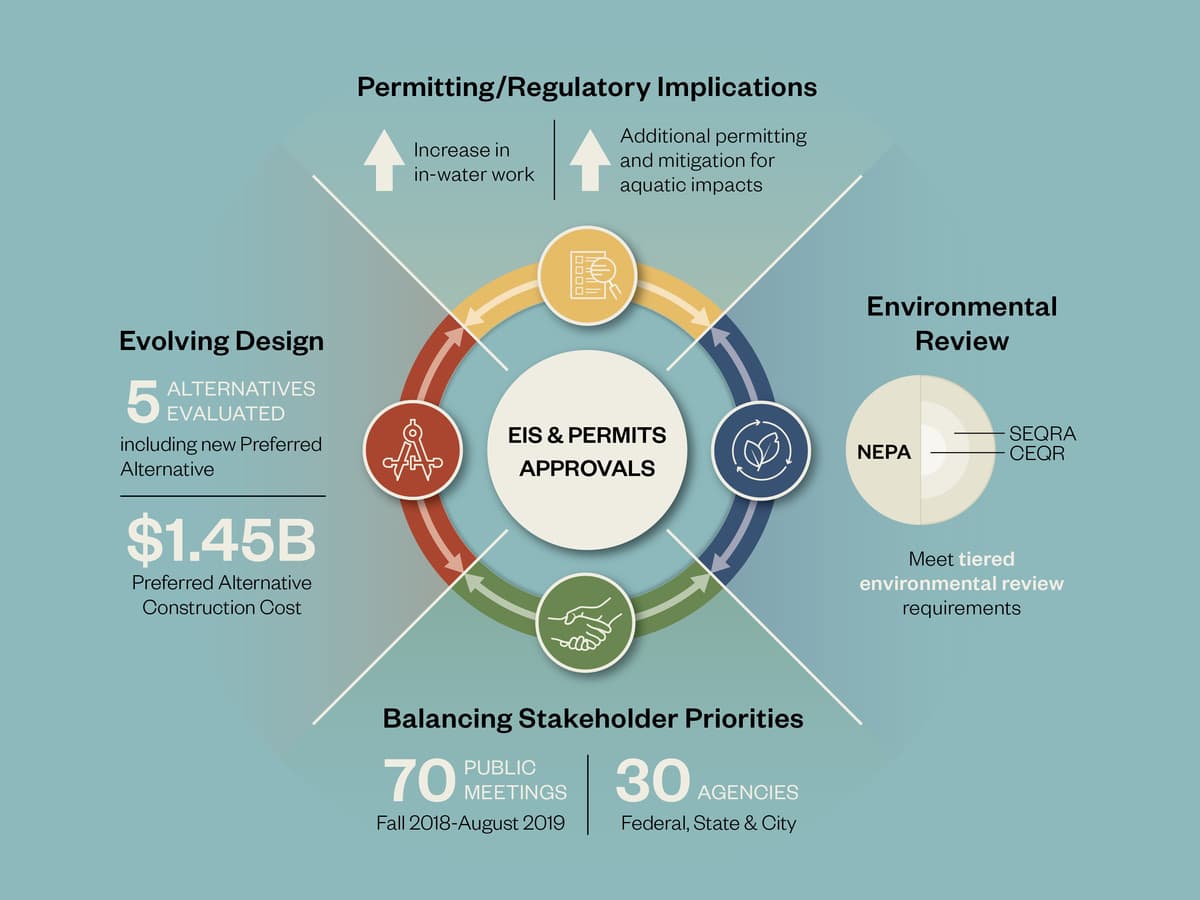 The ESCR project is unprecedented in scope, involving 30 Federal, State and City agencies. The project team is leading a coordinated effort that includes a tiered environmental review that simultaneously had to meet local (CEQR, ULURP), State (SEQRA, DEC mitigation requirements), and federal (NEPA, HUD-specific funding) requirements.
(WASHINGTON, D.C. – January 4, 2021) – The East Side Coastal Resiliency EIS, led by Hazen (in JV), was named an ACEC National Honor Award Winner at the virtual 2020 Engineering Excellence Awards Gala.
The East Side Coastal Resiliency (ESCR) Project is the largest post-Sandy resiliency project in New York to date, and the first to be implemented within Manhattan. It now serves as a template for other resiliency projects to continue the line of protection to reduce flood risk in lower Manhattan. The $1.45 billion project involves construction of an integrated flood protection system for a 2.4-mile section of Manhattan. The Environmental Impact Statement and permitting team led a coordinated effort that balanced delivery of a tiered environmental review (NEPA, SEQRA, CEQR) with regulatory and design implications under an aggressive schedule. There is no precedent for a project of this size and scope in New York City, which now heads into construction on the City's anticipated schedule. Once completed, ESCR will be model for the integration of coastal protection into livable spaces.
The ESCR EIS project previously won an ACEC-NY Engineering Excellence Diamond Award.