Ultrafiltration Update Will Double Water Treatment Plant Capacity
A new membrane filtration water treatment system will more than double the Bunker Hill Water Treatment Plant's capacity, without interrupting service.
At a Glance:
Berkeley County Public Service Water District (BCPSWD) contracted Hazen to design a new ultrafiltration (UF) membrane water treatment plant to replace its existing Bunker Hill plant.
BCPSWD provides drinking water to approximately 30,000 customers throughout southern Berkeley County in eastern West Virginia, which is growing quickly.
Switching from direct filtration treatment to membrane filtration treatment will improve water quality and the larger plant will increase treatment capacity from 2.8 to 6.0 million gallons per day.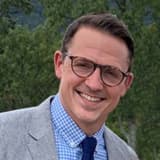 Jeremy Hise specializes in the integration of hydraulic modeling and GIS to study and design treatment facilities.
Related Topics:
West Virginia's Bunker Hill Water Treatment Plant will soon more than double its maximum treatment capacity. Berkeley County Public Service Water District (BCPSWD) has contracted Hazen to lead an ultrafiltration (UF) membrane filtration treatment upgrade that will increase capacity from 2.8 to 6 mgd, while reducing reliance on the existing groundwater source. A new water treatment plant will be built on the same site as the current one, without any interruption to service during construction.
In addition to the facility upgrade, the project also includes a new raw water pumping station, raw water transmission main, break tank, membrane feed pump station, clear well storage tanks, finished water pump station, garage, small sewage pump station, small lagoon pump station, and finished water transmission mains.
"The new UF membrane filtration plant will replace 1960s infrastructure with the latest technology to ensure reliable capacity and water quality for Berkeley County Water District customers. As the county and customer base grow in the years to come, we will have a plant capable of meeting the demand."

~ Steve DeRidder, Superintendent of Operations, BCPSWD
Uncovering the Best Water Treatment Option
Hazen worked with BCPSWD and a membrane manufacturer on a four-month pilot study to develop an understanding of the treatment process, assess performance of the new UF membrane system, and evaluate design criteria before starting full-scale design and construction. Led by Hazen, the study consisted of three phases using water samples from LeFevre Spring, Baker Lakes Quarry, and Inwood Quarry:
Bench-scale water quality testing and jar testing to monitor raw and treated water quality from the UF system and determine pre-treatment (e.g., pre-oxidant and chlorine demand) and coagulant needs of the new treatment system.
Long-term regional water resource planning, supplemental and emergency water supply development, and treatability to increase the available supply of raw water.
A scale and corrosion control study to determine the optimal corrosion control inhibitor that will reduce scaling while also minimizing lead and copper release.
Results of the pilot study helped Hazen establish optimized treatment and performance criteria for the full-scale plant design. Hazen Senior Associate Jeremy Hise added, "Our data confirmed that the new UF membrane filtration system can effectively treat raw water at the Bunker Hill water treatment plant, and that the system meets relevant federal and state regulations."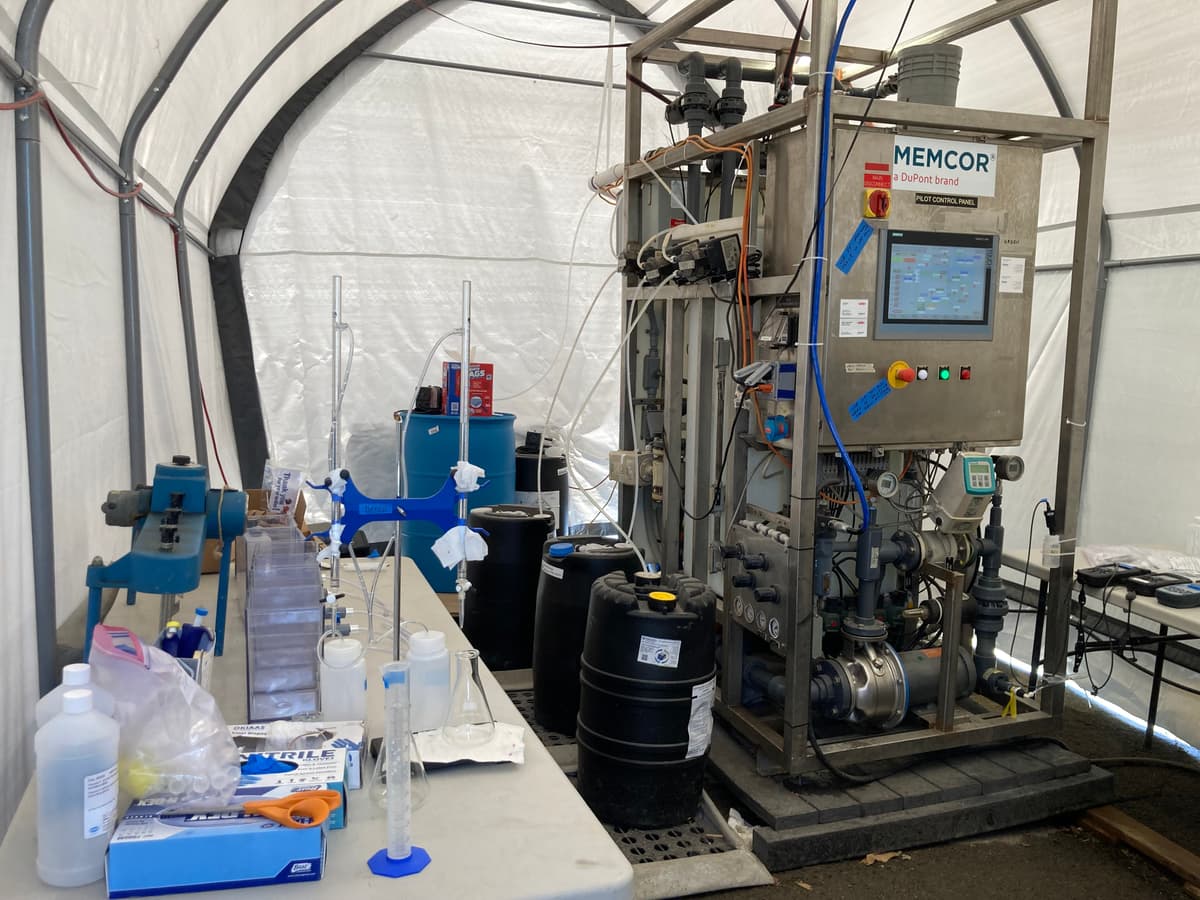 Increasing Quality and Capacity
The existing Bunker Hill plant treats raw water from nearby LeFevre Spring using direct filtration through ten diatomaceous earth filters. Chlorine and fluoride are added downstream of the filters. High water quality means the plant does not need to use coagulant as part of the treatment process; however, the spring cannot consistently supply enough water to meet the new anticipated maximum treatment capacity.
The new plant will draw groundwater from the same spring but will have connections for supplemental raw water sources as needed. Sodium permanganate will be fed as a pre-oxidant as needed to aid in iron and manganese removal. A coagulant (e.g., PACI) can be used as needed. Chlorine and fluoride will be added upstream of the clear wells. The project conserved space on site for future advanced PFAS treatment, either through granulated activated carbon or ion exchange.
In addition, the new building will have an improved Supervisory Control and Data Acquisition (SCADA) system for plant and distribution system monitoring and control. The building will be incorporated into Berkeley Water's asset management system, and a pilot dashboard will enable operators to visualize treatment monitoring data, aiding in managerial decision-making.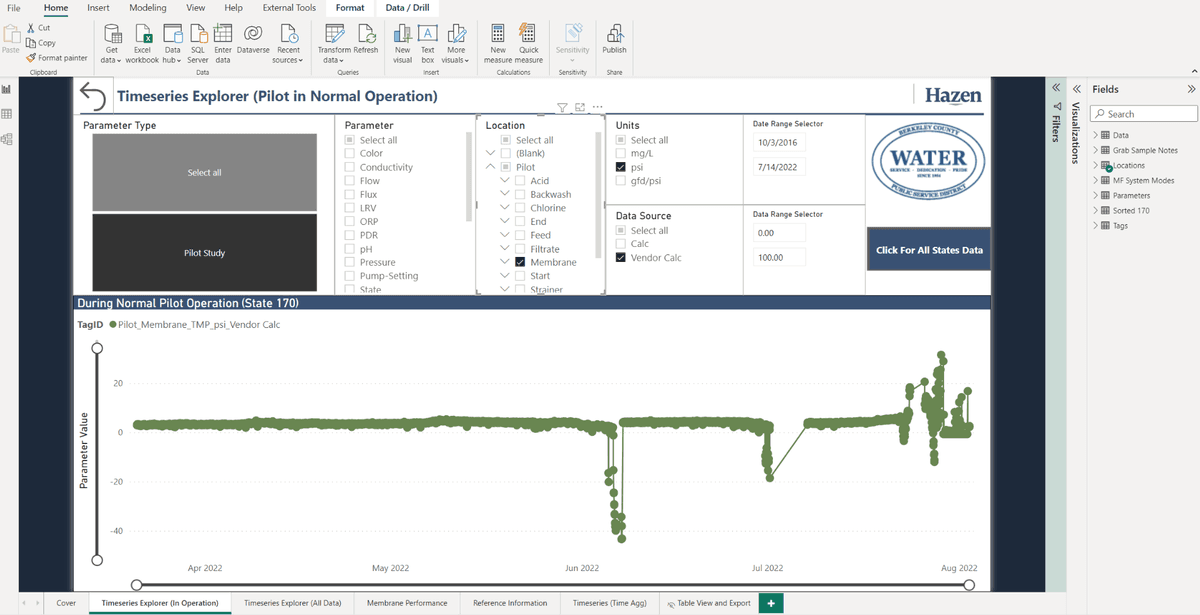 Header image caption: A rendering of the upcoming Bunker Hill Water Treatment Plant. Credit: Sarah Barrentine, Hazen