Two Projects Named 2019 ACEC-NY Award Winners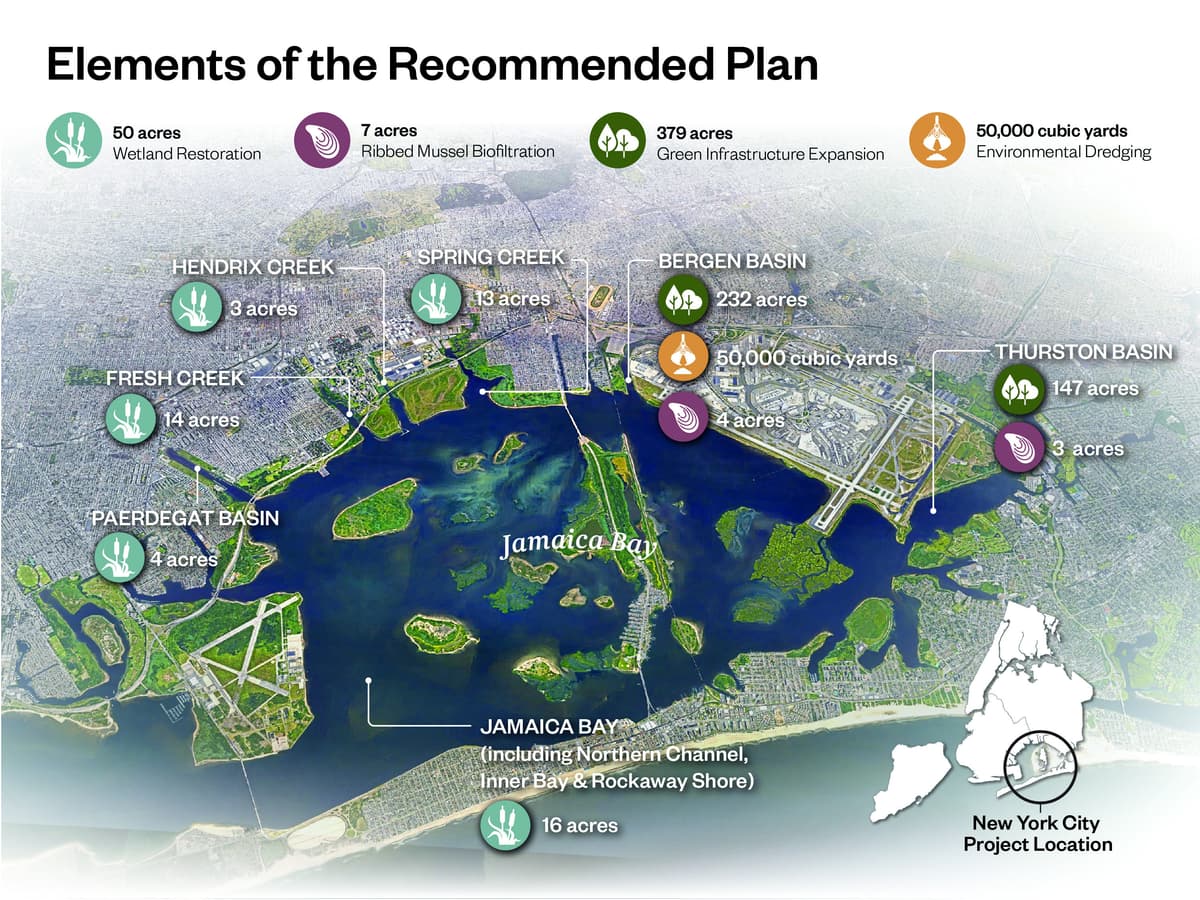 Although traditional underground CSO storage tunnels could help improve Jamaica Bay's water quality, an "out of the box" integrated green approach of wetland restoration, ribbed mussel biofiltration, green infrastructure installation, and environmental dredging was better suited to harmoniously integrate with the Bay's natural ecosystem.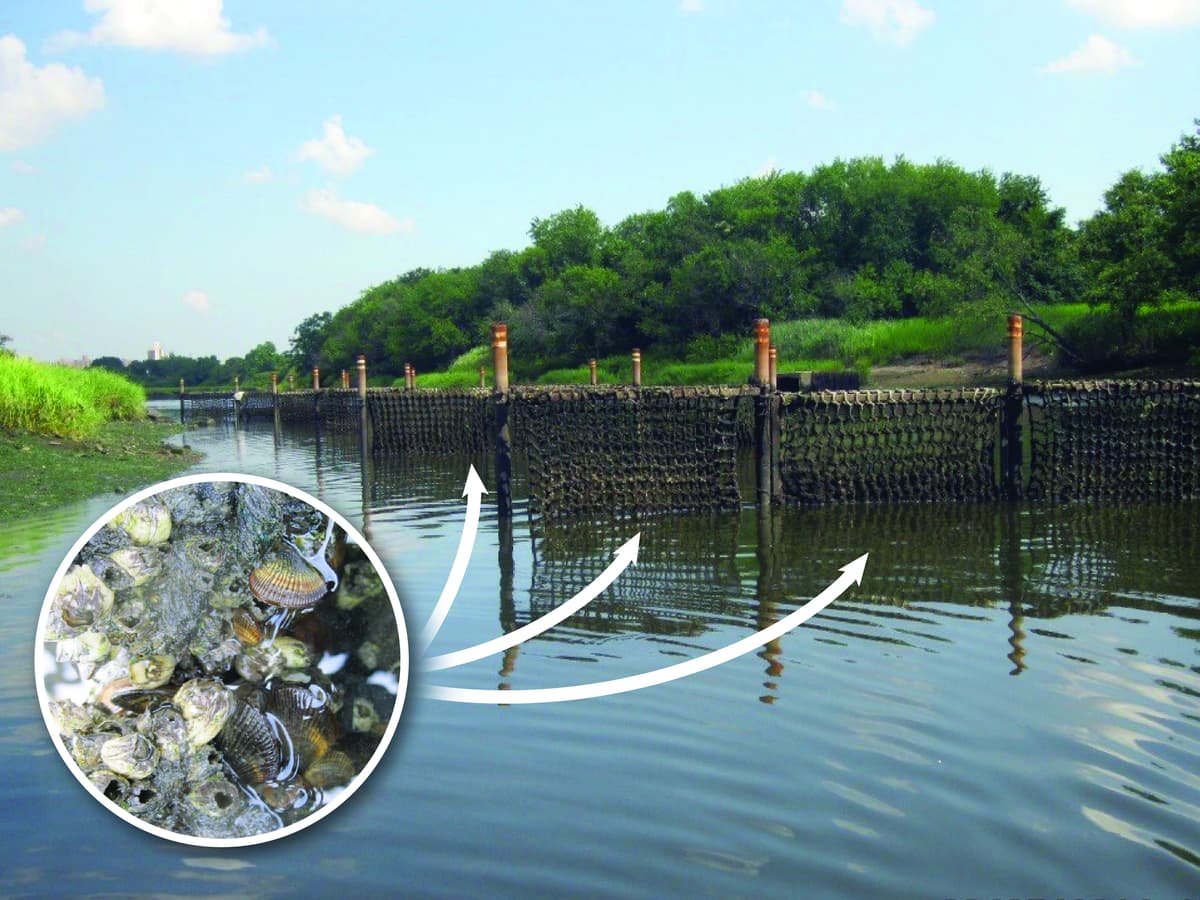 Pilot studies indicate that ribbed mussels can effectively filter contaminants, nutrients, and pathogens. Ribbed mussels are filter feeders that are native to the Bay and when harvested can be processed into fertilizer or animal feed, thus sustainably recycling nutrients back into the land.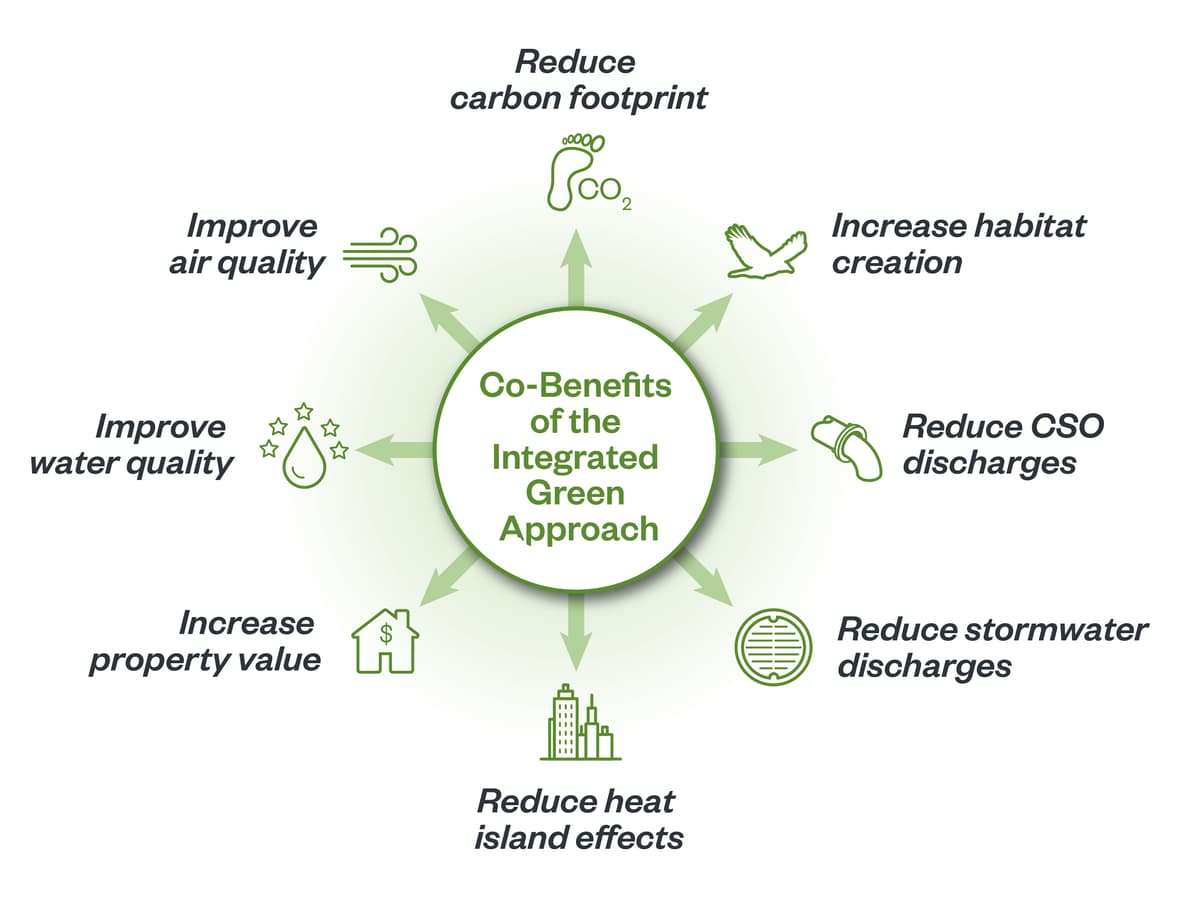 The LTCP proposes cost-effective and sustainable nature-based features. The restored wetlands will filter water impurities, increase dissolved oxygen, attenuate storm surge, reduce coastal erosion, capture greenhouse gases and provide a biologically rich ecosystem for wildlife. The green infrastructure installations, including curbside gardens, will reduce heat island effects, improve air quality, reduce stormwater and CSO discharges, and increase property values.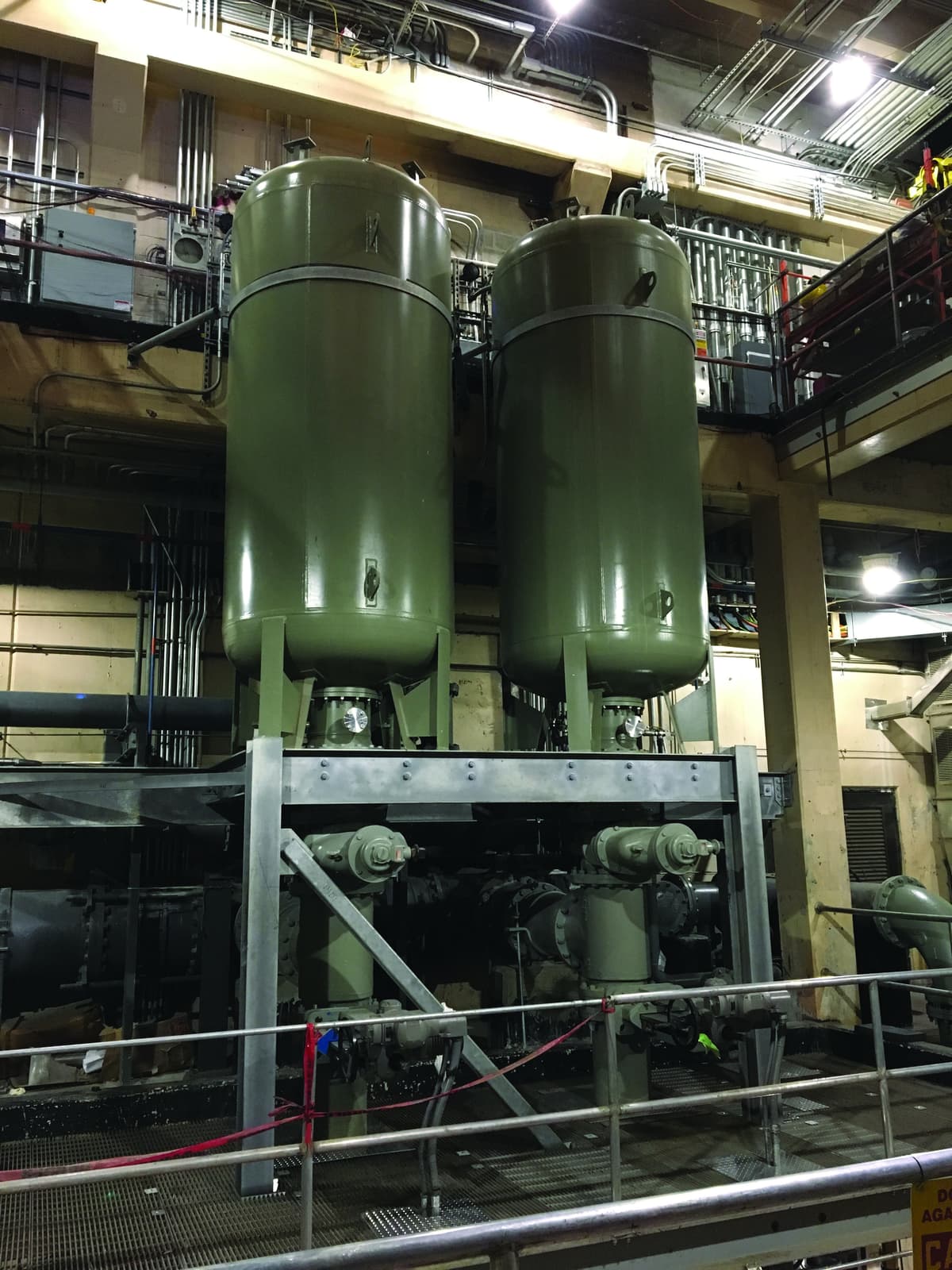 The surge tanks located inside of the Tarrytown pump station are installed on the dry pit submersible pump discharge header. They are designed to prevent a wave of high-pressure water in the force main from damaging the pumps, control valves, or other critical equipment.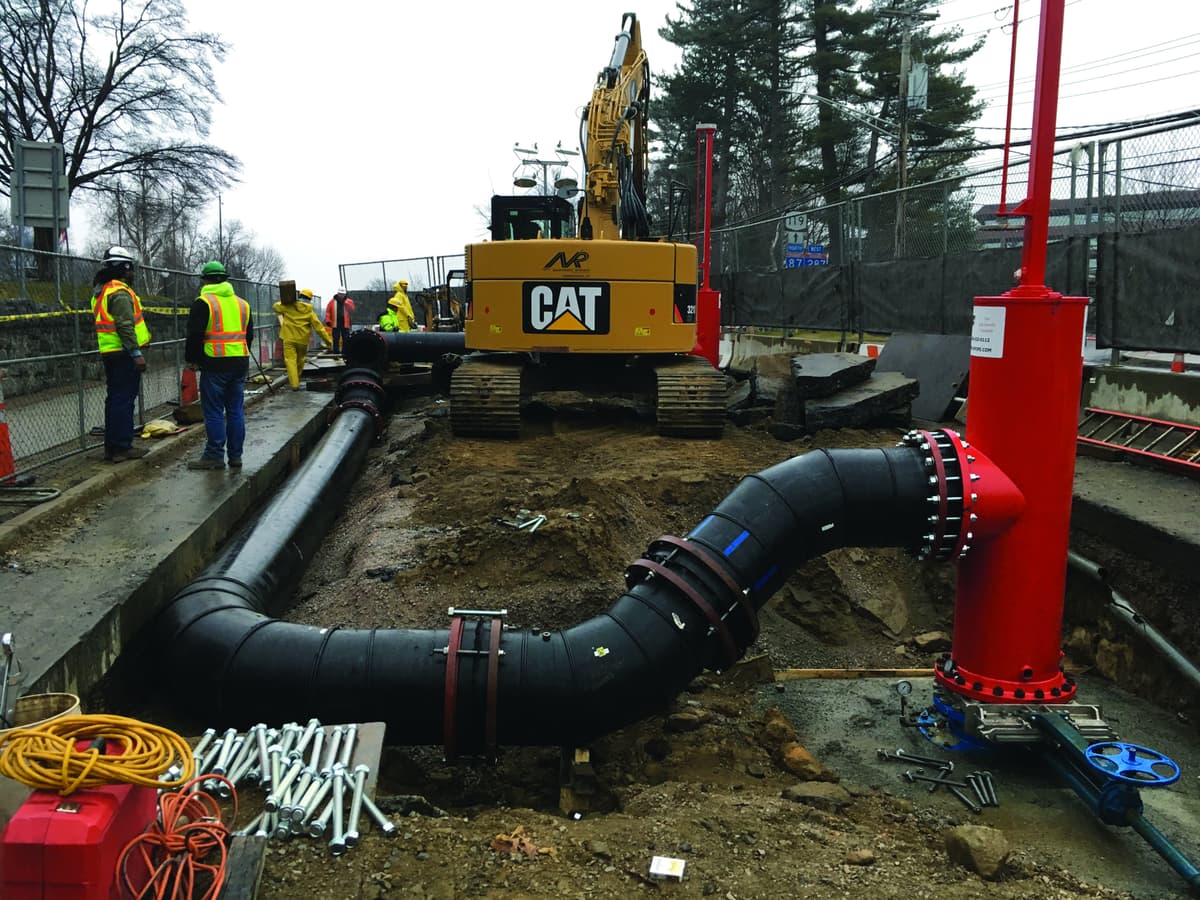 Stopple valves played an important part in the force main replacement and were installed utilizing a wet tap approach. Their installation temporarily diverted flow around the force main tie-in connection through HDPE piping. This allowed all work to be completed while maintaining full pump station operation.
(NEW YORK, NY - November 7, 2018) - Two projects managed by Hazen and Sawyer were recently named ACEC-NY Engineering Excellence Award winners.
The Jamaica Bay Long Term Control Plan won a Diamond award, while the Tarrytown Pump Station Rehabilitation and Force Main Replacement won a Silver award.
Jamaica Bay is a 26,000-acre ecological jewel that supports a myriad of wildlife habitats. The Bay's proximity to NYC has compromised its water quality, as combined sewer overflows and stormwater runoff have elevated bacteria levels and lowered oxygen levels. Supported by Hazen, NYC Department of Environmental Protection (DEP) developed a Long-Term Control Plan to improve the Bay's water quality. The plan's recommended "green approach" includes 50 acres of wetland restoration, 7 acres of ribbed mussel biofiltration, 379 acres of green infrastructure, and 50,000 cubic yards of environmental dredging. The plan was completed on schedule and on budget.
The Tarrytown Pump Station and Force Main are critical elements of the region's infrastructure, conveying sewage 256 ft uphill to the Saw Mill Valley trunk sewer and the Yonkers Joint Wastewater Treatment Plant. Upgrading this vital facility included new dry pit submersible pumps, electrical service, and replacement of nearly a mile of failure-prone 30" force main addressing issues such as surge and water hammer.
The Engineering Excellence Awards are presented to projects that encompassed both the public and private sector in the following categories: studies, research, and consulting services; building/technology systems; structural systems; surveying and mapping technology; environmental; waste and storm water; water resources; transportation; energy; industrial and manufacturing processes and facilities; and special projects.
These winners will be honored at the Annual Engineering Excellence Awards (EEA) Gala, which will take place at the Hilton Midtown in New York City on April 13, 2019. The winner of the Empire Award — an award given to the highest rated project in New York State — will be announced at the EEA Gala. All Diamond Award projects designed and built in New York State are in contention for the Empire Award.