Connecting with Customers on PFAS
Hazen hosts webinar on communication strategies and resources for water utilities focusing on effective tactics to foster public trust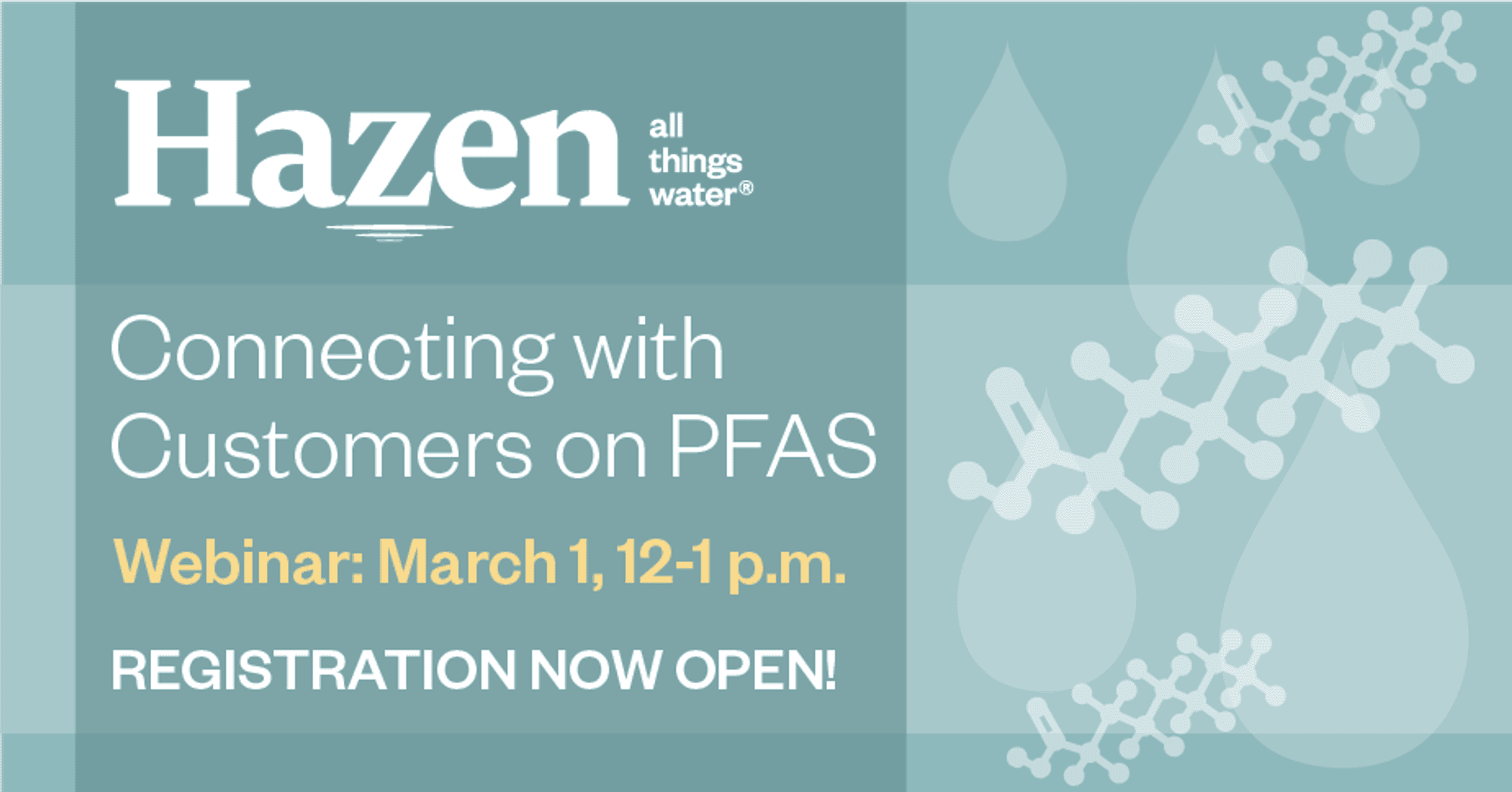 (RICHMOND, VA – Feb. 21) –– Hazen and Sawyer is hosting a webinar on March 1 from 12-1 p.m. to provide guidance to water utilities on how to best communicate with customers on the latest PFAS issues. An overview of outreach materials Hazen has developed in collaboration with the Water Research Foundation's (WRF) One Water initiative will be provided along with contextual background information and best practices for effective public outreach. The main objective is to provide communications support to utilities in light of the U.S. Environmental Protection Agency's (EPA) Health Advisories issued in June 2022, the upcoming Fifth Unregulated Contaminant Monitoring Rule (UCMR5), and the anticipated federal regulations in 2023.
UCMR5 is part of EPA's Safe Drinking Water Act, mandating the federal agency report unregulated contaminants monitored by public water systems every five years. The new rule requires utilities to collect drinking water samples to monitor for 29 PFAS as well as other contaminants starting this year through 2025. EPA stated it will be releasing drinking water standards for PFOA and PFOS in March and is aiming to finalize the rule by September 2024. With EPA deadlines approaching, Hazen is ready to support utilities with their communications needs by providing comprehensive tools and resources.

During the 60-minute webinar, Hazen's Drinking Water Practice Lead Erik Rosenfeldt and Senior Associate Roger Arnold will provide an overview of EPA's new regulations and what water utilities in Virginia can expect in terms of sampling and reporting requirements. Hazen's Director of Communications Jeff Neale will go over the UCMR5 and One Water toolkits developed with the WRF. Hazen will discuss guidance on garnering public trust, the use of infographics, and the most efficient channels of outreach.

"Hazen has a proven track record of success when providing utilities with holistic and effective PFAS treatment solutions, and we remain committed to delivering excellence for even the most complex of issues," said Rosenfeldt. "At the same time, we understand the huge impact effective communications has when it comes to public understanding of complex PFAS challenges and why potentially expensive solutions may be necessary. We look forward to assisting utilities navigate PFAS challenges, in making good decisions, and communicating with their customers."

"We are seeing PFAS gain increased traction in the media but without any real explanation of what that means for water quality or human health, forcing utilities to respond to public panic before given the chance to provide impactful and educational material," said Neale. "Developing sensible strategy and leveraging available resources will position water utilities to deliver clear and timely communications with customers, putting new EPA regulations in perspective and in terms with which they can relate."

Although the webinar will focus on PFAS issues mainly facing water utilities in Virginia, registration is open to the public. To ensure the topics concerning utilities the most are covered by Hazen during the webinar, attendees will be given the opportunity to submit questions prior to the webinar via email, which will be addressed during the Q&A portion of the session.


To register, click here: https://register.gotowebinar.com/register/5199616205413144666