TOSA Offshore Ocean Outfall Replacement Named AEA NJ Wave Award Winner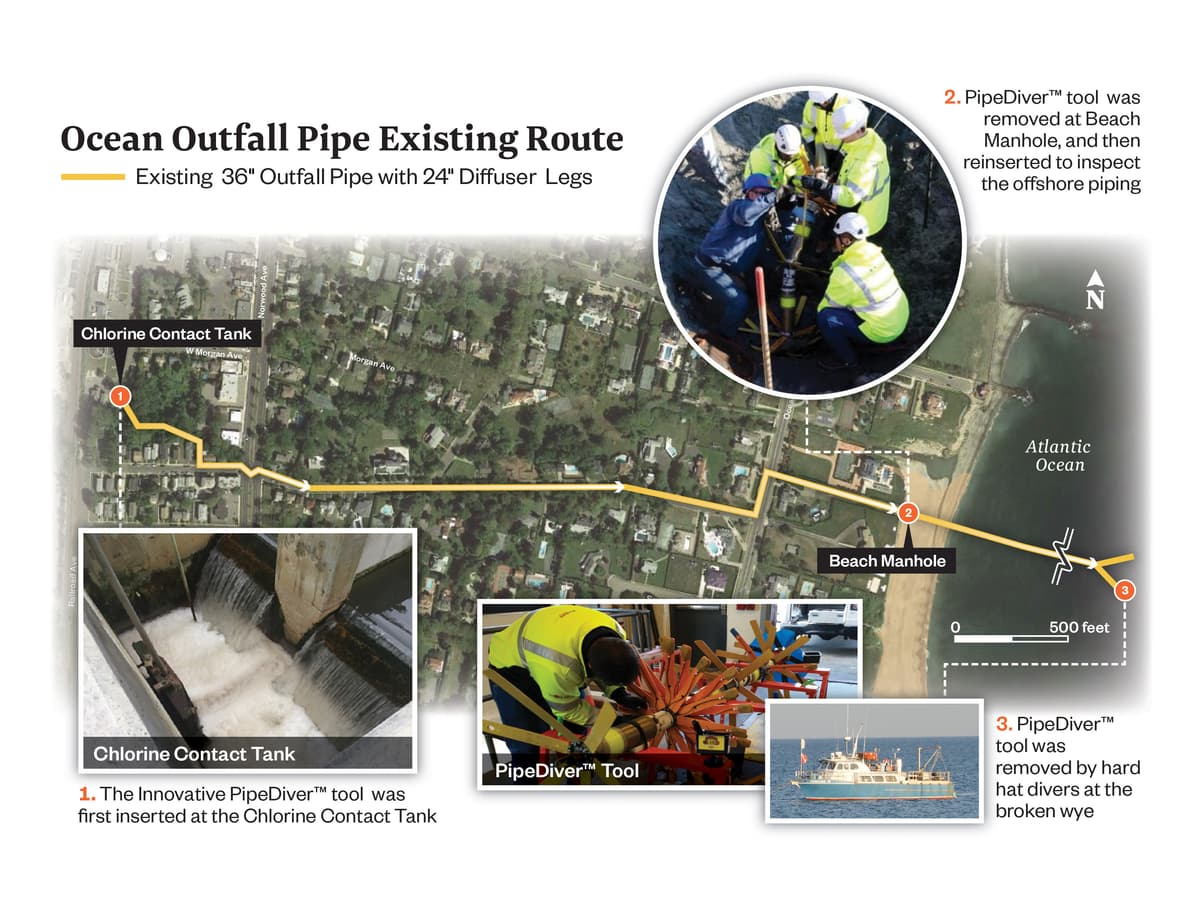 Inspecting TOSA's Outfall - An Innovative Approach: TOSA's 36" diameter ocean outfall consisted of an onshore section with approximately 4,000 feet of 36" diameter PCCP pipe, and a 1,900-foot offshore section of steel pipe, terminating in a wye diffuser. The innovative PipeDiver™ tool was used to inspect the entire outfall, and provided valuable information as to pipe materials, physical conditions, and the specific extent of rehabilitation work required. The device used electromagnetic signals to identify pipe wall anomalies and areas of defect.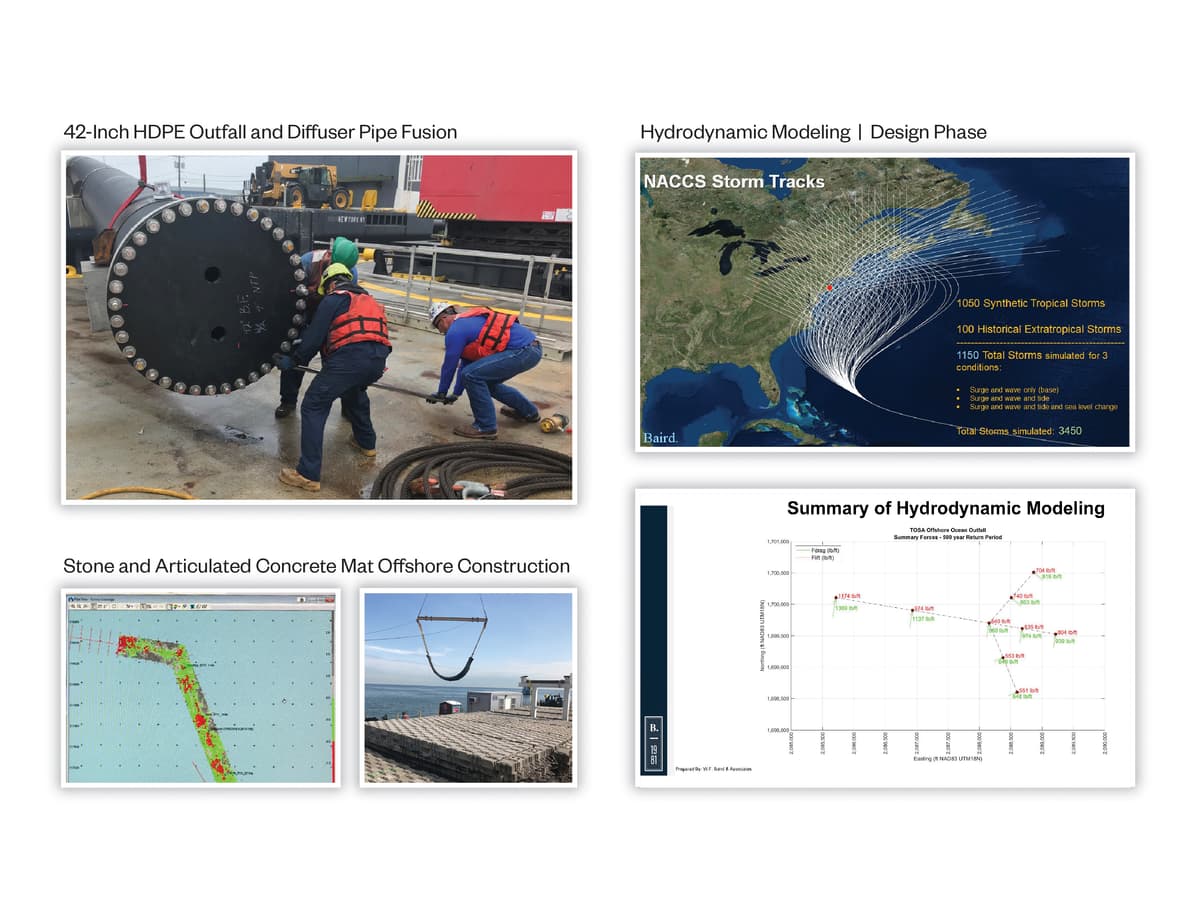 Developing a Robust and Cost-Effective Design for Outfall Piping, Anchorage, and Connection: The entrant performed geotechnical, bathymetric, hydraulic, hydrodynamic, water quality modeling, and employed corrosion resistant material control evaluations to develop a cost-effective design that will ensure decades of safe and reliable service for the ocean outfall and accommodate changing climate conditions, while improving water quality and minimizing public impacts.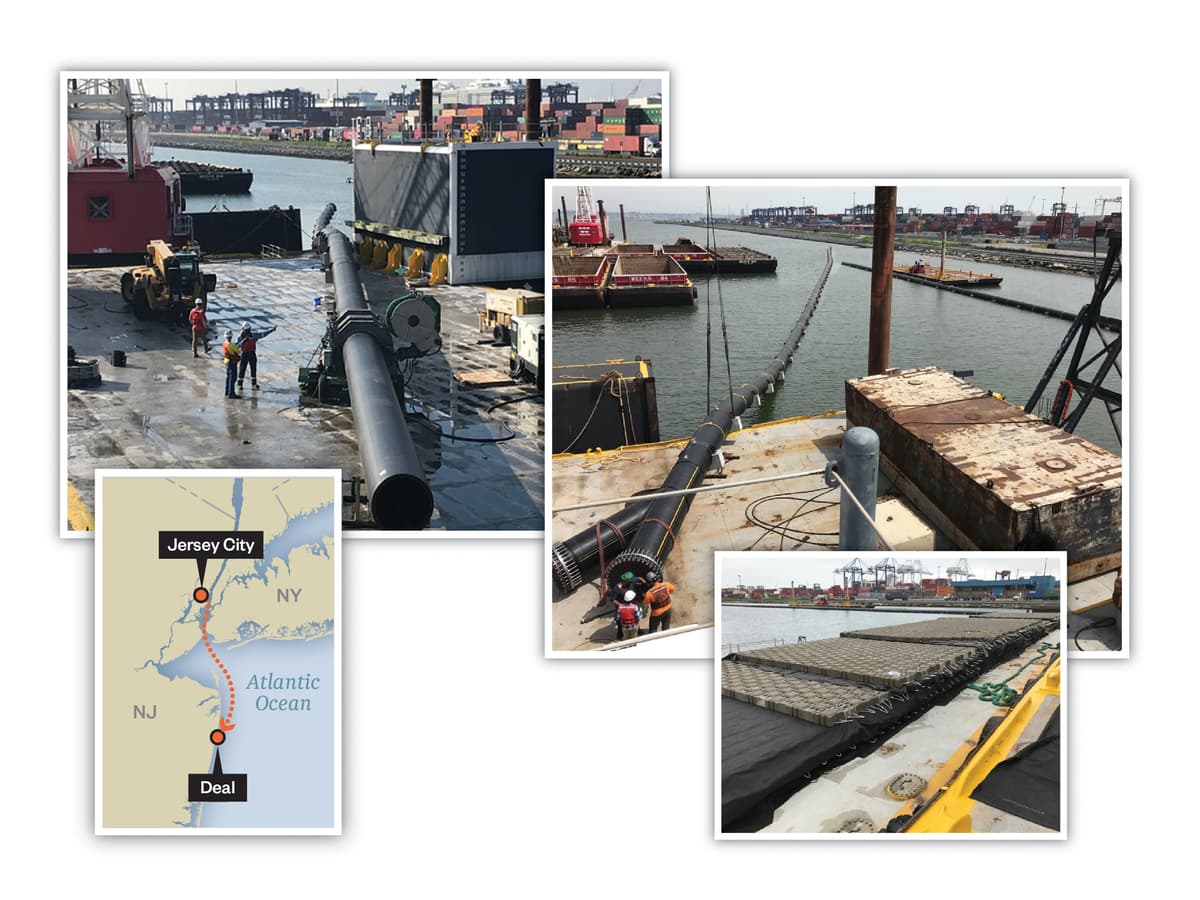 Addressing Construction Challenges – HDPE Outfall and Diffuser Pipe Fused in Jersey City and Towed to Site: To minimize environmental impacts and expedite installation, the replacement piping was pre-assembled at a large port and towed with the anchoring mats to the jobsite in Deal, about 30 miles to the south. Anchor Barging avoided overland transport of piping by truck, reducing gasoline consumption and vehicle emissions.
Corrosion Control – A Complex and Critical Connection for Pipeline Integrity: Underwater Shielded Metal Arc Welding was used to weld the new 36-inch diameter carbon steel Slip-On Flange to the downstream end of the existing 36-inch steel outfall – the most critical point in the installation, where integrity is tantamount to long-term outfall reliability. Once a test weld was approved, two full circumferential underwater welds were made on the ocean floor to mate the new slip-on flange to the existing pipe. One structural weld was made on the outside diameter of the pipe and one seal weld was made on the inside diameter of the pipe. Welds and slip-on flange were re-coated underwater with Resimac Resimetal 208 ceramic epoxy coating for corrosion protection. The 36-Inch welded slip-on flange tie-In was permanently encased with 7,000 psi concrete.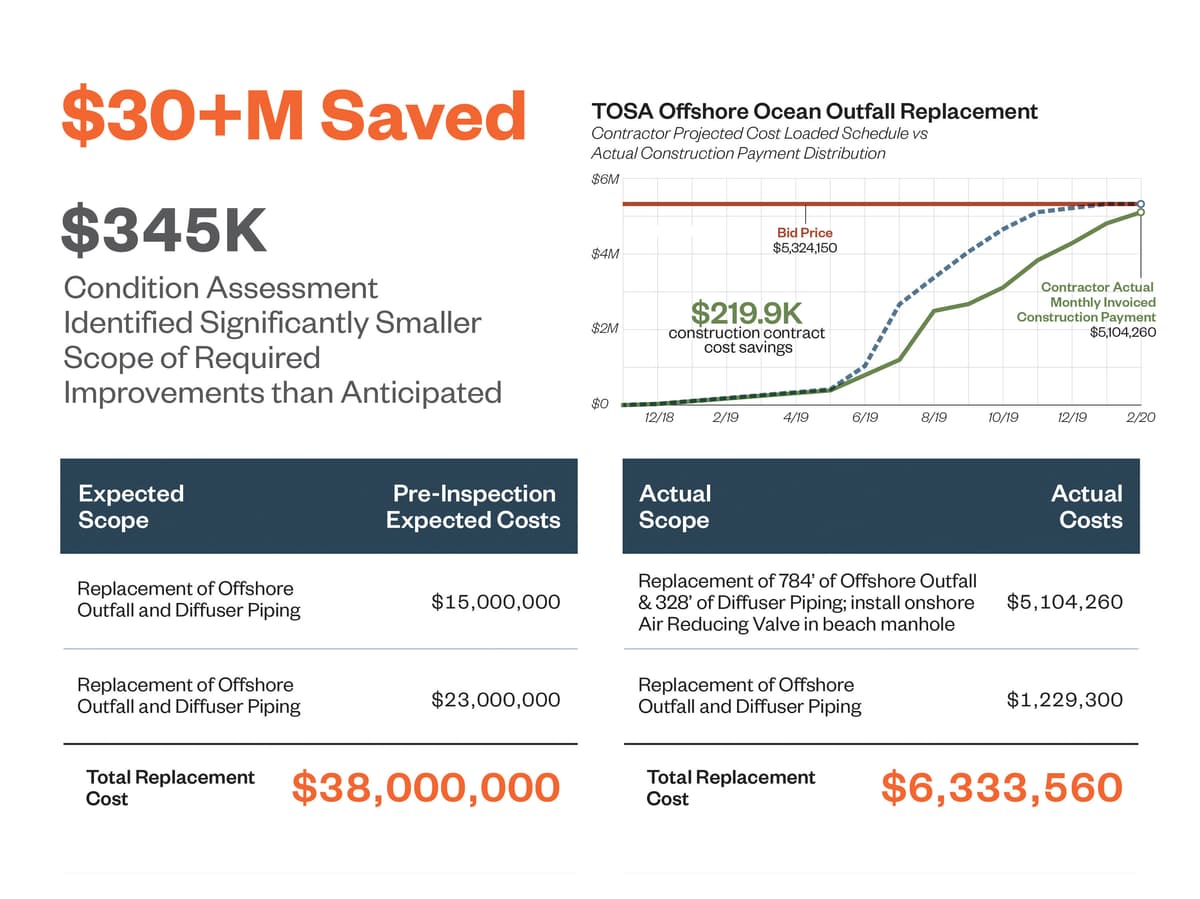 Exceeding Client Expectations – Over $30M Saved, plus On-time Delivery Below Revised Budget: The $345,000 Condition Assessment identified significantly smaller scope of required repairs than anticipated, saving over $30 million over the original (pre-inspection) budget. Actual construction costs were almost $220K lower than the contract amount, and the actual total project cost was $192K lower than that budgeted after the inspection.
(EDISON, NJ - February 16, 2021) - The Township of Ocean Sewerage Authority's Offshore Ocean Outfall Replacement project was recently recognized as the winner of the Forward Thinking Award from the Association of Environmental Authorities of NJ.
Hazen was selected by the Township of Ocean Sewerage Authority (TOSA) as the primary consultant to perform a condition assessment of its 50+-year old, 6,000-foot long ocean outfall, design rehabilitation and improvements, and oversee project implementation.
Hazen employed Pure Technologies' innovative PipeDiver™, a state-of-the-art inspection tool, to identify material and defect types and locations, resulting in a greatly reduced scope of required pipeline replacement, compared to that originally anticipated by TOSA. Only 814 feet of the 6,000+-foot outfall, comprising the easternmost offshore section, had to be replaced, saving over $30 million vs. the originally-conceived budget for replacement of the entire outfall pipeline.
The design also addressed the complex challenges associated with underwater construction at a depth of approximately 30 to 40 feet, variable ocean temperatures and long-term outfall operations. These included ensuring stability on the seabed through the use of anchoring mats, effective dispersion of effluent through water quality modeling, prevention of corrosion using a specially-designed welded slip-on flanged connection to mate the existing to the new outfall pipe.
Innovative techniques were also employed during construction by Weeks Marine, Inc., the selected contractor. Pipeline sections were pre-assembled at their construction yard's dock in Jersey City and were barged to the site off the coast of the Borough of Deal, along with anchor mats and other materials, thus eliminating vehicle emissions and road congestion associated with truck transport delivery of over 50 miles. Given the depth of the outfall offshore, dye testing was conducted to prove pipeline integrity and effective effluent dispersion, meeting NJDEP regulatory requirements.
The construction was completed in early December 2019, $220,000 under budget and three weeks ahead of schedule.
The Association of Environmental Authorities of NJ bestows Wave Awards each year to recognize excellence in the public water, wastewater, recycling, and solid waste sectors in New Jersey. The Forward Thinking Award recognizes regular or municipal member innovation and is presented to members that adopt successful new approaches or techniques in use of technology, facility design, or management.