Updated Hydraulic Model Will Shape Future Sewer Upgrades
A regularly updated hydraulic model helps the City of Columbia maintain sanitary sewer service for more than 136,000 residents.
At a Glance
The City of Columbia selected Hazen to model and evaluate all pipes 15 inches in diameter and greater throughout its sanitary sewer system.
Since 2012, Hazen's data-based hydraulic models have helped the City pinpoint weak spots, plan upgrades, improve operations, and prevent overflows in the system.
The model incorporates population growth projections over the next 30 years, allowing officials to predict where the system will need to grow and change.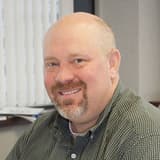 William Orne, Jr. oversees projects including sanitary sewer evaluation studies and modeling, collection system design, water system modeling and master planning, distribution system facilities design, and treatment design and evaluation.
Related Topics:
Over time, aging infrastructure and population growth can strain a sewer system's ability to transport wastewater flow to a treatment plant. Fortunately, hydraulic models are a cost-saving tool that can be used to predict performance under varying conditions.
As part of a wastewater system improvement program, and to meet requirements under an EPA consent decree, the City of Columbia, South Carolina, selected Hazen and Sawyer to model and evaluate its sanitary sewer system. The assessment focuses on the 'major' sewer system: all pipes 15 inches in diameter or larger, including gravity sewer lines, force mains, and capacities of associated pump stations.
Since the original model was created by Hazen in 2012, the firm has collaborated with the City of Columbia to meet its wastewater system capacity management needs. Project Manager Bill Orne, Jr. states, "Prior to Hazen developing a model, the City of Columbia did not have a sanitary sewer model. The original model was our first deep dive into their sewer system to understand where the capacity issues exist."
Using the sewer system model to simulate real-world conditions improves the City's ability to eliminate overflows and manage its capacity assurance program. It allows Hazen to test recommended system improvement alternatives to improve the system's ability to convey the wastewater. By regularly collecting new data, Hazen can identify areas of improvement and develop a course of action.
"The City of Columbia continues to work with Hazen as a trusted adviser and hydraulic modeling expert. The services provided by Hazen support the City and enable us to make timely decisions based on reliable data and calibrated system modeling. Our hydraulic model has been instrumental in wastewater system planning, setting capital project sizing and timing, and managing new and proposed flows as the area grows with commercial, industrial, and residential developments."
~John T. Riggs, PE, Deputy Director of Major Capital Projects, Columbia Water
GIS-based and field-verified system data were used to develop an accurate ICM model of the infrastructure and its ability to withstand peak flows caused by rainfall inflow and infiltration. The initial model in 2012 used 10 rainfall gauges and 65 temporary flow meters that measured the volume of waste traveling through the pipes during periods of wet and dry weather to calibrate the sewer hydraulic model. In addition to rain gauges on the ground, Hazen also used Doppler Radar rainfall data to investigate the varied rainfall intensities over the sewer service area to assist in the calibration of the sewer hydraulic model. Lastly, location-based customer billing records were used to distribute the system sanitary sewer flow throughout the model to represent the domestic sewer entering the system from City customers.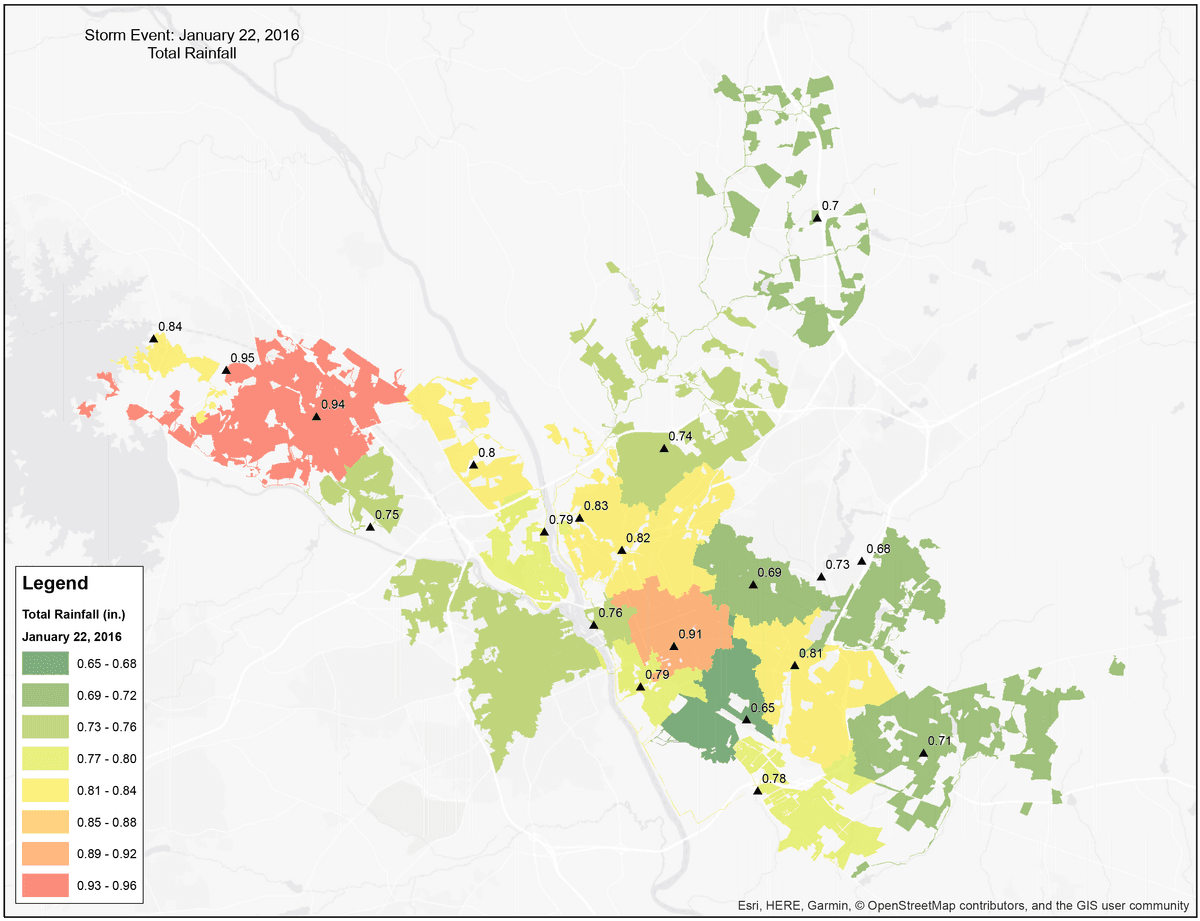 Another critical piece of data was expected population growth. To assess this, the firm used projection numbers from the local Council of Governments to identify high growth potential areas throughout the system. Hazen also referred to the City's 208 Facilities Plan and information from the City and County's planning departments to identify areas that could potentially be served by expanding the City's infrastructure.
Together, the data points depict the amount of infiltration (groundwater that enters sewer pipes through aged or defective hardware) and inflow (water from sources other than plumbing that enters a sewer system) within each subbasin of the sewer system. Locating and reinforcing sources of infiltration and inflow such as defective pipes, joints, and connections are key to assuring system capacity.
This information is used in the model to predict system performance allowing engineers to gauge existing system capabilities, develop plans for system improvements, and implement strategies to assure sewer system capacities now and in the future.
Large cities like Columbia require continuous data collection and model updates to keep the sewer system running smoothly. Hazen constructed the original model in 2012 and subsequently, the model was recalibrated from late 2015 into early 2016 to adjust for wetter weather. Most recently, in 2021 a partial calibration took place after some areas experienced higher wet weather flows enhancing the detail of the model.
Orne remarks, "Although it can be a long and deliberate process, working through the EPA consent decree will help establish a Capacity Assurance Program to assure future system capacity. Using the benchmarks set by the model, the City of Columbia will continue to reach capacity goals."
Header image caption: Hydraulic models like this one use system data and flows to accurately represent the sanitary sewer system's structure and capabilities. In this model, green lines mark the location of underground sewer lines.