Pennsylvania State University Reuse Planning
As Penn State upgraded its wastewater treatment system, creative opportunities for water reuse arose.

At a Glance:

Hazen consulted on the development and implementation of a reclaimed water distribution system master plan.
We considered the potential impacts that the plan would have on current and future design and operation.
Developed a strategy for effective communication of the plan and results to stakeholders.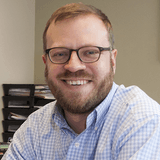 Jared Hartwig, PE is an expert in the design of biological nutrient removal (BNR), membrane bioreactor (MBR), solids handling and headworks facilities.
Related Topics:
As The Pennsylvania State University began planning an upgrade for its main campus wastewater treatment system, creative opportunities for water reuse presented themselves. The university worked with Hazen to investigate these new pathways for treated water.
During initial planning, the firm considered implementation issues including regulatory aspects, cost estimations, definition of end users/uses of water and required water quality, and on-campus industrial uses. A study included demand evaluations such as distribution system models, storage, and operational impacts on water quality. Dissolved solids and salinity mass balance throughout the system were used to predict water quality issues in response to various demand conditions.
Our Work
Hazen provided an update to the Reuse Water Study for the Pennsylvania State University – University Park (main) campus.