Using Membrane Technology to Effectively Treat Water
Hazen leads presentations on long-term water treatment technology, membrane pretreatment and performance, and potable reuse at 2023 Membrane Technology Conference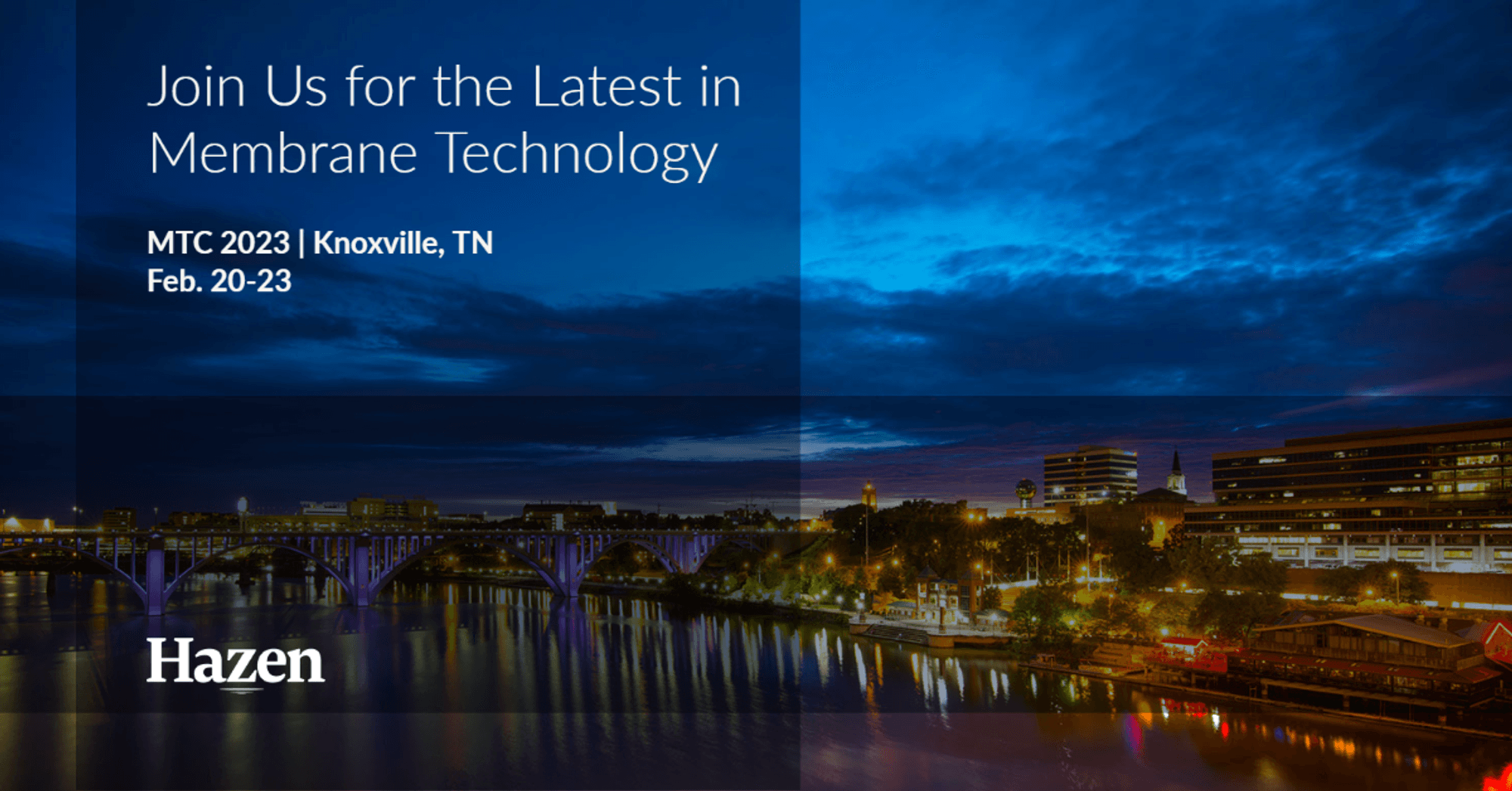 (KNOXVILLE, TN – Feb. 9) – Hazen and Sawyer is presenting groundbreaking work in the membrane design and management field at the Membrane Technology Conference (MTC) in Knoxville from Feb. 20-23. Organized by the American Membrane Technology Association and the American Water Works Association, MTC focuses on the latest developments in membrane filtration and desalination treatment technologies as well as membrane bioreactor applications.
Hazen is giving four presentations at this year's MTC, which will feature long-term water treatment technology, membrane pretreatment and performance, and the success of potable reuse. Specifically, the focus will be on the firm's most recent large-scale projects, which incorporate membrane filtration of surface water in Tennessee and West Virginia, potable reuse in Florida, and groundwater pretreatment using nanofiltration in California. In addition, Hazen will also be leading a training session on reverse osmosis and nanofiltration.

Over the years, Hazen has steadily reinforced and expanded its membrane services, introducing significant advancements and research, and providing cutting-edge drinking water and wastewater treatment solutions to a growing roster of clients throughout the U.S. To ensure clients can meet the growing water demands of the communities they serve, Hazen is committed to investing in the most up-to-date research on membrane technology applications.

"Hazen has been part of the membrane technology scene since it first emerged as a viable and effective means of water and wastewater treatment," said Hazen Membrane Technology Lead Troy Walker. "Decades of experience have given us significant insight into how membranes can best contribute to addressing the water challenges we see emerging across the country and around the world."

As part of Hazen's commitment to share knowledge and experience to support the successful application of membrane technologies, the firm has a longstanding relationship with MTC and regional affiliates that spans over two decades. Staff have also consistently been solid contributors, serving in leadership positions and contributing to training to advance the application of membrane technologies across the water industry.

MTC provides the valuable opportunity to network with a diverse pool of industry experts by bringing together consultants, contractors and designers, government officials and regulators, manufacturers and suppliers, operators, utility plant managers and executives, as well as industry scientists and engineers. As this year's conference takes place in Tennessee – a leader in surface water membrane filtration – Hazen is looking forward to showcasing its long-term pilot testing of membrane pretreatment and performance in Columbia.

For more information on Hazen's membrane technology work, click here.
For more information on Hazen's MTC presentations and training session, visit: Membrane Technology Conf and Expo (MTC23) (tpni.com)