Rich Franks Joins Hazen as Senior Associate and Membrane Technology Leader
(SAN DIEGO, CA - July 6, 2023) - Hazen and Sawyer has announced the appointment of Rich Franks, PE as Senior Associate and Membrane Technology Leader.
Rich has more than 23 years of experience with one of the world's leading membrane manufacturers where he supported and directed membrane system design, application development, and membrane system operations, optimization, and support across multiple membrane technologies. He also supported new membrane business development and managed customer-facing software widely used in the membrane industry for modeling and normalization. His focused background will provide Hazen clients with valuable expertise based on a range of experience from planning through construction and startup of membrane projects, as well as experience in assessing and optimizing membrane system performance.

Rich will be a part of Hazen's membrane practice supporting projects across the country and around the world, leading applied research and supporting Hazen's digital strategy.
"Rich's combination of broad membrane technology experience, membrane manufacturing knowledge, digital twin and projection software capabilities, operations/optimization expertise, and his business development and client support capabilities make him a tremendous resource for agencies throughout the world," said Kevin Alexander, Hazen and Sawyer Vice President and recently appointed Director of Membrane Treatment. "We are excited to have him as part of our membrane treatment and technology team to help provide additional leadership to our growing membrane practice."
"Hazen and Sawyer's focus on 'all things water' along with its expansion into a complex and growing membrane market, coupled with my strong membrane background, make for a great fit to address the challenges we're facing throughout the United States and the world," said Rich. "I'm grateful for the opportunity to help expand Hazen's membrane practice and I am looking forward to leveraging the Firm's extensive water-focused talent to solve the most challenging water problems for our clients."
Rich received a BS degree in Aerospace Engineering from the Georgia Institute of Technology and an MS in Environmental Engineering from the University of California at Los Angeles. He is also an active member of several industry associations, including the American Membrane Technology Association (AMTA) and the American Water Works Association (AWWA).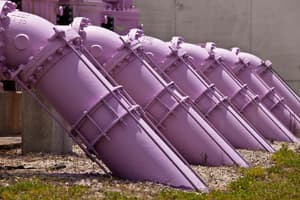 Related: Hazen recently built a salt scenario planner, a decision-support tool that lets wastewater treatment managers explore how different near- and long-term decisions and trends could impact multiple treatment goals—all through the lens of managing total dissolved solids (TDS), or salts.