An Integrated Perspective Optimizes Advanced Water Treatment
Last Modified Feb 08, 2023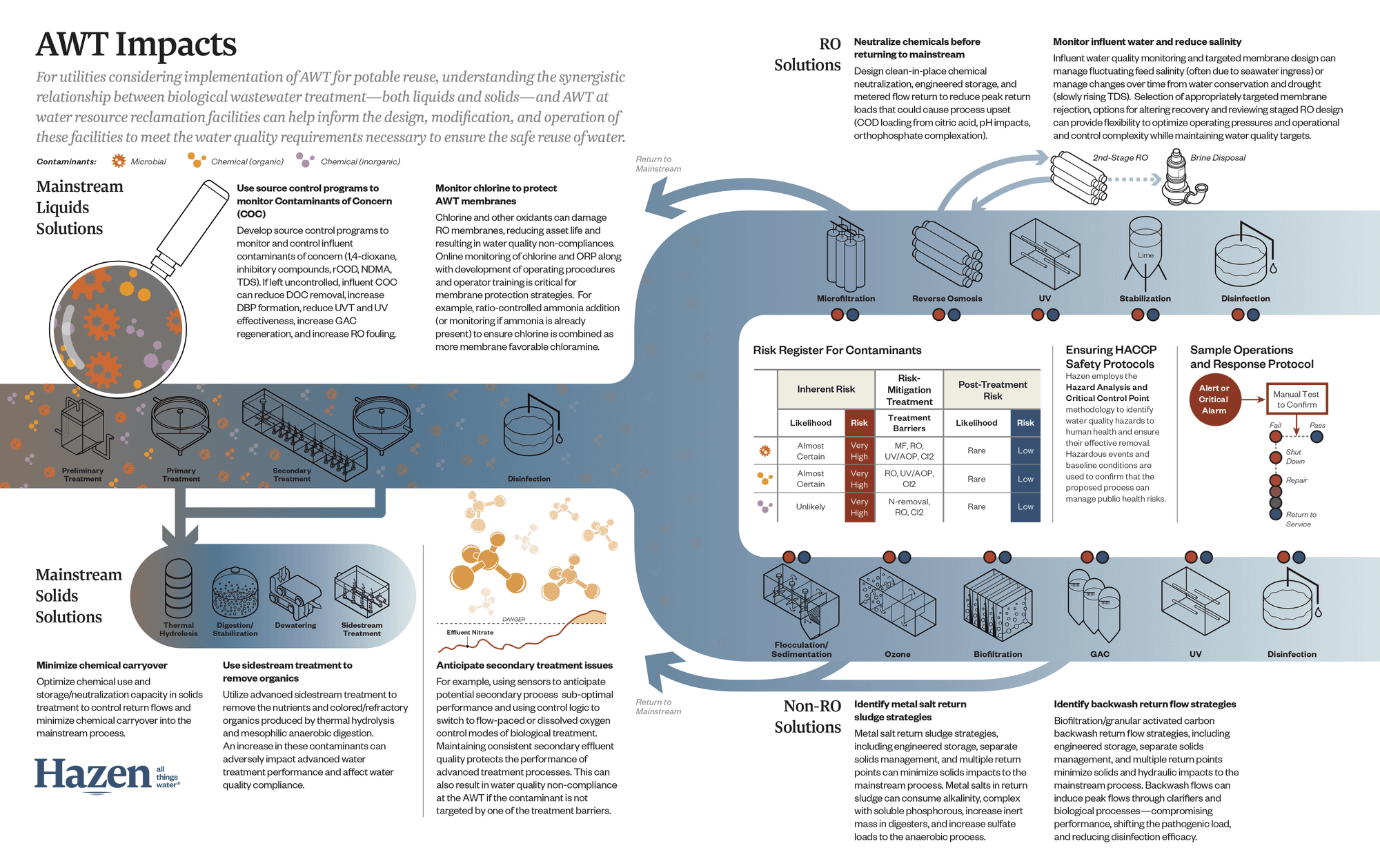 Since our founding, the projects we've been most proud of have not just been our largest ones, but also some of our smallest ones. These are the projects where we've helped a client identify a small upstream adjustment that solves what initially looked like an expensive downstream problem.
Our industry continues to move in this direction more and more, integrating the planning approach to all of our water resources to capture a host of benefits. Part of this shift is from a focus on the biological treatment of wastewater prior to disposal to additional treatment that enables its reclamation for indirect and direct potable reuse.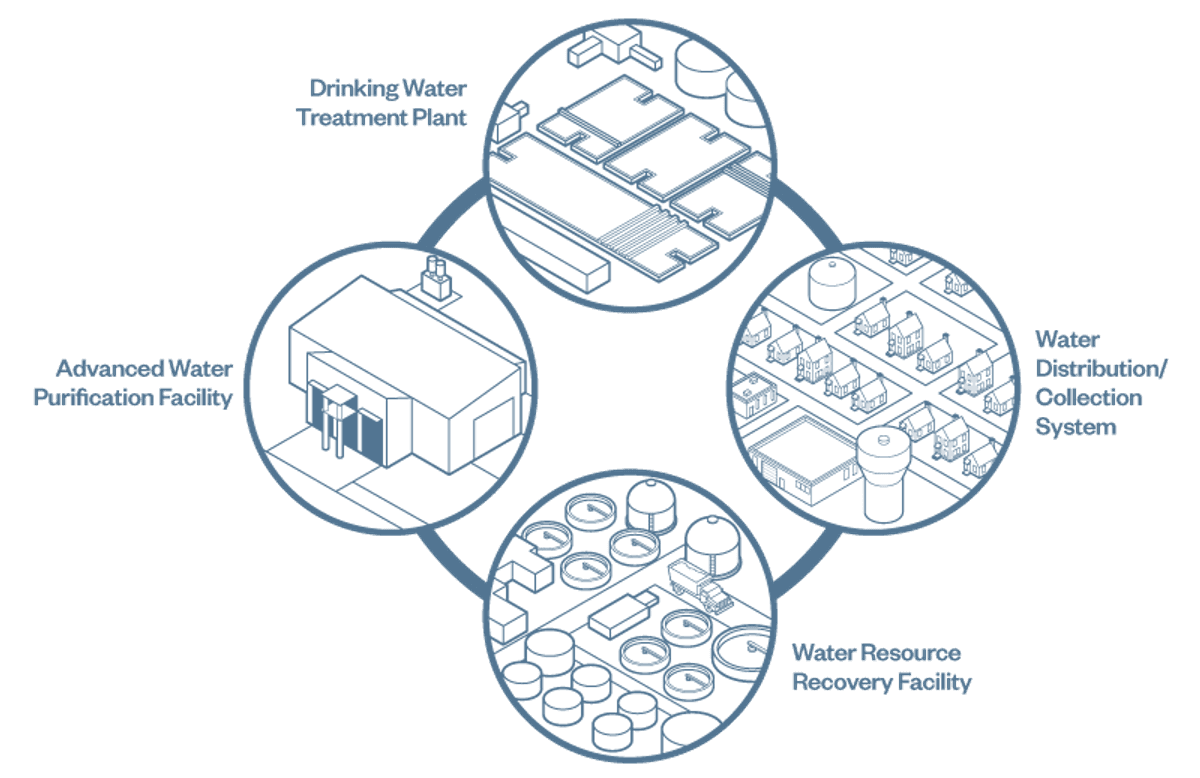 Achieving an integrated approach to water resources management requires a comprehensive understanding of all its facets and the ways they are interrelated. The synergistic relationship between mainstream wastewater treatment—both liquids and solids—at water resource reclamation facilities (WRRF) and advanced wastewater treatment (AWT) must be understood to maintain peak performance, meet water quality requirements, and ensure safe and reliable water reuse.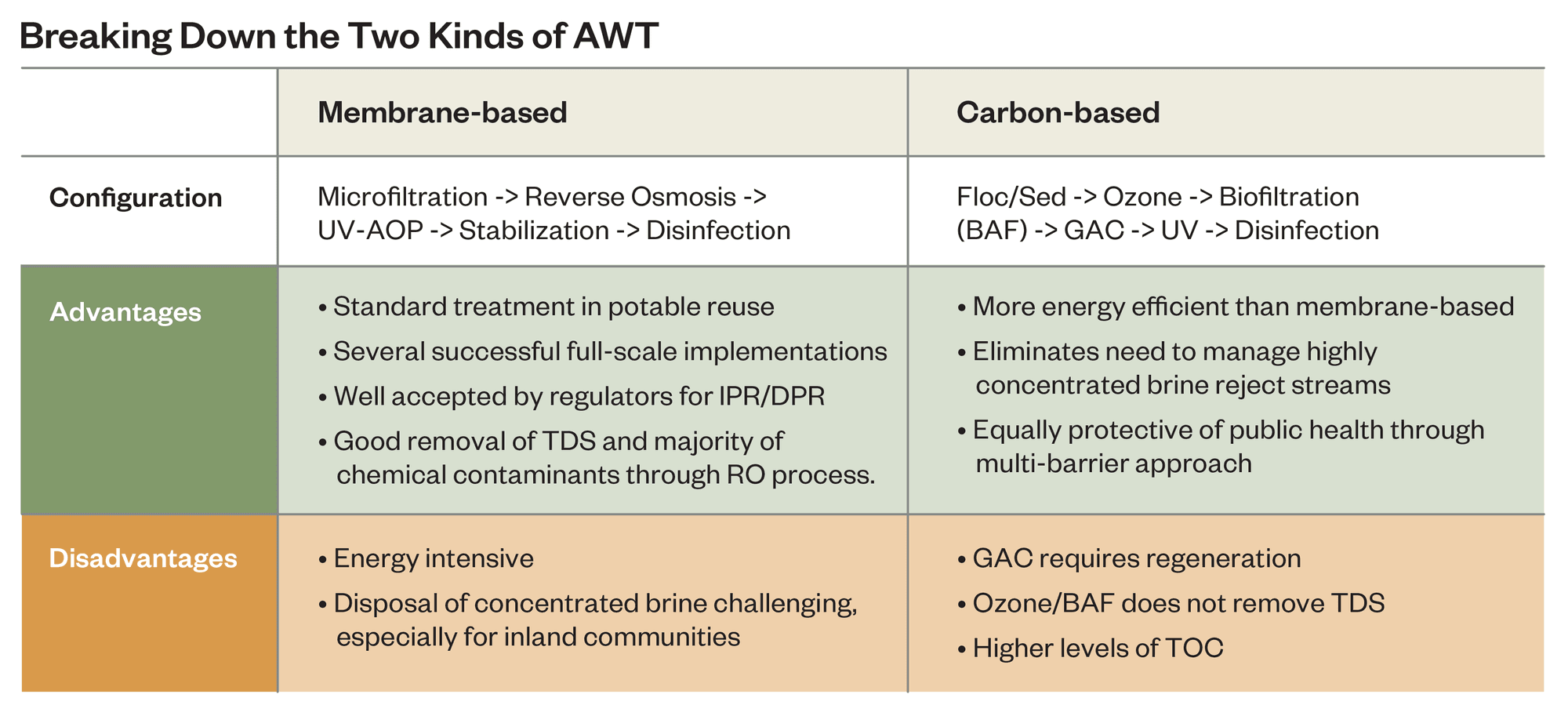 AWT Options and Best Practices

Generally, AWT follows mainstream treatment processes to remove additional suspended solids, organics, nutrients, pathogens, and trace organics compounds. There are two common approaches for AWT: reverse osmosis—or membrane-based—and an ozone and activated carbon approach (carbon-based).
Each approach to potable reuse comes with its own set of challenges to both the mainstream process and AWT and requires unique solutions. We've found that maintaining a holistic view of the treatment process—starting with the WRRF influent itself—yields both capital and operating efficiencies, enabling utilities to maintain reliable service more cost-effectively.

Headworks Analysis Charts a Course for Success
Source identification is a critical element of a Pretreatment Program to help eliminate, control, or manage pollutants that may impact public health or treatment performance via managerial and operational barriers. Conducting a headworks analysis to identify the load contribution and distribution of contaminants is critical in determining an optimal approach. Non-traditional approaches to developing headworks analyses are particularly useful for establishing local limits for pollutants that do not have water quality standards or inhibition thresholds available to establish a maximum allowable headworks load. For example, a headworks analysis conducted at a mid-Atlantic wastewater treatment facility quantified the non-biodegradable fraction of dissolved organic nitrogen (nbDON) from industrial inputs, combined WWTF influent, and combined WWTF effluent. The resulting data has allowed the facility to compare the relative influent nbDON loads to the WWTF to assess the viability of nbDON load management via the county's pretreatment program as a holistic approach to nutrient management.
For both membrane- and carbon-based AWT, headworks analysis can help to identify constituents that are over the AWT treatment goals and identify major contributors of challenging contaminants that interfere with AWT performance. Source identification is an initial step in developing an effective Source Control Program to reduce the impact of constituents that interfere with mainstream treatment and/or are not removed by mainstream treatment that ultimately are introduced to the AWT.
For more information, please contact Mary Sadler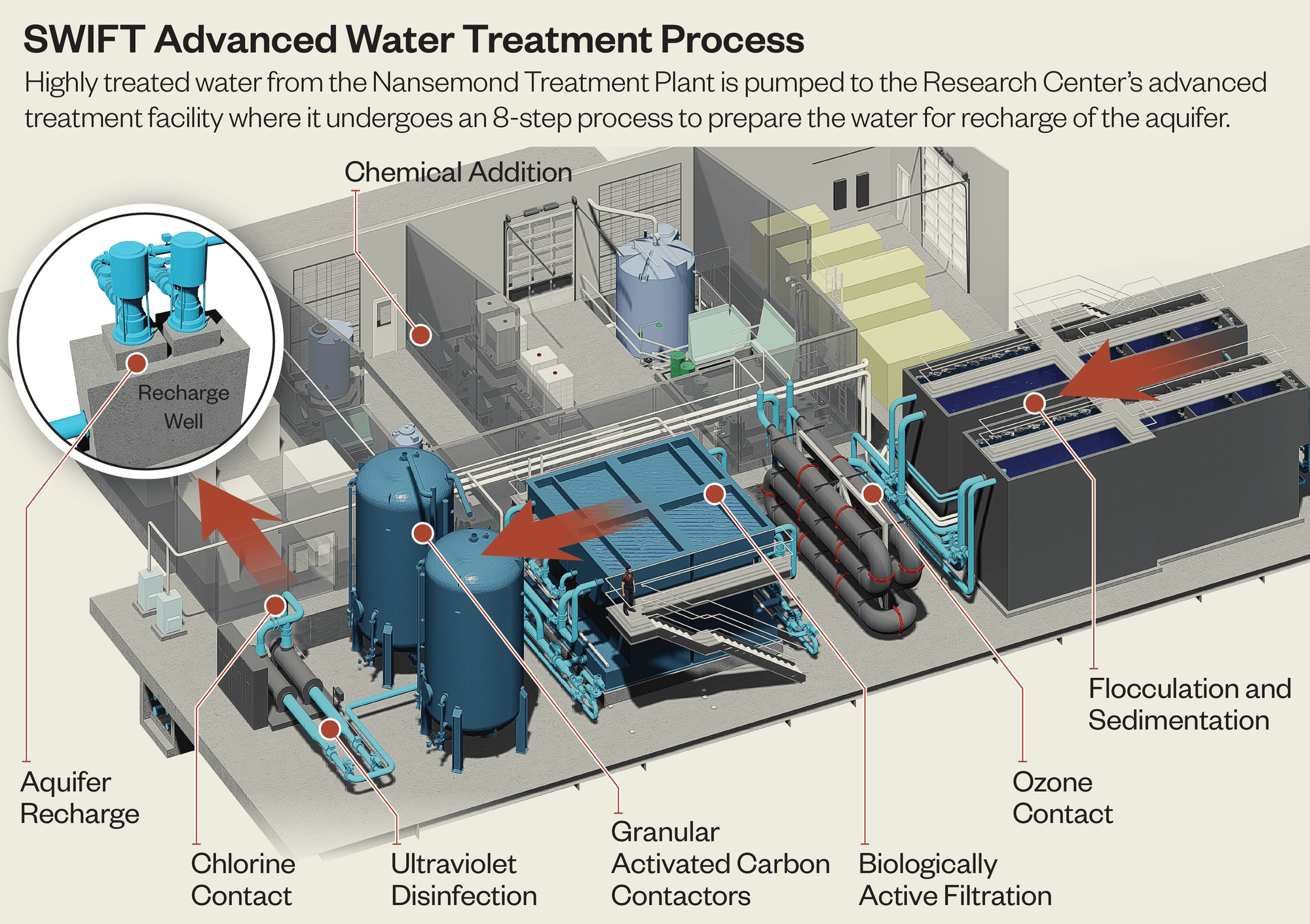 Hazard Analysis and Critical Control Point (HACCP) Methodology Ensures Public Safety
A carbon-based AWT program, the Hampton Roads Sanitation District (HRSD) Sustainable Water Initiative for Tomorrow (SWIFT) Program employs HACCP methodology to ensure public safety and treatment performance. In May 2018, HRSD completed construction and began operation of the SWIFT Research Center; a 1-mgd advanced water treatment and research facility designed by Hazen. Hazen and HRSD established a foundation for the operation and maintenance training with the SWIFT Research Center. This approach utilized Water Research Foundation guidelines developed by Hazen for reuse facilities, built around the HACCP framework. The HACCP methodology was used to identify, manage, and provide real-time validation of multiple treatment barriers along the treatment train installed to protect public health. Establishing critical control points in the treatment process enables response procedures to minimize the impact of poor SWIFT influent water quality due to suboptimal treatment performance at the mainstream facility.
Following the success of the SWIFT Research Center, Hazen (and a partner firm) now provide program management services for the full-scale implementation of a planned 100 mgd of groundwater recharge to realize multiple environmental benefits, including reduction of nutrients discharged to the Chesapeake Bay and replenishment of the receiving aquifer. One focus of the program is developing optimal residuals management strategies for metal salt return sludge from the flocculation/sedimentation process and backwash flows from the (BAF) and (GAC) processes to minimize potential upstream hydraulic and solids impacts on the mainstream process.
For more information, please contact Dwayne Amos or Troy Walker.
Reliable Downstream Communication Protects AWT
Membrane-based AWT facilities often employ the use of chloramine to minimize biological fouling and support the lifespan and performance of RO membranes. Upstream of the facility, ammonia is dosed if it is not sufficiently present in the effluent. At one facility we are supporting, effluent is dosed with ammonia based on a ratio controller from a residual chlorine analyzer. The wastewater treatment plant doses chlorine for final plant disinfection. If the influent chlorine and ammonia concentrations are outside of the controller's capability, oxidation of the membranes may occur.
Achieving the target chlorine-to-ammonia ratio for membrane protection relies on consistent upstream wastewater treatment such that the final chlorine level from the plant is within a consistent band. In the event of a process upset, only clear communication pathways between the upstream and downstream operators and known triggers for communication protect the membrane system. As potable reuse grows, the development of robust and reliable operational interface protocols across all operational entities (e.g., wastewater, advanced wastewater treatment, drinking water) will become even more critical to assure operational success.
For more information, please contact Troy Walker.