Water Research Foundation Hydrilla Workshop
For a Water Research Foundation workshop on managing hydrilla infestations in drinking water reservoirs, Hazen engaged experts on invasive species management, aquatic herbicides, environmental health, and toxicology to review NYCDEP's hydrilla management plan, develop a stakeholder communications fact sheet, and develop a guidance document for other utilities facing the threat of hydrilla.
Hydrilla is an aquatic invasive species that was introduced in the U.S. in the 1950s when it was imported as an aquarium plant. It forms thick mats of vegetation, which can impact recreational resources, water quality, and ecology of lakes and rivers. Left unchecked, it can colonize all viable portions of lakes and reservoirs, out-competing native species.
In 2013, the New York State Department of Environmental Conservation (NYSDEC) found hydrilla in the Croton River downstream of the New Croton Reservoir, which is a potable water supply for New York City. A later visual survey revealed that hydrilla was well established in several sites in the New Croton Reservoir as well.
In many areas of the US, herbicides are the primary method to manage hydrilla infestations. There are many advantages to herbicides, including predictable performance based on scientific studies and field trials, suitability for large-scale plant management and low risk of hydrilla spread through fragmentation. However, protecting public health is a primary responsibility of drinking water utilities, and the drinking water sector requires assurances that herbicides will not result in impacts to their customers.
While a number of herbicide options are available for hydrilla management, the risk assessment focused on the two most prevalent herbicides for hydrilla control across the US, fluoridone and endothall. Both have been used extensively and have undergone multiple registration reviews and independent assessments. The independent assessments of the risks of these two herbicides have repeatedly come to similar conclusions that these two herbicides will result in no adverse effects to sources of drinking water when properly following the label directions.
Broadly speaking, no information was identified during the course of this project that would suggest that herbicides should be categorically excluded from use in sources of drinking water. When herbicides are determined to be the best course of action, detailed analysis of the hydrilla infestation, utility operations, and herbicide label restriction should be reviewed in order to develop an appropriate plan to manage the infestation. However, public perception may remain an obstacle for utilities' considering the use of herbicides to manage hydrilla. The case studies reviewed during this project revealed that a focused effort to describe the risks and benefits to the public in advance of the herbicide application was valuable for obtaining stakeholder acceptance.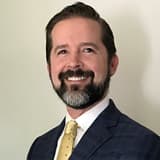 Ben Wright has significant experience conducting watershed assessments and risk analyses to identify utility vulnerabilities.
Related Topics:
Project Outcomes and Benefits
Assessing the state of knowledge for chemical management of hydrilla in drinking water reservoirs and its impacts on treatability, water quality, and human and environmental health.
Reviewing lessons-learned from prior hydrilla management efforts.
Determining the risks from hydrilla management vs no action.
Providing recommendations for mitigation of impacts associated with hydrilla management.