Henrico County Water Reclamation Facility - A Multi-Phased Expansion
Hazen and Sawyer was contracted to expand the capacity of Henrico County's Water Reclamation Facility from 45 mgd to 75 mgd in multiple design and construction phases. This $100 million dollar project was completed in an aggressive five-year timeline.
The existing 45-mgd plant had two flow trains; pure oxygen tanks and dissolved oxygen tanks. The two plants were combined with the new facilities to operate the plant as a single sludge plant (all BNR tanks with dissolved air) in the 75 mgd expansion.
Project Outcomes and Benefits
BioWin™ modeling was used to optimize facility design and determine how the plant would perform under a wide range of flow conditions.
Hydraulic modeling of both interceptor and outfall identified the need for a second outfall. Installation of 8,800 feet of new 96-inch diameter outfall increased discharge capacity to 150 mgd.
Full-scale testing of multiple carbon sources for the ENR process.
Rehabilitation and expansion of sludge facilities, including a new blend tank, new membrane covers for the existing three anaerobic digesters, a new anaerobic digester, new external pump mixing systems for all four digesters, new gravity belt thickeners, three new high solids centrifuges and new polymer system.
New effluent deep bed filter, chlorine contact tanks, odor control facilities, and conversion of the existing oxygen tanks to dissolved aeration.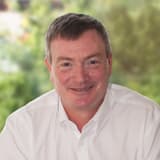 Alan Stone spe­cial­izes in the plan­ning, detailed design, and con­struc­tion of waste­water treat­ment facil­i­ties

Related Topics:
Capacity Expansion on a Tight Schedule
BNR facilities were designed to meet a total nitrogen limit of 5 mg/L, with the flexibility to meet even lower limits as regulatory requirements evolve.