Successfully Overcoming Complex Challenges of Biosolids Management
The 2023 WEF/IWA Biosolids Conference offers Hazen an ideal platform to share recent achievements, from PFAS destruction to thermal hydrolysis
(CHARLOTTE, NC – May 4, 2023) – Hazen and Sawyer is attending the Residuals and Biosolids Conference from May 16-19, which is jointly hosted by the Water Environment Federation (WEF) and International Water Association (IWA). Experts from the Firm's Biosolids and Residuals Group will lead 11 presentations that focus on topics including PFAS thermal processes, cost implications of PFAS destruction, the challenges of biosolids management, bioenergy recovery, thermal hydrolysis, and more.
To highlight the Firm's achievements in the field, Hazen-led presentations will detail recent successes, such as a PFAS removal cost estimation project in Minnesota and a Water Research Foundation-funded evaluation of source separated organic (SSO) feedstock pretreatment and management. In the former, Hazen identified two PFAS removal and destruction processes with an efficiency greater than 99% through analyses and cost curve implementation. In the latter, Hazen created an SSO pretreatment database to summarize the implementation and effectiveness of available technologies to help guide Water Resource Recovery Facilities.
"We look forward to attending the Biosolids and Residuals conference every year not only to share what we have learned over the course of the previous 12 months, but also to gain valuable insights from our peers," said Hazen Biosolids and Residuals Group Leader Mohammad Abu-Orf. "Our team is always energized and enthusiastic about discussing emerging technologies relevant to the industry and how we are exploring new ways in which we can elevate our expertise for the benefit of our clients."
Hazen has made notable strides in the biosolids field, including demonstrating supercritical water oxidation (SCWO), which destroys PFAS in sludge in seconds. SCWO technology is so effective, it could potentially solve complex challenges when processing sewage sludge, like significantly reducing disposal costs and eliminating chemical contamination.
By providing a dynamic and accessible forum, the Biosolids and Residuals conference is the ideal platform for Hazen to exchange advancements on technology, best practices, and innovations. The four-day event also allows attendees to learn about implemented projects and interact with equipment, technology, and vendors.
For more information on Hazen's Biosolids and Residuals services, click here.
Related Topics: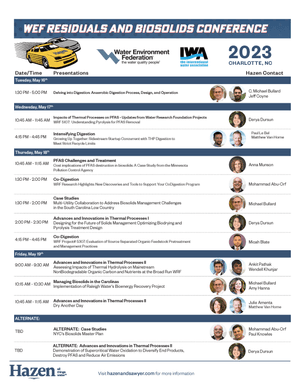 Click on above image to view full agenda of Hazen speakers.