Solutions for Operational Side Effects Associated with Co-Digestion of High Strength Organic Wastes
Hazen's Water Environment and Reuse Foundation (WERF) study presents operational data and best practices collected from over 40 wastewater treatment and co-digestion facilities.
Project Outcomes and Benefits
Provides an easy-to-navigate framework of operational solutions and best management practices for challenges encountered during the co-digestion of high strength organic wastes (HSWs) for further development.

Helps utilities to better plan, design, and implement co-digestion programs.

Evaluates and compares feedstocks available for use in co-digestion and co-fermentation, particularly in New York State.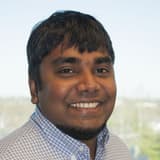 Dr. Wendell Khunjar is Hazen's Director of Wastewater Innovation and a national wastewater process expert.
Overall, implementation of a co-digestion program required additional, albeit minimal, O&M time. Time was primarily dedicated to operating the receiving and pretreatment facility, where issues such as clogged piping, deteriorated linings, or pumping issues were experienced. There were few to no effects on the sidestream, digestion, or dewatering facilities.
Utilities around the world are co-digesting high-strength organic wastes (HSWs) with municipal sewage sludge. HSWs can increase biogas production, which in addition to creating a potential revenue stream via tipping fees, reduces material to be landfilled and potentially reduces reliance on external power. Since co-digestion is an emerging practice, water resource recovery facilities (WRRFs) have limited guidance tools to help them develop and maintain successful co-digestion programs. Aggregated data on the operational side effects and benefits associated with co-digestion is also limited.
The three main objectives of this study were as follows:

Conduct a systematic evaluation of feedstocks available for co-digestion processes by surveying HSWs.
Identify and quantify the operations implications of co-digestion with HSWs, including receiving HSWs, pretreatment, digestion, and post-digestion treatment and handling.
Propose an easy-to-understand framework for operational solutions to challenges encountered during the co-digestion of HSWs and best management practices.
A two-phase survey was performed to collect operational data from utilities currently performing pilot- or full-scale co-digestion of HSWs and supplemented with research by various universities and organizations. Surveys were collected from 44 utilities regarding general demographics, the status of their co-digestion program, and additional questions related to operational co-digestion projects and pilot studies. Supplemental questions were sent to 13 utilities with active programs, 9 of which were selected for additional case studies having successfully implemented a co-digestion program utilizing HSW and wastewater solids.