Drinking Water Research Efforts Featured at WQTC
Beneficial use of predictive software among key topics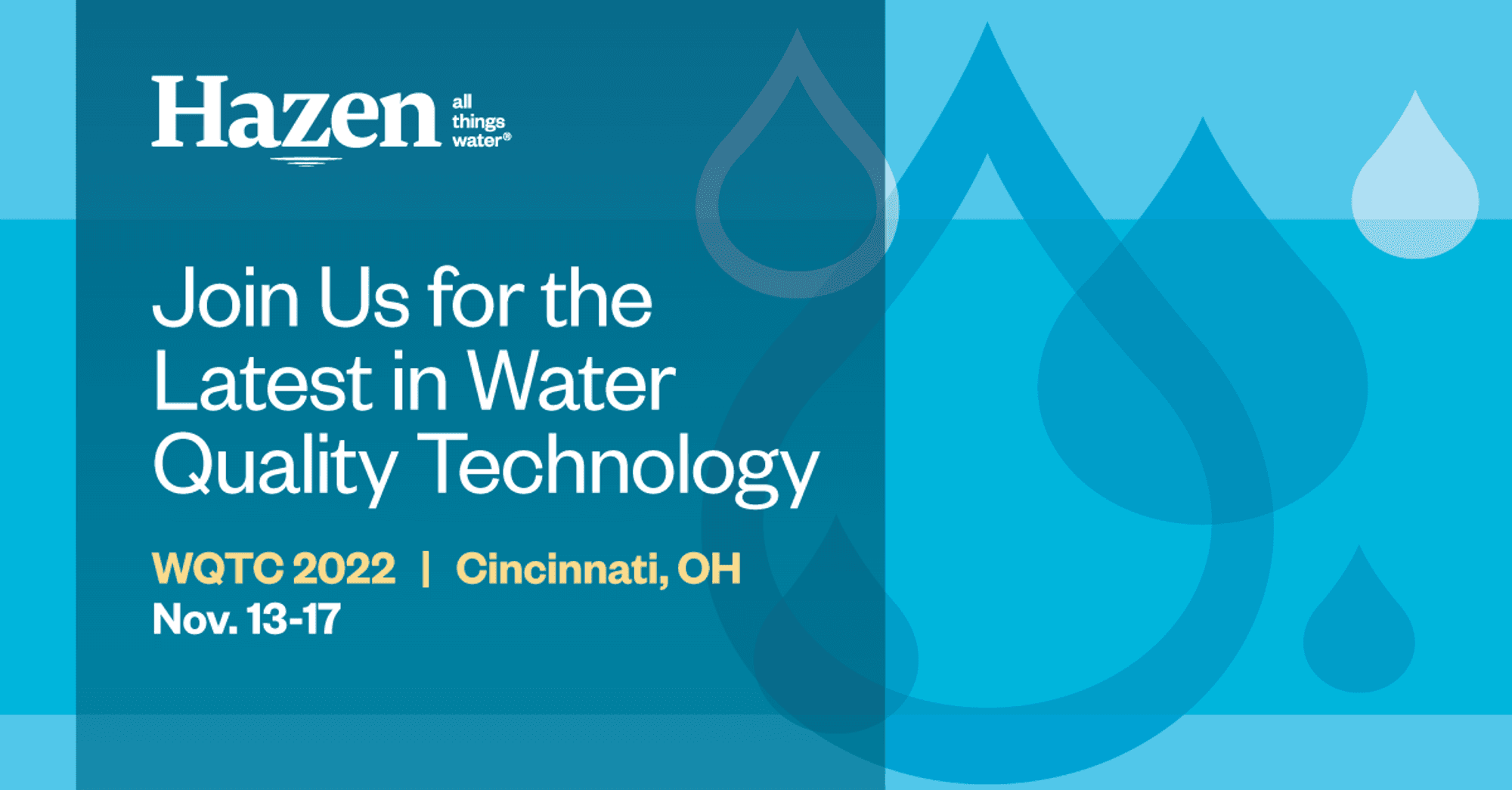 Cincinnati, OH – Hazen and Sawyer will highlight tackling the country's most pressing drinking water topics at the 2022 Water Quality Technology Conference (WQTC) in Cincinnati from Nov. 13-17. Leading experts from across the country will present recent successes and findings on machine learning (ML), disinfection byproducts (DBPs), PFAS, and lead and copper corrosion, among other key industry issues.
Hazen staff will join about 1,000 attendees representing forward thinking utilities from throughout the North American drinking water industry. Technical papers are selected from nearly 500 abstracts submitted each year, with Hazen chosen to speak at and moderate 15 sessions at the five-day event. One of Hazen's most important talking points at this year's event is the firm's significant advancements in ML.
Hazen has heavily invested in emerging ML technology to optimize water system operations. ML is a breakout tool that provides a scientific window into "unseen" data through predictive software. The resulting analysis allows the firm to develop accurate, knowledge-based decisions leading to cutting-edge holistic options for clients that would not have been available even just a few years ago.
"I am particularly excited about sharing Hazen's unique research in developing practical applications of ML in drinking water," said Hazen Drinking Water Practice Lead Erik Rosenfeldt. "Utilizing the power of ML allows us to learn from data we may have otherwise been unable to decipher, providing opportunities to fundamentally improve the way we solve problems, and increase the efficiency, reliability, and operability of our clients' facilities. Ultimately, we are better positioned to design improved solutions for our industry."
In addition to ML, Hazen will share achievements with innovative research in Granular Activated Carbon for PFAS and biologically active filtration to remove DBPs. Hazen presentations will also delve into the firm's corrosion control studies for lead and copper, provide insights into reservoir water quality management, and discuss our distinctive strategies for water reuse and integrated water resources opportunities.
One of several events organized annually by the American Water Works Association, WQTC provides a forum for industry professionals to exchange the latest research, information and lab techniques to address water quality problems, treatment processes, new regulations, and emerging issues. Hazen looks forward to this year's event and the opportunity to contribute unique and constructive approaches to address the most challenging drinking water problems facing the industry.
To view a program of Hazen presentations and panels, click here: Hazen and Sawyer | 2022 WQTC Presentations
For more information on Hazen speakers and panels, visit: 2022 Water Quality Technology Conference (tpni.com)