Hazen to Lead WRF Project 5107 "Understanding Pyrolysis for PFAS Removal"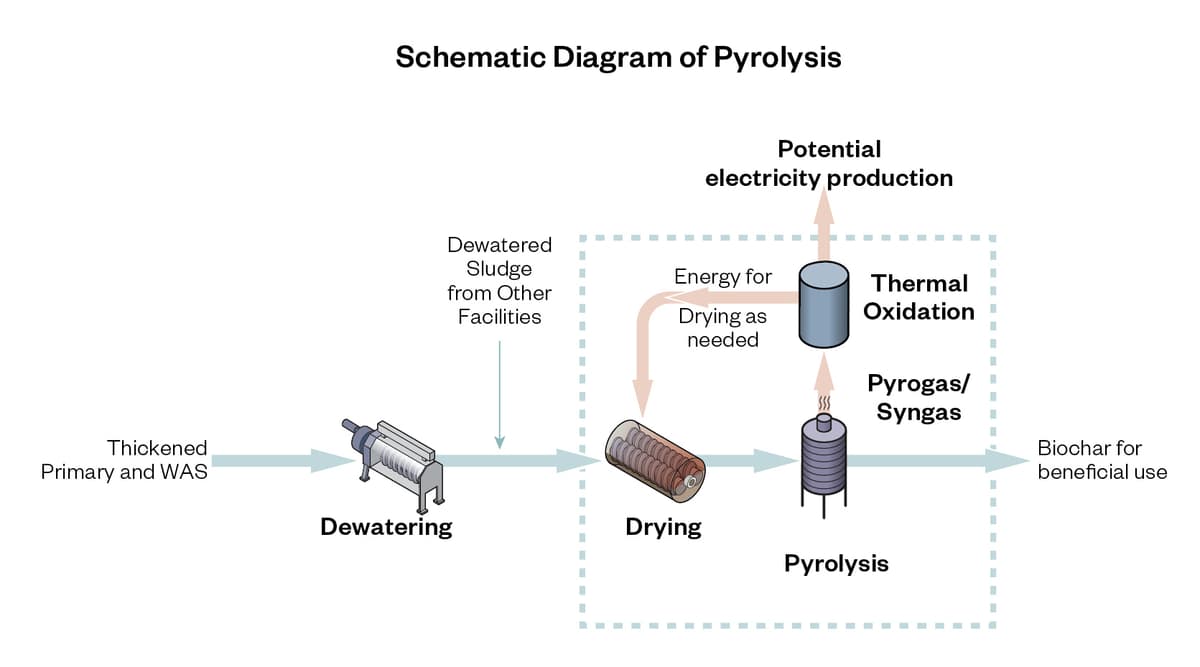 A schematic diagram of the drying/pyrolysis process. There are two steps in the process. The first step is the primary decomposition reaction, where heat converts the biomass to char, gas, and tars. The tars are then cracked in the second step of the reaction, to produce three categories of products – char, liquid (tar, bio-oil), and syn gas.

The inert residual, known as biochar, represents about 10 to15% of the solids input to the process as shown and the smallest amount of material produced when compared to other solids stabilization and processing.

Panoramic photo of the full-scale drying/pyrolysis facility in Schenectady, NY. Weigh scale for incoming biosolids can be seen at the bottom right.
(NEW YORK, NY - March 31, 2021) - A team featuring Hazen's Derya Dursun as principal investigator (PI) and Jeanette Brown of Manhattan College as co-PI was recently selected to lead Water Research Foundation (WRF) project #5107 "Understanding Pyrolysis for PFAS Removal."
The main purpose of this project is to study the performance and feasibility of a full-scale thermal drying and pyrolysis facility to process municipal solids, with a focus the potential to remove/destroy PFAS compounds. The team will study the full-scale thermal drying and pyrolysis facility currently being commissioned at the Schenectady Treatment Facility in NY to process 25 dry tons per day (dtpd) of wastewater solids from Schenectady and nearby facilities.
Pyrolysis is a process that can both destroy PFAS compounds and offer opportunities for resource recovery, offering an alternative to conventional stabilization technologies to safely process solids while capturing energy embedded in the sludge. Pyrolysis converts organic matter to a synthetic gas (syngas) that is used to provide energy necessary for thermal drying while significantly reducing the volume of residuals by 85 to 90 percent; it also produces inert or biochar, which is an environmentally-friendly product with a growing market value. The pyrolysis process can either be employed as a standalone technology or implemented in conjunction with anaerobic or aerobic digestion.
This research project offers a unique opportunity to examine the pyrolysis process in detail at full scale. With land application practices currently under pressure due to concerns about emerging contaminants and cost, the results from this project will offer WRF subscribers valuable information regarding biosolids management planning and beneficial use or disposal flexibility. The project will also develop mass (metals and organics) and energy balance around the various unit processes, determine the produced syngas quantity and quality, and compare process life-cycle cost to conventional solids processing technologies.
Portland Water District is teamed with Hazen and Manhattan College as a sponsoring utility under WRF's Tailored Collaboration Program (TCP). Other participating utilities include Massachusetts Water Resources Authority, Alexandria Renew Enterprises, Middlesex County Utilities Authority, and Biowaste Pyrolysis Solutions. WRF matched funding for this project.
For more information on this project, please contact Mo Abu-Orf or Derya Dursun .