The Value of Sustainable Water Infrastructure
Last Modified Dec 06, 2022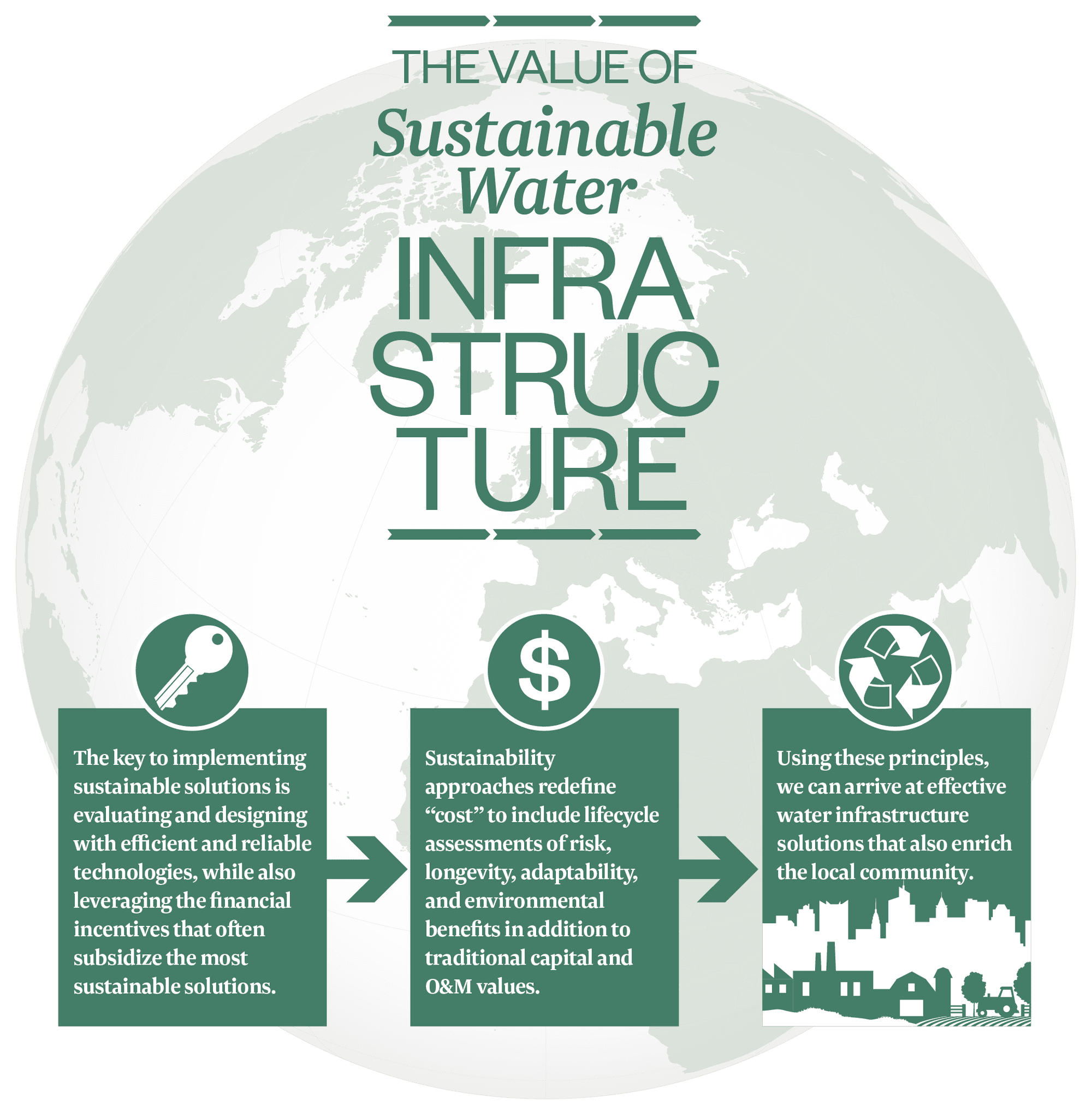 Hazen and Sawyer has delivered sustainable planning and design services to our clients since our founding. While large, high-profile projects can often present opportunities to reap large rewards from a sustainable approach, smaller, less-visible projects also offer ample opportunities. Each project is different, with a wide range of variables to consider. Engaging utility staff, local government, and residents enables the project team to identify sustainable solutions to enhance infrastructure and benefit the community for years to come.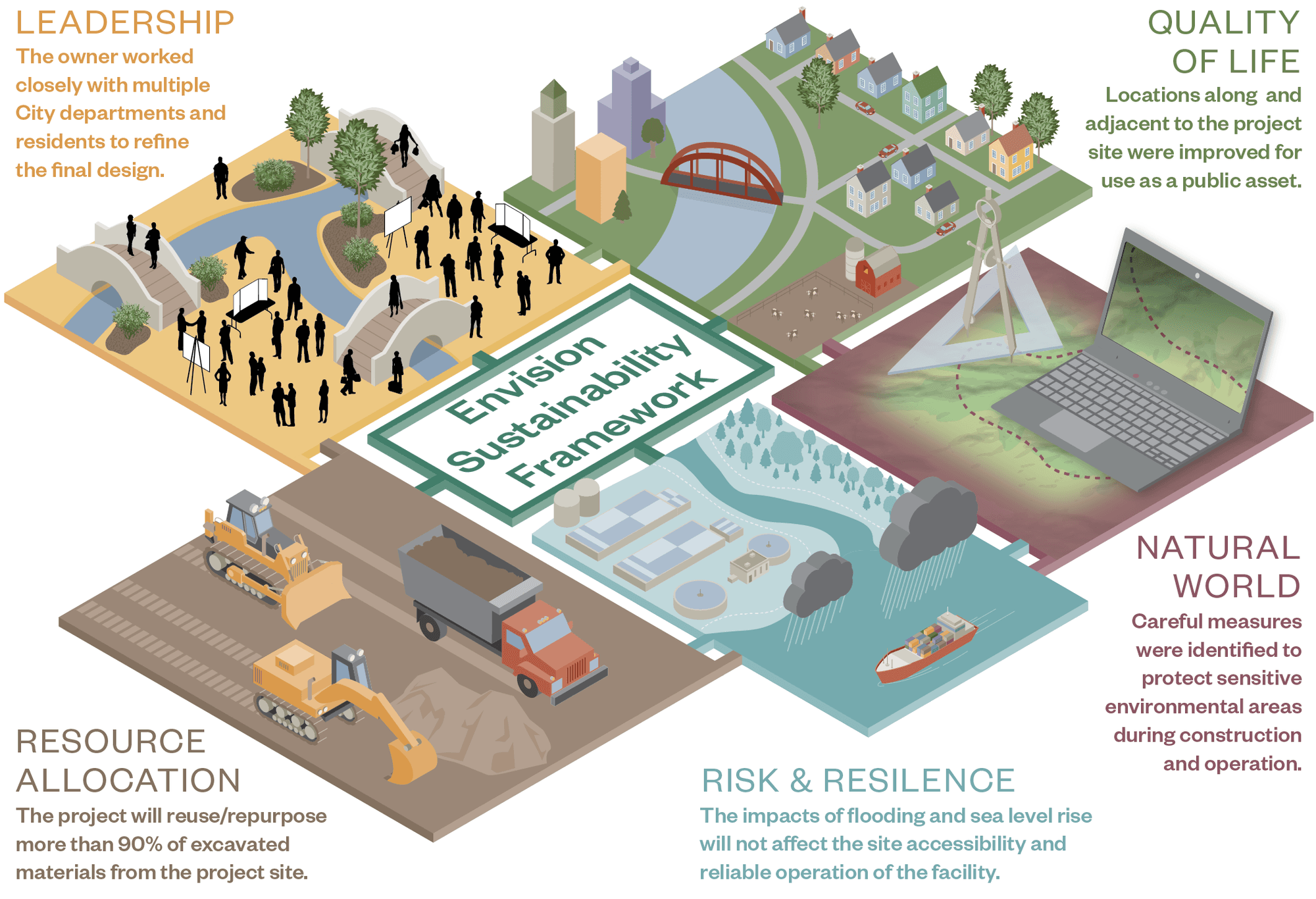 Cocoplum Pump Station & Force Main
Sustainability rating systems, such as Envision and LEED, enable us to identify and incorporate comprehensive sustainability measures into our designs. The goal of Envision is to help designers identify opportunities to incorporate sustainable approaches in the planning, design, construction, and operation of infrastructure projects. It allows for improved technical performance in parallel with social, environmental, and economic improvements.
The City of Coral Gables' Cocoplum Pump Station and Force Main Upgrade project included mechanical, electrical, and structural upgrades of the station and force main to better accommodate peak flows and increase system reliability. The project leveraged the Envision Sustainable Infrastructure Rating System framework during planning and design to identify and incorporate elements that would provide community, environmental, and economic benefits. These criteria address a project's impact on the surrounding community and environment, technical considerations regarding materials and processes, and other critical choices spanning the project's lifecycle.
Use of the Envision framework, which aligned with regional use of Envision for planning and design, facilitated discussion with a broader group of stakeholders across City departments to identify project synergies. The overall design approach was strengthened by accounting for the full spectrum of environmental, social, and economic impacts.
West Park Equalization Facility
The unique challenges of Nashville's West Park Equalization Facility project led the team to apply the Envision framework during the project design phase. Nashville Metro Water Services, charged with eliminating unpermitted discharges from its wastewater collection system, implemented a strategy that included wastewater storage within the system during periods of wet weather. The storage project design for the West Park Facility originally called for a second tank on the existing pump station site. However, updates to the flood zones made in response to Nashville's historic 2010 flooding made the original location unsuitable. The alternative remote location would have required multiple tanks and additional equipment.
The project team partnered with Metro Parks and Recreation to utilize park property within the nearby West Park, which featured existing recreational facilities that were in need of improvements and not meeting the needs of a rapidly growing surrounding community. Relocating this project to the park allowed the cost savings to be used to fund much needed park upgrades and new recreational facilities. The project's inter-agency collaboration resulted in both valuable park improvements and cleaner rivers and streams.
Upon completion of the 60% design package, Hazen performed an Envision audit to measure the project's sustainable design features against the rating system's quantifiable metrics. While the project rated highly, it also allowed the team to identify opportunities for an even more sustainable design. The project was later given an Envision Platinum award, the highest level possible.
Neuse River Resource Recovery Project
Whether it's greenhouse gas quantification, carbon footprinting, or energy profile modeling, Hazen has successfully used many methods of environmental accounting to quantify performance improvements that lend credibility to project choices. These quantifications, in turn, foster community engagement and support.
Now, more than ever, community engagement and acceptance is a critical component of any significant public works project. The development of public facing website dashboards is a compelling, yet low investment, platform for ongoing communication of project advancement and long-term performance.
As part of the City of Raleigh's Neuse River Resource Recovery Facility Bioenergy Recovery Project (BRP) we developed a greenhouse gas calculator. The City plans to use this tool for reporting purposes as well as an input to the decision making process. Benefits of the Bioenergy Recovery Project include green energy production: biogas is cleaned, converted to renewable natural gas, and used in the City's bus fleet or sold to a third party for revenue. The BRP will also produce high-quality, low-odor Class A biosolids products which can be readily marketed and distributed for beneficial uses.