Saving Time Through Data Visualization and Application
The goal is to create a time-saving view that drives efficiency, fosters the development of actionable insights, and enables staff to focus on the most important aspects of their work.
Last Modified Nov 14, 2023
Building a new facility or renovating aging assets is typically a significant investment of capital, staff time, and other resources. The time investment starts at the early stages of planning and continues to rise through design, construction, and commissioning. It does not stop there - an often-overlooked aspect of new facilities is moving as-built information into asset management systems, which can take weeks to months of manual labor.
Every minor change must be tracked, recorded, and validated in the system. Similar impacts on resources and available staff hours include mapping the assets in GIS, determining and implementing maintenance schedules, and providing insight into the facility across functioning units.
Most utilities have the tools available at their fingertips to streamline this process and save time and money but have yet to harness the power of connecting the right applications. For example, most utilities already use GIS products and many are using CAD or BIM files to store data about their facilities, though few people within the organization can access the data in one location. Likewise, computerized maintenance management systems (CMMS) and enterprise asset management (EAM) systems are often siloed without direct linkages to available tools across the organization. This results in a fractured view into the operation of the utility with inefficiencies in collecting, visualizing, and acting on information.
To lessen the impact on staff and manpower, utilities can integrate software from multiple vendors, streamlining the collection and digitization of asset data. Visualizations of assets, maps, facilities, and more can be combined with BIM data from design and construction teams into a single application or website to support workers and work flow.
The integration of applications and software licenses already owned by a utility can save hundreds of staff hours from routine tasks.
The following key terms and case studies demonstrate some of the most frequently used tools and outcomes from digital strategy development:
A Single Pane of Glass

This is a term used widely in the technology space to describe the ability to access information and visualizations of information from many different applications in a single place, such as a dashboard. A single pane of glass is ideal for utility staff who may not have or need licenses to each application but want to view the important results for their job function. It integrates information together in a way that is specific to the individual's needs and links changes in one application (e.g., GIS) across all of the other applications (e.g., BIM, CMMS, 360 degree imagery, EAM). A user can deep dive into the specific components of a pump motor, look at the impact of future pump replacements on operating expenses and rates, and even analyze how to minimize those impacts through proactive maintenance—all using one application.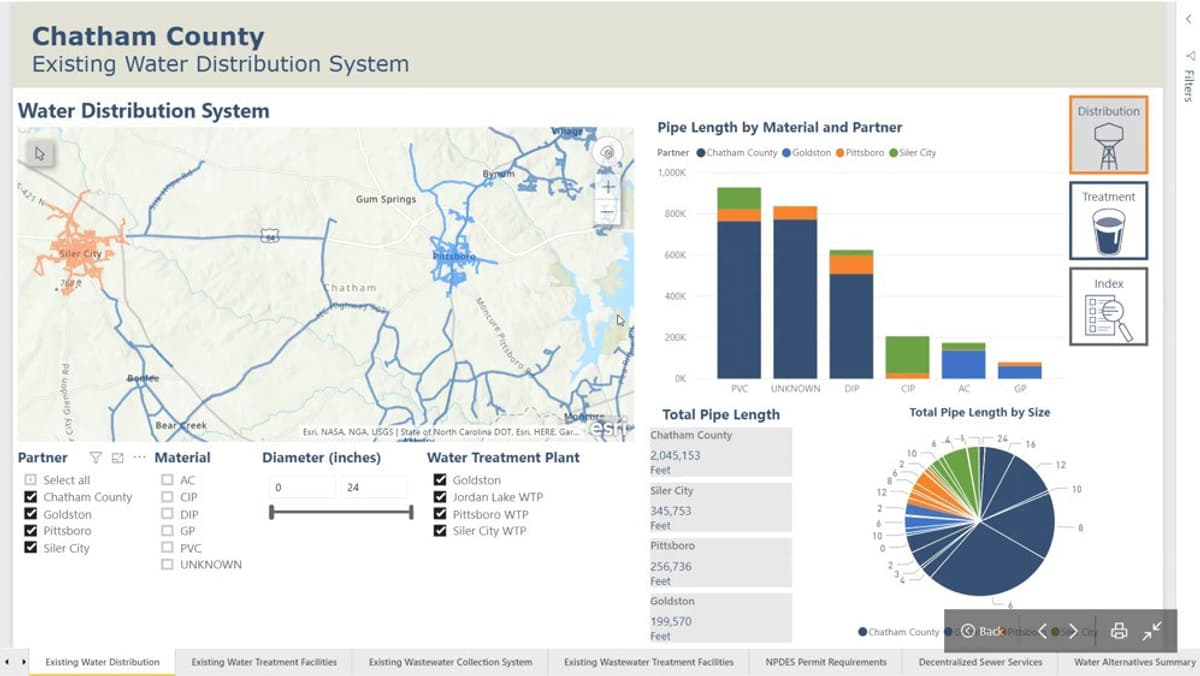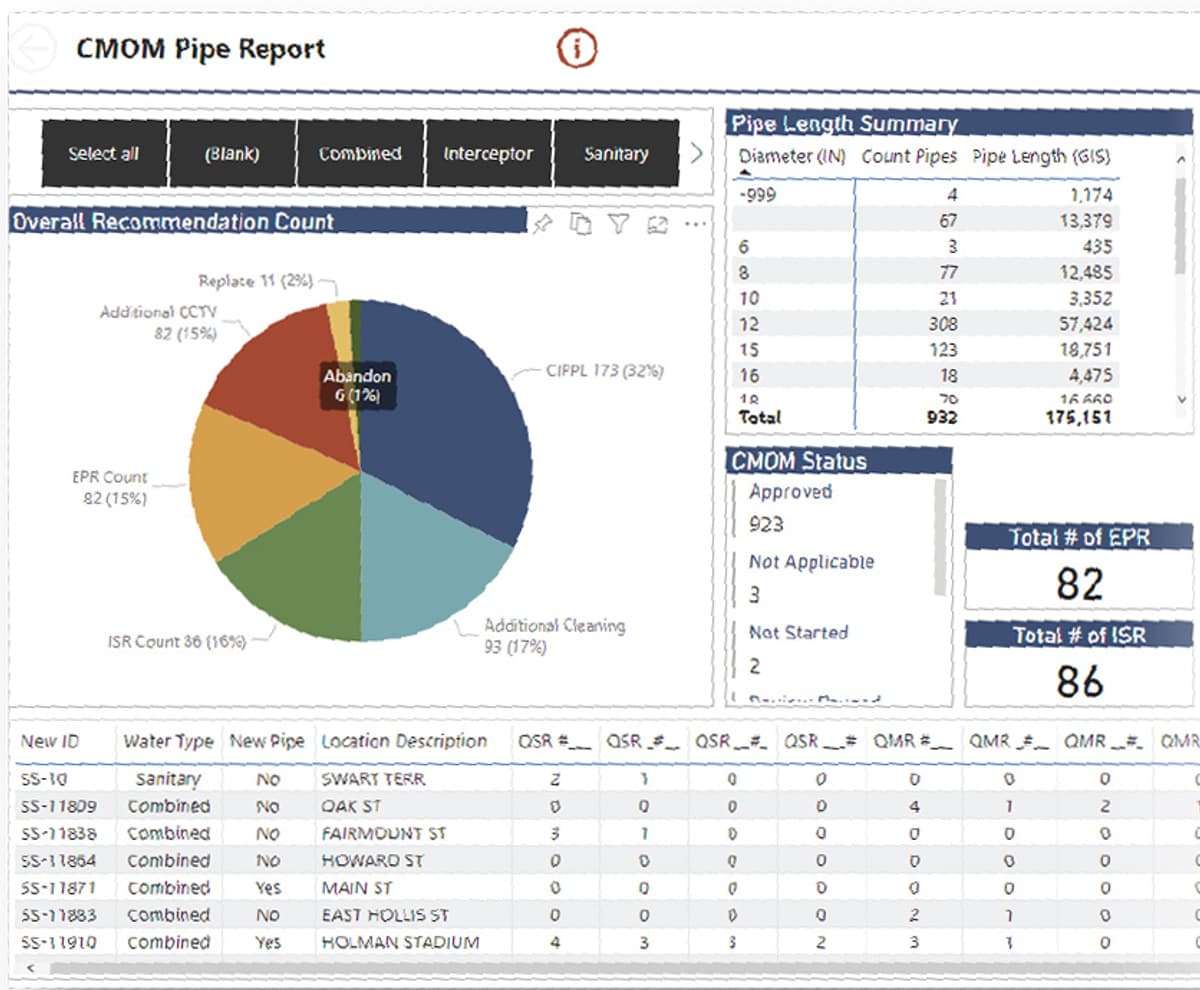 Dashboarding

Dashboards are typically created through packages such as Microsoft Power BI or Tableau, providing a means to quickly and easily view high-level data before drilling down into points of interest. By integrating the display capability of various software applications, dashboards can provide cross-enterprise insight through GIS maps, CMMS recommendations, and architectural and structural drawings. Integrated dashboards enhance each user's access to information and minimize the downtime often required by requesting data, screenshots, maps, etc., from other work units within the utility.
Integrating Technology

Many vendors create snippets of code that help different software applications talk to one another, and the software that utilities already pay for very likely has this capability built in. Hazen leverages these communication tools to create new ways of connecting data and visualizing that information to create actionable insights. Leveraging existing licensing to create something new saves time and provides better clarity into the system.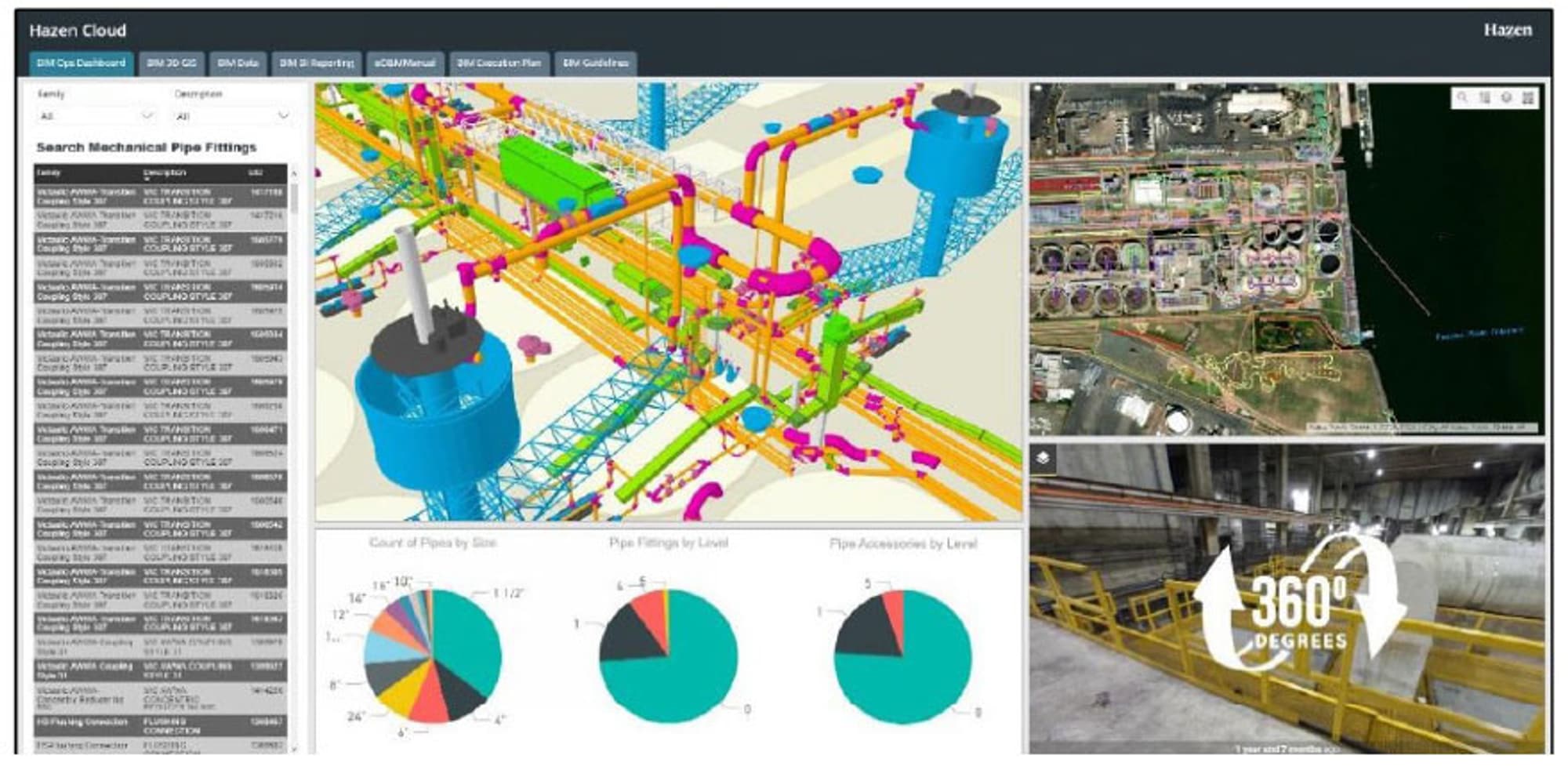 Case Study: Creating Visibility and Insights Across the Organization

Hazen and the Passaic Valley Sewerage Commission (PVSC) in New Jersey recently embarked upon a data management strategy to integrate BIM, GIS, and business intelligence systems into a single pane of glass. This digital strategy was deployed to enable secure and scalable data sharing between business groups and different enterprise IT systems, minimizing repetitive information and maximizing the usefulness of the data PVSC receives and creates.
The team worked with the PVSC IT Department, Microsoft, ESRI, and the PVSC GIS team to outline and implement a new ESRI Enterprise ArcGIS Portal in their Microsoft Azure Cloud, creating a single pane of glass for integrated viewing of building information data, geodata, operation data, and more. This initial phase also created the necessary cloud infrastructure to develop, test, and host Digital Twin technologies that represent near real-time information in 3D model view, 2D plans and maps, and Power BI visuals. This seamless integration has allowed PVSC staff to analyze and visualize GIS data alongside other data sources.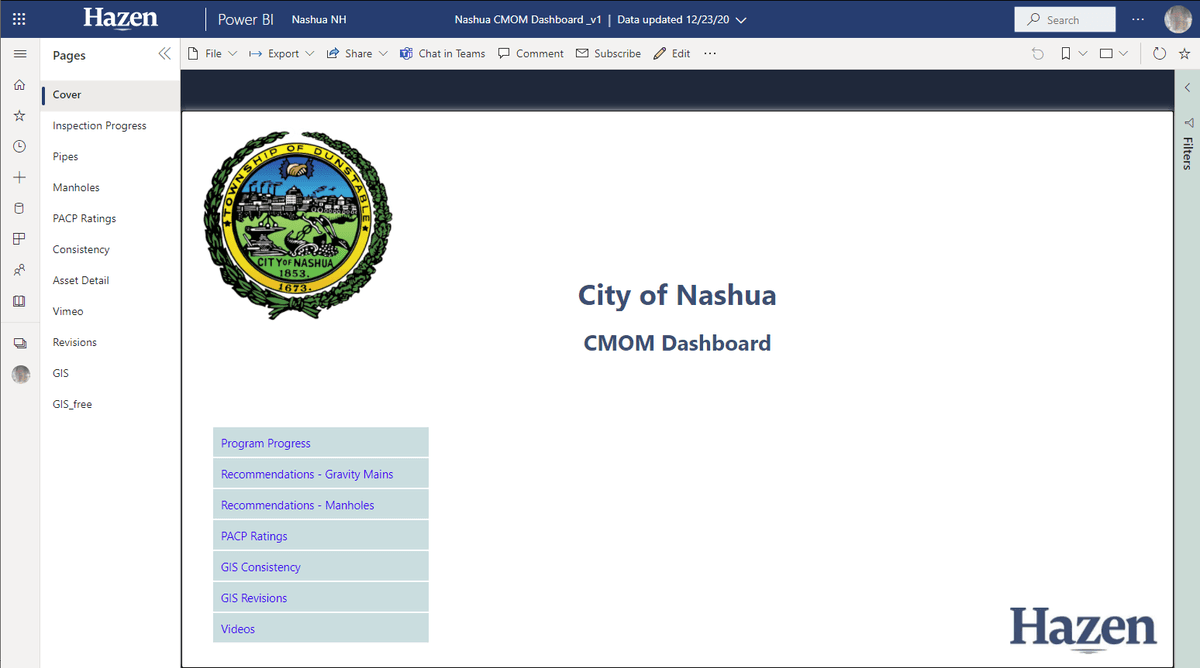 Case Study: Collecting and Analyzing Data in Accessible Ways

The City of Nashua has been working with Hazen to manage the development of a "Collection System O&M Plan" as part of its wastewater NPDES Permit that covers the pipes, manholes, and pump stations in the sewer and stormwater systems. The data-rich program required collecting and analyzing data in a way that was accessible and easily viewed across the organization. It includes video, app-based GIS maps, condition assessment and risk management ratings, and work order tracking, all of which needed to be integrated through a web-based dashboard application.
After inspection with CCTV cameras, the status of each asset is added to ArcGIS Collector in real-time for both Hazen and the city to see. The map can also be edited, allowing for new assets or different configurations of previous map data to be added as needed. Hazen's GIS updates and CMOM recommendations are available to the city in real-time through a web application hosted on the Hazen GIS Portal, with results and data trends displayed in Power BI. The Power BI report utilizes CCTV and CMOM GIS data to create a powerful and connected tool, with data refreshing on a scheduled interval to stay up to date. The report allows the city to track the inspection, data implementation, review, and revision progress for each water type using easy to understand visualizations such as tables, charts, and maps.
Case Study: Standardizing Design Practices with BIM

The standard water industry model of distinct design, build, operation, and maintenance phases for facilities does not lend itself to the seamless transfer of data from one phase to the next. While developing Hampton Roads Sanitation District's (HRSD) digital strategy for the District's asset portfolio lifecycle, Hazen also created a framework for integrating asset management and O&M information with GIS and CMMS for the SWIFT Research Center.
Development of an intelligent BIM model with standard project templates and use of bridging software to sync and connect BIM data to CMMS and GIS allows consistency in format and presentation developed by varied stakeholders. Powerful visualization tools in the O&M stage provided a holistic understanding of a facility's asset attributes, maintenance, and renewal and replacement status by use of automated color-coding and the ability to quickly access work order history.
BIM guidelines and standard practices for HRSD streamlines the collection of asset information during design, which improves future capital planning and O&M practices. Future facilities will be developed using this approach to connect data from design through long-term operations.
Better Decisions Quicker

Hazen's work on behalf of utilities in this space has been recognized by ESRI, AutoDesk, Microsoft, HoloBuilder, and more as an example of the benefits of integrating data across applications. Our clients have seen the benefits in the improved quality and efficiency of design and construction projects, compelling maps and visualizations of storm surge inundation to support the case for facility hardening, developing financial models that foster smart investment, and comprehensive asset management dashboards that improve efficiency and staff morale. No matter the application, the goal is to create a time-saving view into the function of a utility that drives efficiency, fosters the development of actionable insights, and enables staff to focus on the most important aspects of their work.