An Innovative Build That Puts the "Fun" in Functional
As civil engineers, we are accustomed to projects that are of great public importance yet attract little public interest. After all, wastewater management is decidedly unsexy – one of the many modern-day conveniences we now take for granted: hidden from sight, attracting attention only when something goes wrong.

On the other hand, we're occasionally called upon to design something out of the ordinary. Something both practical and innovative, where synergy becomes part of the story and ends up inspiring a result much greater than the sum of its parts.
Back in 2019, two unrelated entities in Coastal Virginia were busy making plans for an upcoming civic project. Each was faced with one of those must-do endeavors, large undertakings that seem to stretch on for far too long and produce a lot of frustration.
Virginia Beach Parks and Recreation was looking to upgrade one of its public spaces. Woodstock Park, a former skate-boarding mecca that had once drawn in visitors from near and far, was beginning to show its age, so plans were coming together to give its dated facilities a much-needed refresh.
Not far from the City of Virginia Beach (CVB), the Hampton Roads Sanitation District (HRSD) needed to decommission its Chesapeake Elizabeth Wastewater Plant. This prompted plans for a major system re-route, a potentially complex operation that involved design, siting, and construction of a new offline storage tank, an emergency backup that would kick in during critical weather events.
As we know, many public service entities were designed to operate with autonomy. And we also recognize that, regardless of the organization, there are plenty of times when service needs, tasks, and assigned responsibilities overlap, with outcomes that range from harmonious cooperation to territorial squabbles.

As often happens, this situation presented: two separate entities, two sets of priorities, and two independent budgets
The question remained - could CVB and HRSD come up with a way to pool resources, saving on space and cost while educating the public about its critical role in the conservation, treatment, and management of our precious natural resource?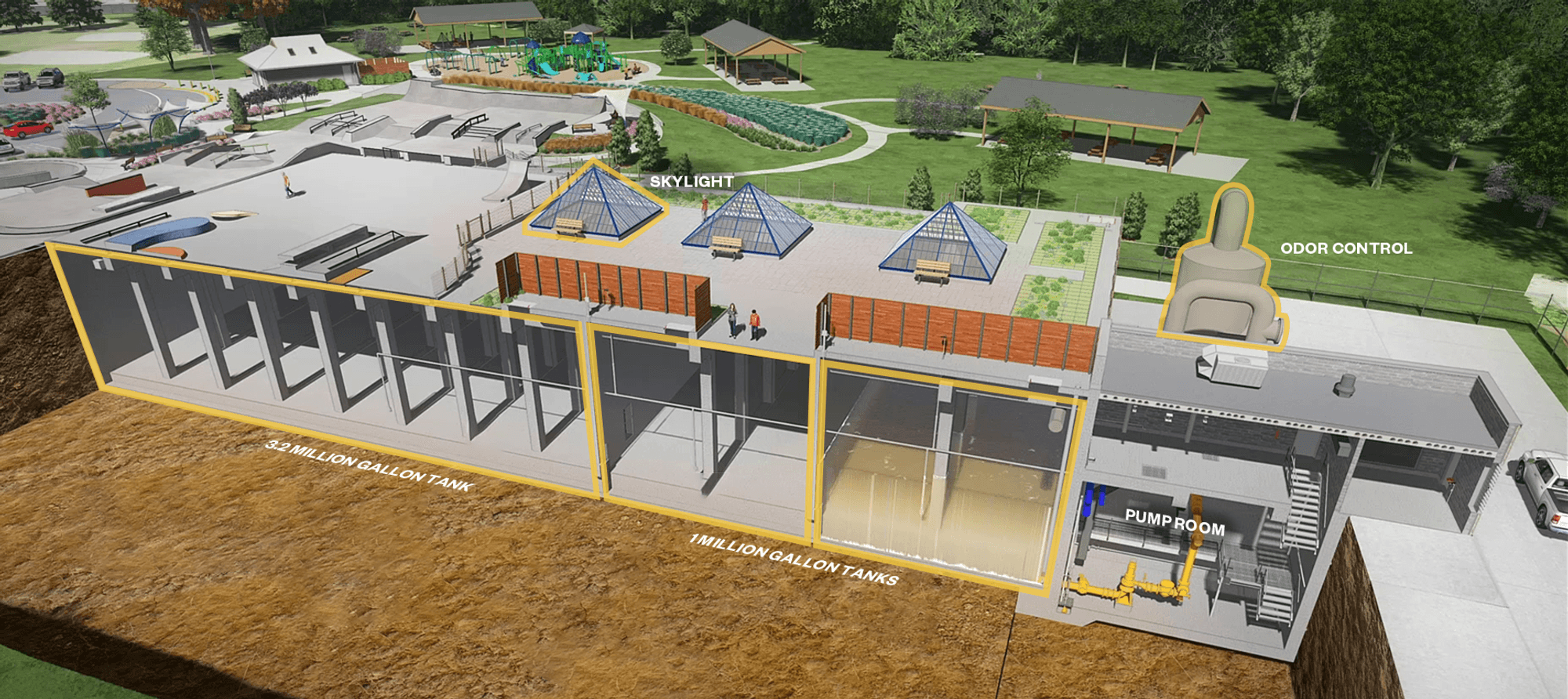 Constructing a new wastewater storage facility within an established, densely-populated urban environment is a complex, often-challenging endeavor. On the technical side, specific requirements regarding space, accessibility, and location relative to existing pipelines automatically narrow the list of potential sites. And on the human side, once that short list of possibilities has been identified, the process of negotiating with local governments, securing necessary permits, and winning over public approval can prove even more exhausting.

In this particular case, complex circumstances called for creative solutions. While scouting possibilities for a new site, HRSD had landed on CVB's Woodstock Park as an intriguing solution. The park had plenty of space. Great accessibility. And, most importantly, it sat in an ideal location along the existing pipelines, perfectly situated to divert excess flow during wet weather emergencies.
The HRSD team was already aware of the City's plans to renovate and upgrade park facilities. With that as a starting point, they approached officials to propose a partnership that would accommodate the wish list and requirements of all involved parties.
Their plan was both practical and bold: construct a wastewater storage tank on the site of the existing skate park. Once constructed, rather than struggle to disguise it, engineers would take advantage of its unique architectural features by integrating them into the overall design.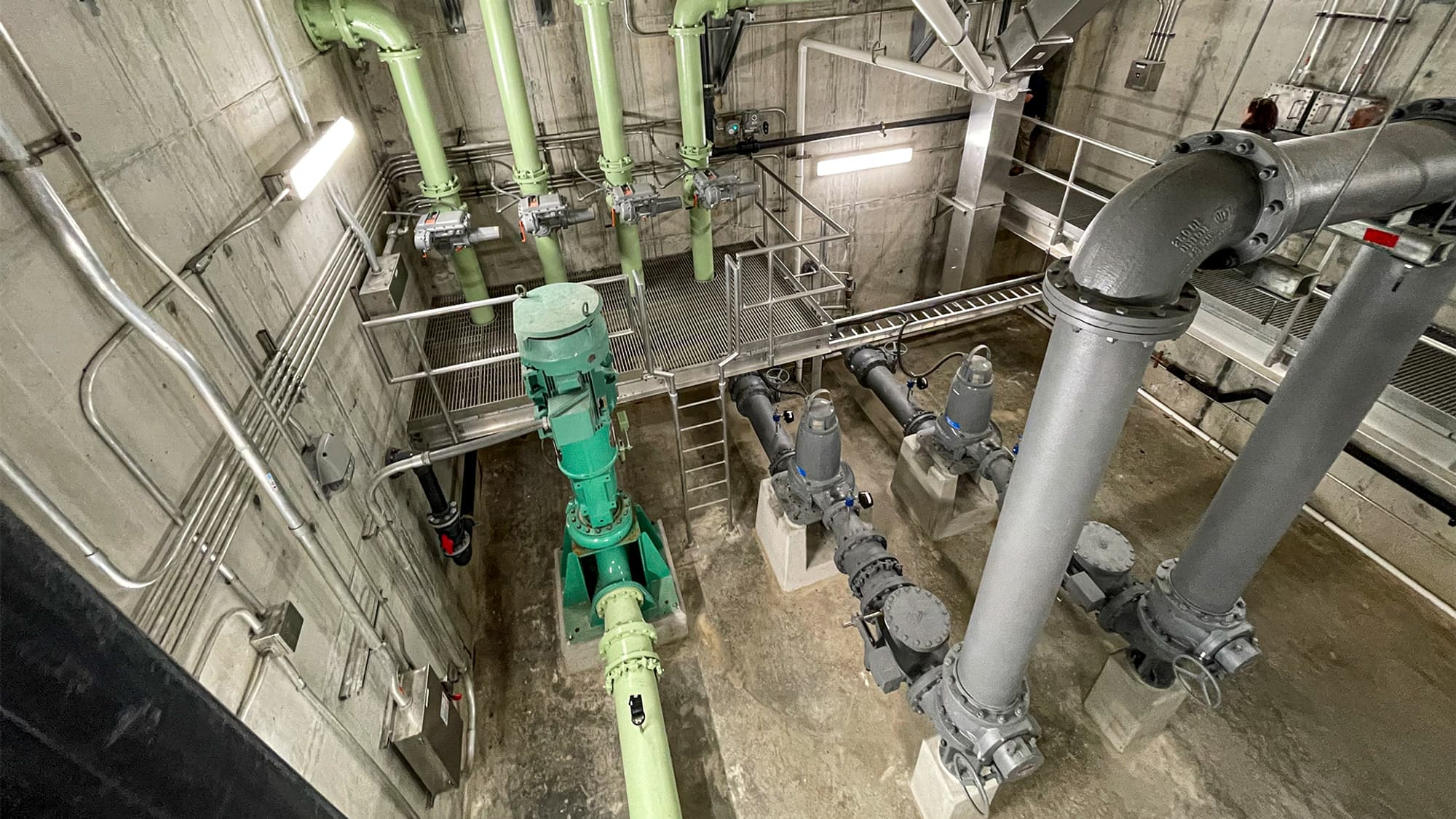 The specifics took into account the needs and desires of both entities. HRSD would design and install a facility comprised of four main parts – a storage tank, a pump room, a control room, and an odor control system. The unit would be capable of holding up to 5.2 million gallons of water, designed to blend seamlessly into the immediate surroundings.
The idea was solid, but they anticipated plenty of questions and concerns. They began building a strong business case to win stakeholder and public acceptance.
The very first step was to present their ideas to the City of Virginia Beach, with a strategic focus on the benefits of collaboration. For the two organizations, the proposal was a pretty obvious win-win: the critical holding tank would be sited on the grounds of Woodstock Park and – because the City and HRSD would be combining their financial resources – a considerable savings could be passed on to the taxpayers.
Their design plan included a 30,000 square foot skate park, with 10K square feet situated along the flat top of the storage tank and 20K alongside. Assets would include a staging and warm up area, shelters to provide shade for spectators, and a wide variety of runs and training features to accommodate athletes of all ages and abilities.
Aside from financial incentives, HRSD pointed out that the project itself had vast marketing and public relations appeal. Its features and design would naturally attract wheeled sport enthusiasts, while its backstory would appeal to educators, scientists, and loads of curious, conservation-minded citizens. A successfully-executed alliance between recreation space and critical infrastructure could spell a local win AND serve as an example for similar future collaborations.
Once HRSD and the city had agreed upon the plan, the next step would be presenting it to the public. The team would need to create a compelling argument of the project's winning features while allaying any community fears or concerns. Their presentation would need to be detailed, educational, and comprehensive, outlining the what, why, and how of the project in a down-to-earth, relatable fashion. It needed to win the public over by soliciting their input, asking the community what exact features they would like to see in this new and improved park.
Public outreach took various forms, beginning with an information campaign that could be equated to a crash course on Wastewater 101. HRSD prepared an FAQ section on its website, explaining the purpose and function of the storage unit.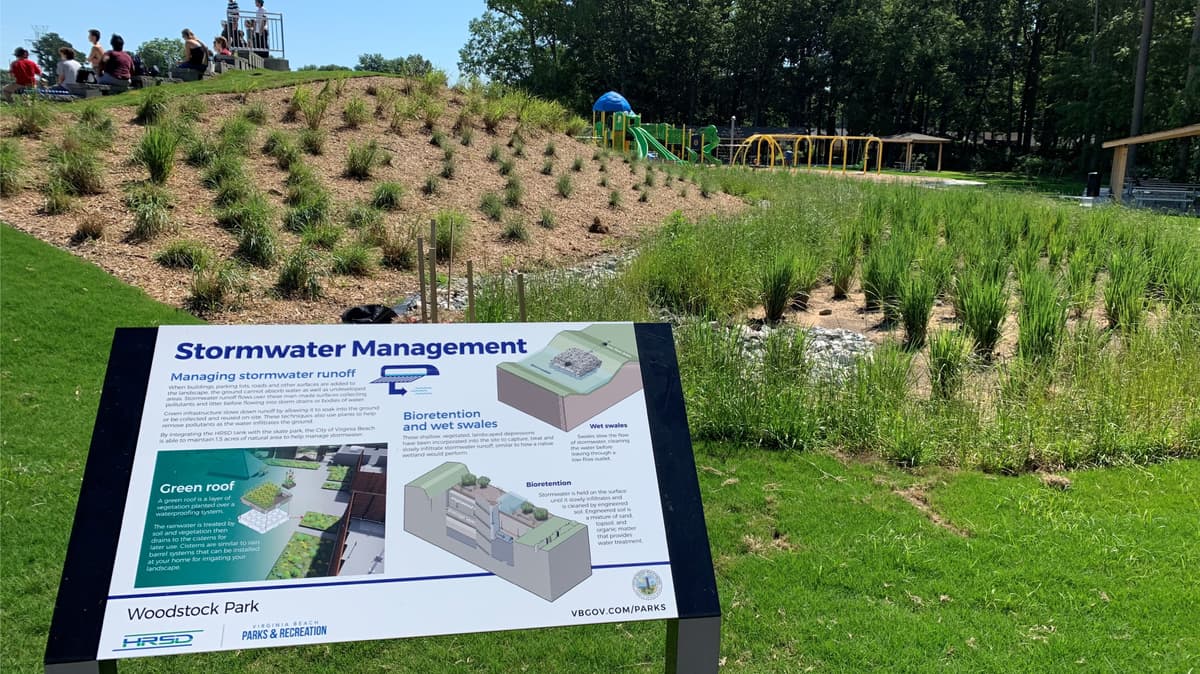 Targeted communications covered the basic principles of water management design: how systems are created to suit specific population and usage needs, how those needs are calculated according to average demands, and how unusual circumstances can occasionally stress the system beyond capacity.

On the rare but increasingly-frequent occasions when major rain events push the pipelines to their max, an SSO – Sanitary Sewer Overflow – can occur, with wastewater flooding into public areas, including streets, businesses, and residences.
Enter the need for a backup plan, involving units such as the proposed structure for Woodstock Park. As the name implies, "offline tanks" are not designed to take part in the day-to-day functioning of a wastewater system. Rather, they serve as emergency backups, strategically-located sites where excess water can be diverted in the event of system overload.
During a major weather event, an offline tank will kick into operation, diverting heavy flows into its secure backup facilities. This corralling of excess water helps to prevent SSOs, buying the system time while the storm rages and allowing operators to strategically plan its re-release for after conditions return to normal.
The community was informed of risks and benefits regarding this proposed structure, including functions and limitations. Presentations were careful to emphasize that the tank would NOT be designed to address flooding from stormwater, nor offer guaranteed protection against SSOs; it was intended to act as a kind of insurance policy, as a means to reduce SSO impacts.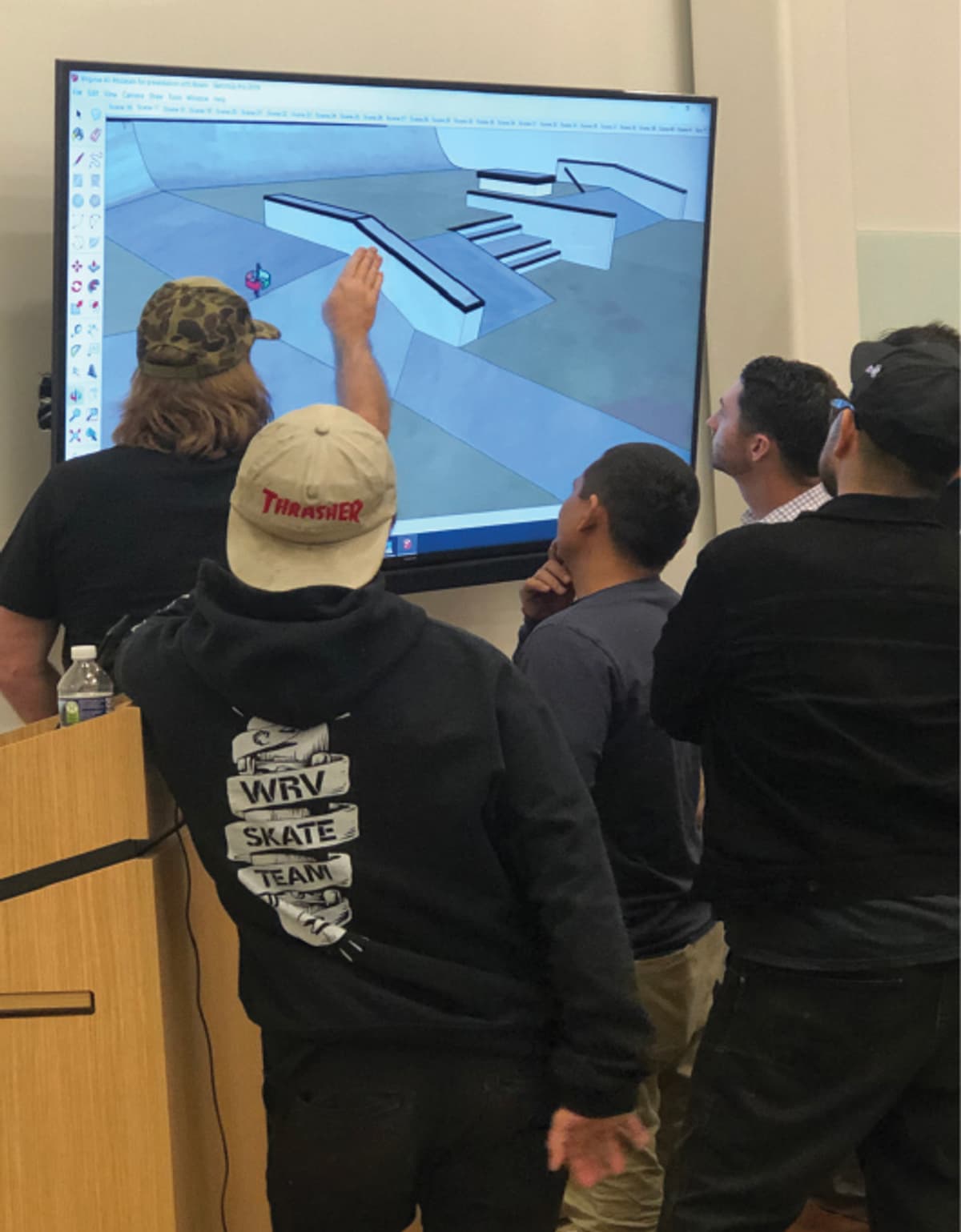 Once both parties and the surrounding communities had agreed to this master plan, a flexible and meticulously phased design-build process was outlined, comprising both big-picture milestones, such as building approvals and permits, and detail-specific events, like skate park design and features.
The two project owners – HRSD and CVB – were proactive in engaging stakeholders throughout the process, conducting public hearings about the general proposal, sharing design proofs and 3-D modeling presentations, and hosting focus groups comprised of wheel-sport enthusiasts and facility operators. These intended users of the facility's main attraction, a state-of-the-art skate park, were invited to review a variety of possible features, using public opinion to drive decision-making on everything from overall design to specific highlights, including custom ledges, rails, and wall rides.
Unlike construction projects in low-density areas, where neighbors are few and potential disturbances unlikely, this particular proposal required a measured approach to meeting objectives while minimizing disruption to surrounding businesses and residences. In addition to standard environmental regulations concerning noise, vibration, groundwater disruption, and potential shifting soils, this unusual combination of wastewater + public park necessitated a proactive approach to ensure public safety and enjoyment.
Odor control was an obvious priority – after all, no one wants to picnic in a place that smells like low tide! Both park-goers and area residents were concerned about quality-of-life issues. What measures could be taken to ensure the system was filtered, preserving air quality and ease of outdoor enjoyment? HRSD researched various odor filtration systems, and determined that for a storage tank of this size, a carbon-adsorbing odor control system of 23,000 CFM would mitigate any effects of wastewater off-gassing.
The tank would require interior lighting and an integrated cleaning system to maintain and prolong its lifespan. Initial plans for a "flushing gate" wash system and ceiling-embedded, explosion-proof light fixtures were scrapped in favor of more innovative, cost-saving solutions. Use of a pump/deluge system for tank cleanout meant fewer moving parts, thus lower construction costs, diminished risks of mechanical failure, and simpler long-term maintenance.
For lighting, a cost-and-environmentally friendly option was found via installation of pyramidal skylights along the top of the tank. These would allow light to flood in without need of a power source, and could double as easy access points during routine maintenance procedures. These two alterations alone provided capital investment savings in the hundreds of thousands – when compared to initial project plans, the tank cleanout innovation saved roughly $500,000 in build costs, and the eco-friendly lighting an additional $250,000.
Finally, to engage the public and promote environmental education, interpretive displays were strategically placed throughout the park to highlight its unique blend of form and function. Information on pipe infrastructure and stormwater management accompany other, more standard signage, such as facility maps and skate park features. Locally-sourced artwork was installed along utility fencing, turning utilitarian elements into creative and welcoming spaces that invite guests to learn about conservation as they relax and explore the surroundings.
The End Result Of This Unique Alliance Was An All-Around Success.
Between collaborative planning and budgeting, a flexible design process, a proactive, community-centric outreach campaign, and use of technologies that increase efficiency and decrease cost, the City of Virginia Beach and the Hampton Roads Sanitation District became the proud joint-owners of a one-of-a-kind park, a multi-use facility that seamlessly combines working infrastructure with educational and recreational space. Best of all, their new shared asset can serve as a blueprint for future collaborations, inspiring new ways for community leaders to join forces, innovate, and create smart solutions that deliver results.