Biofiltration: Best Practices for Design and Operation
Last Modified Dec 09, 2022
Biologically active filtration (BAF) is a cost-effective, multi-barrier water treatment process that provides a broad foundation for controlling taste and odors, removing DBP precursors and other contaminants, and increasing water stability.
The suitability of adding BAF to any given water treatment plant requires an examination of potential benefits and costs. Providers challenged by trying to control disinfection byproducts (DBPs), taste/color/odor issues, algal toxins, industrial or wastewater contaminants, or reducing assimilable organic carbon (AOC) to enhance stabilization can often achieve major improvement with the proper operation of BAF. That said, proper operation can require significant capital investment, in addition to new challenges for operators.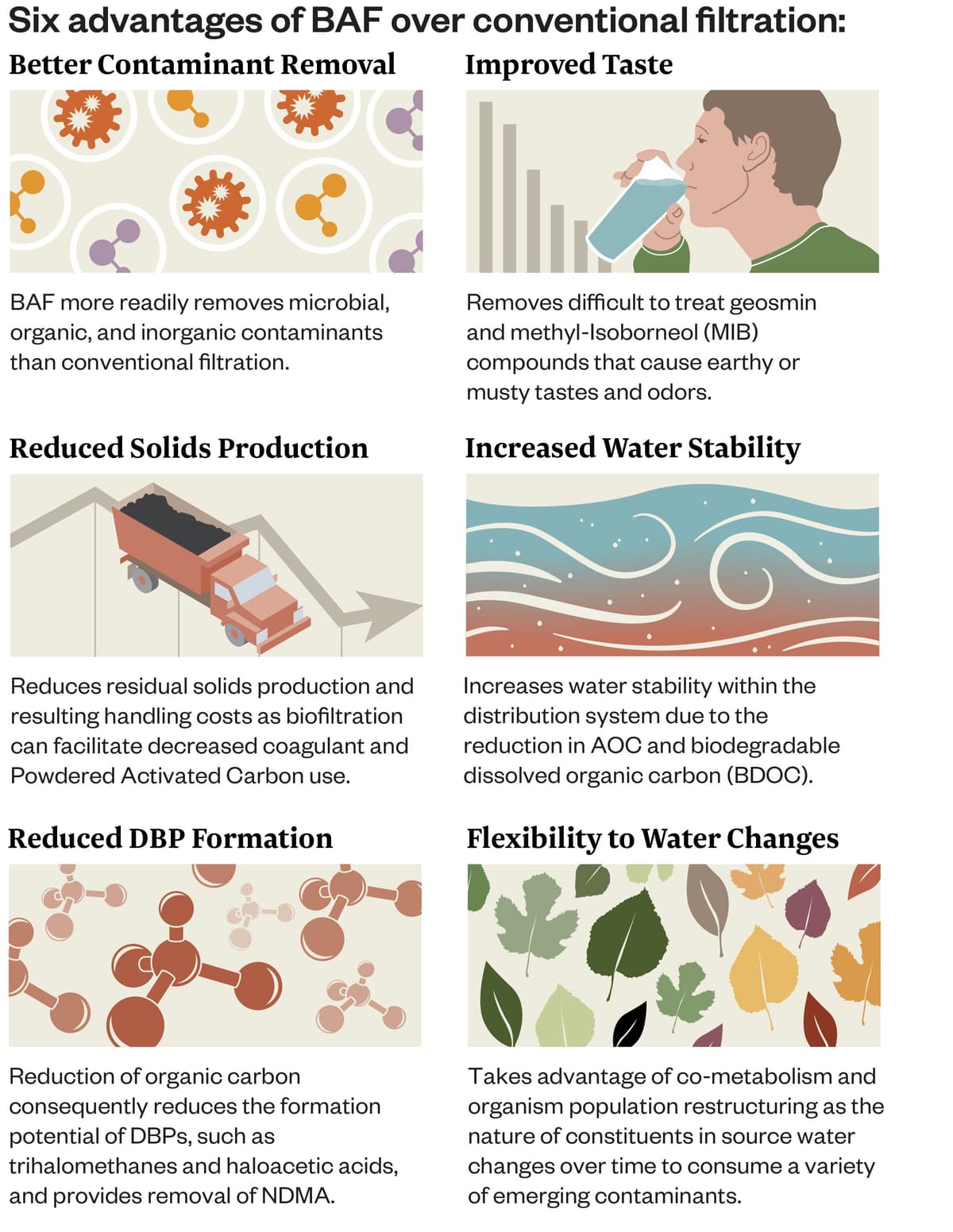 Characteristics and Components
Biologically active filters remove problematic contaminants by biodegradation, adsorption, and filtration of solids. By adding a preoxidant such as chlorine or ozone in front of the filter, then removing that oxidant upstream or in the top few inches of the filter, a natural biofilm can develop on the surfaces of filter media.
Challenges and Considerations
While biofiltration has many benefits and often produces a finished water that is safer and more aesthetically pleasing, there are some limitations that must be addressed by proper design and operations.
BAF in Water Treatment
Operators with certain challenges can often achieve major improvement with the proper operation of BAF.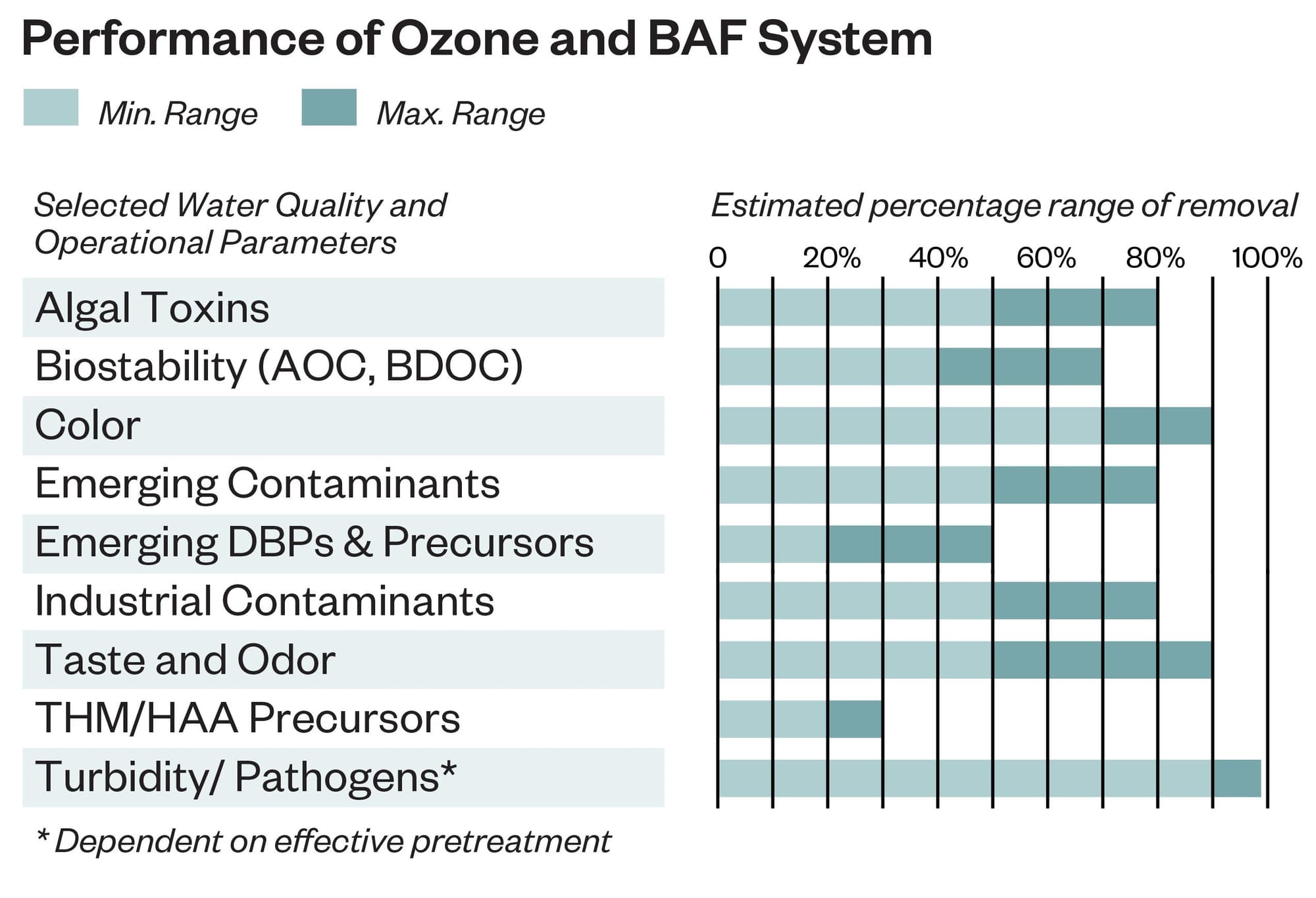 One of the more common biofiltration challenges we help clients address is that of reduced filter run times. Our consistent observation has been that warmer water temperature and/or higher nutrient concentrations will increase biological growth on the filters, producing hydraulic constraints. Techniques including nutrient balancing and the addition of mild disinfectants like hydrogen peroxide can improve run times, but better filter design or additional filters are needed to account for biological growth during warmer weather.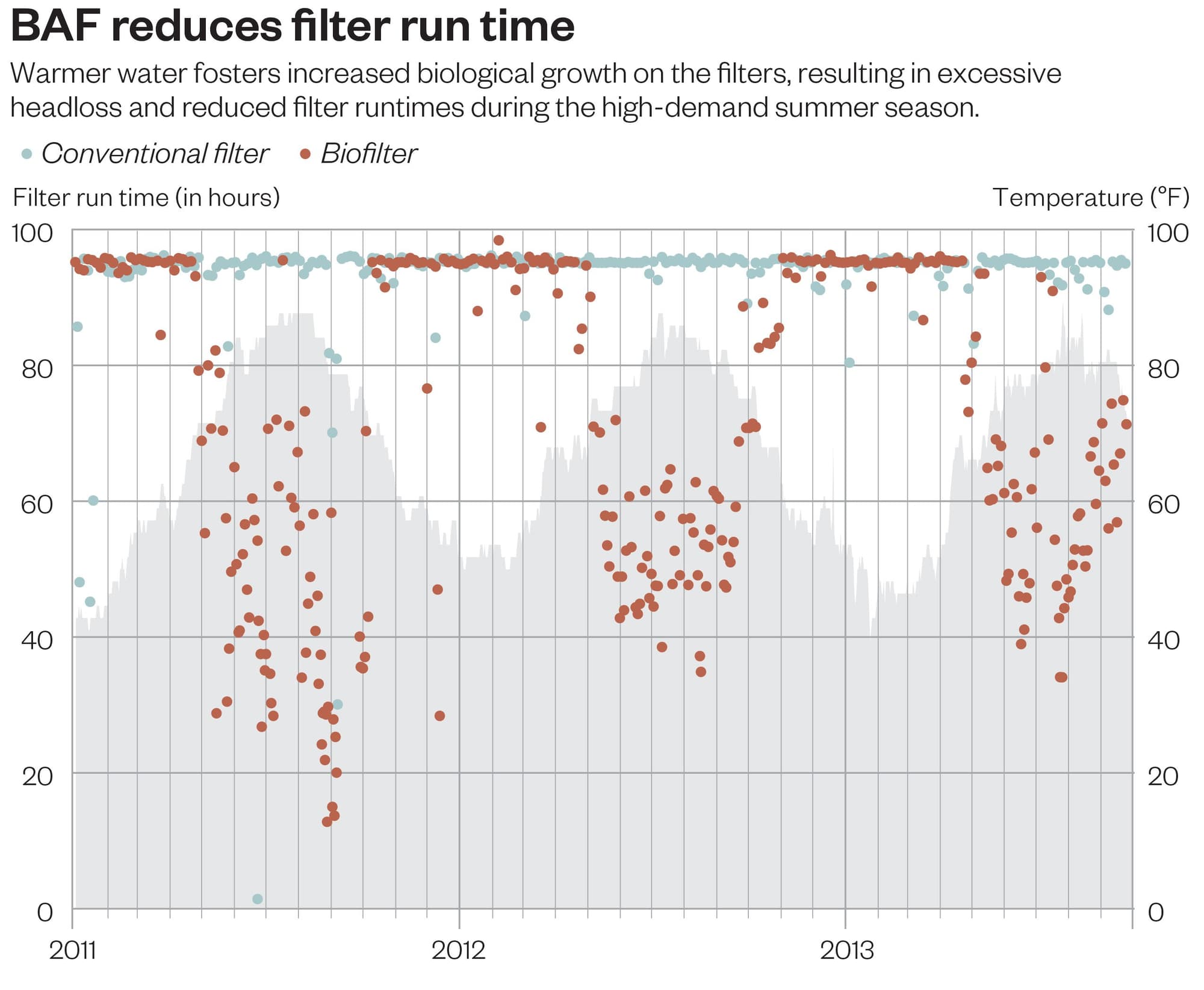 Other common challenges of BAF include "sloughing" of surplus biological material (after it grows very thick) from the filters and occasional periods of low-efficiency maganese removal. Each of these problems can be overcome with sound design and deliberate operation.

Considerations in Potable Reuse
BAF is an integral component to non-reverse osmosis membrane based DPR treatment systems. Biofiltration in conjunction with coagulation/flocculation/sedimentation serves as a combined barrier to pathogen removal and stabilizes water chemistry by removing readily biodegradable organic matter that is produced during ozonation. BAF also removes disinfection byproducts (DBPs) such as NDMA that are formed during ozonation and provides a low turbidity water for subsequent GAC treatment.
Sound design practices ensure that there are no unintended consequences such as underdrain plugging or excessively short filter runs. The design and operation of BAF systems for potable reuse vary depending on treatment goals and overall risk mitigation strategies. For example, in some cases BAF may be sized and operated primarily for nitrification or denitrification purposes rather than as a primary mechanism of turbidity removal. In other cases, BAF in conjunction with upstream coag/floc/sed may be a major part of overall pathogen reduction objectives. These roles must be clearly defined to ensure BAF meets the desired water quality goals.