Laura Saleeby Named a 2022-23 Winner of Miller Founders' Award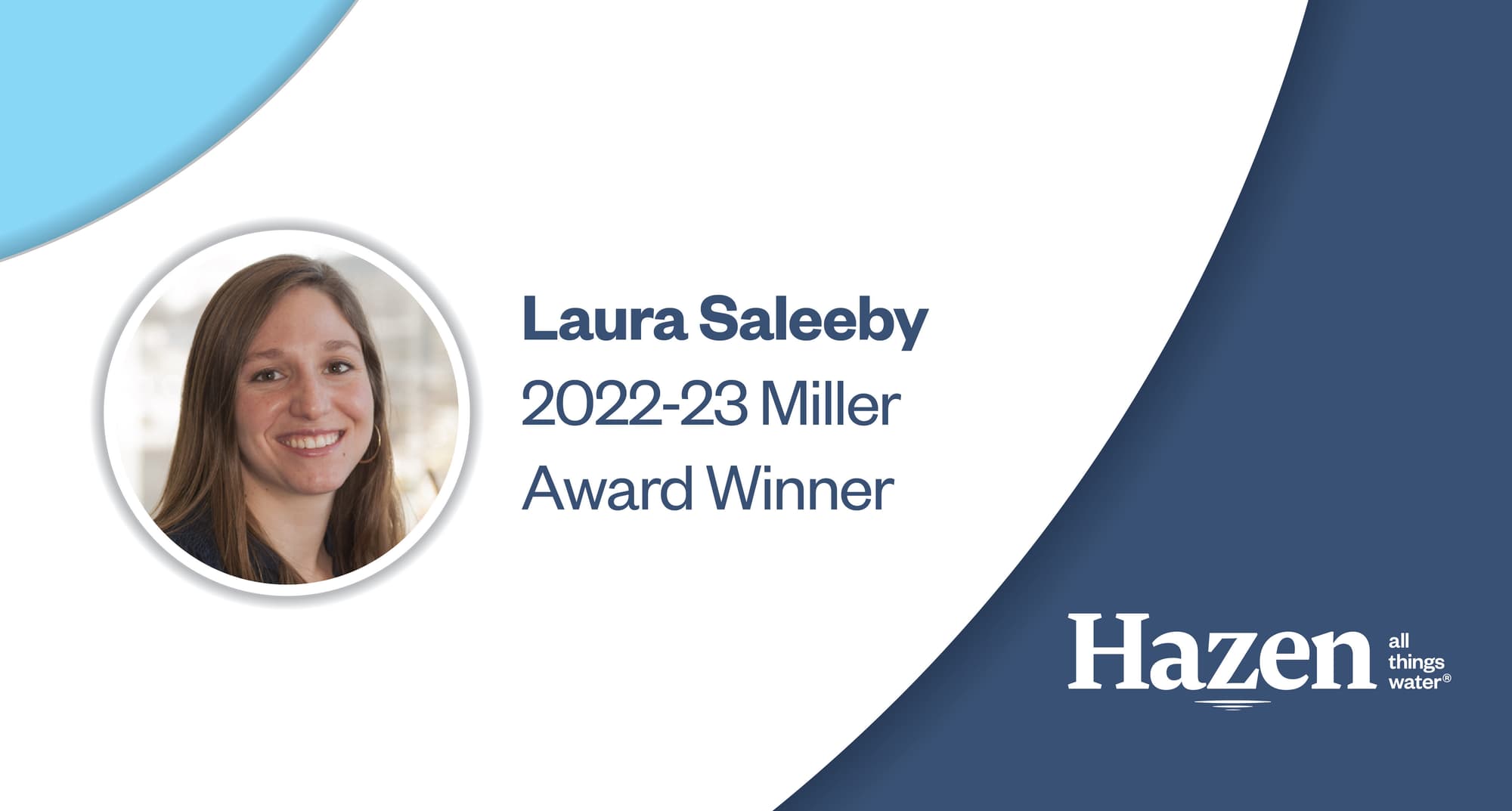 (RALEIGH, NC - June 12, 2023) - Hazen's Laura Saleeby was recently named a 2022-23 winner of Water For People's Kenneth J. Miller Founders' Award.
Since joining Hazen in 2017, Laura has been heavily involved in our Water For People (WFP) Committee, serving as committee co-chair for the last two years. Laura encourages Hazen staff to get involved at every level of the organization, supporting fundraising and awareness events including 5k runs and concerts from her local North Carolina AWWA chapter and coordinating internal Hazen events across the Firm. As co-chair, Laura was also instrumental in launching Hazen's payroll deduction donation program supporting WFP.

"Water For People is important to me because of the mission to provide access to clean water and sanitation services to 'Everyone Forever'," Laura explained. "My involvement allows me to contribute to solving the global water crisis, knowing that any effort or money I provide is leveraged to make a real difference in communities. It also allows me to build relationships and make connections with coworkers and other volunteers who wish to make a difference outside of our day-to-day jobs in the water industry."
Laura's top-notch organizational skills keep Hazen's WFP Committee running smoothly, and her energy and commitment are an inspiration for future WFP champions. Going forward, Laura hopes to influence Hazen's WFP Committee to attain new heights by hosting annual events for Hazen staff and creating an internal platform where people from different state chapters can exchange ideas and ways to get involved, encouraging each other along the way. "My goal is to make the Water For People Committee self-sustaining by getting Hazen staff increasingly involved and excited about the mission of the organization," she said. "I am lucky to have so many people at Hazen that inspire me with their Water For People support and accept this award knowing it is a group effort."
Water For People is an international nonprofit working across nine countries to bring safe water and sanitation to underserved populations. The Kenneth J. Miller Founders' Award was presented on June 6, 2023, during a virtual award ceremony to exceptional volunteers selected by WFP Committees and workplace giving partners for their consistent commitment to the organization's mission.

Learn more about Water For People and the organization's commitment to water for "Everyone Forever."