NYCDEP Newtown Creek Wastewater Treatment Plant Preliminary Treatment Upgrade
The largest of New York City's wastewater treatment plants, the Newtown Creek Wastewater Treatment Plant underwent a $5 billion upgrade to improve effluent quality and increase wet weather treatment capacity from 620 million gallons per day (mgd) to 700 mgd.
Hazen, as part of a Joint Venture, provided the City with program management, facility planning, design services, and operations assistance.
Project Outcomes and Benefits
Upgraded process has consistently exceeded permit requirements for 90% removal of Carbonaceous Biological Oxygen and Suspended Solids.
Extensive field sampling was performed to characterize influent wastewater characteristics and develop a calibrated BioWin model to optimize performance.
Process control automation reduced operational costs.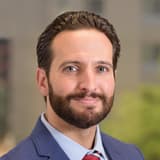 Bryan Atieh specializes in the man­age­ment and deliv­ery of waste­water infra­struc­ture projects.

Time and Money Saved
Project was completed 2 years ahead of schedule and the innovative design approach resulted in over $1 billion in overall savings.