Miami-Dade Wastewater High Level Disinfection Project
This program upgraded the South District Wastewater Secondary Treatment Plant to a 285-mgd HLD facility, creating the largest wastewater facility in the State of Florida that treats to stringent reclaimed water standards.
The improvements to the largest wastewater facility in the State of Florida were driven by a landmark Consent Decree stipulating that the facility must be completed within five years and also meet FDEP HLD reuse standards, as well as primary drinking water standards.
Hazen implemented an intensive project management program to meet the aggressive project schedule and ensure that the the County's goals were achieved quickly and completely.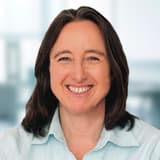 Trish Carney has significant experience in the planning, design, permitting, and construction management of conveyance and treatment systems.
Related Topics:
Project Outcomes and Benefits
Completed a comprehensive pilot program.

Developed an innovative filter system under-drain approach for reduced excavation, dewatering and formwork.

Delivered program ahead of schedule and under budget.
Project was the 2013 Florida Grand Conceptor Award winner from FICE.
Coordination is Critical
The intensive project management program, featuring 15 construction contracts along with close coordination with the FDEP and facility owner, allowed us to meet the aggressive project schedule.