Operational Tools to Keep Key Projects Moving
Utilities can leverage augmented reality, 360-degree image capture, and site mapping to overcome COVID-19 impacts
Ben Stanford PhD - Hazen and Sawyer
Last Modified Jan 25, 2023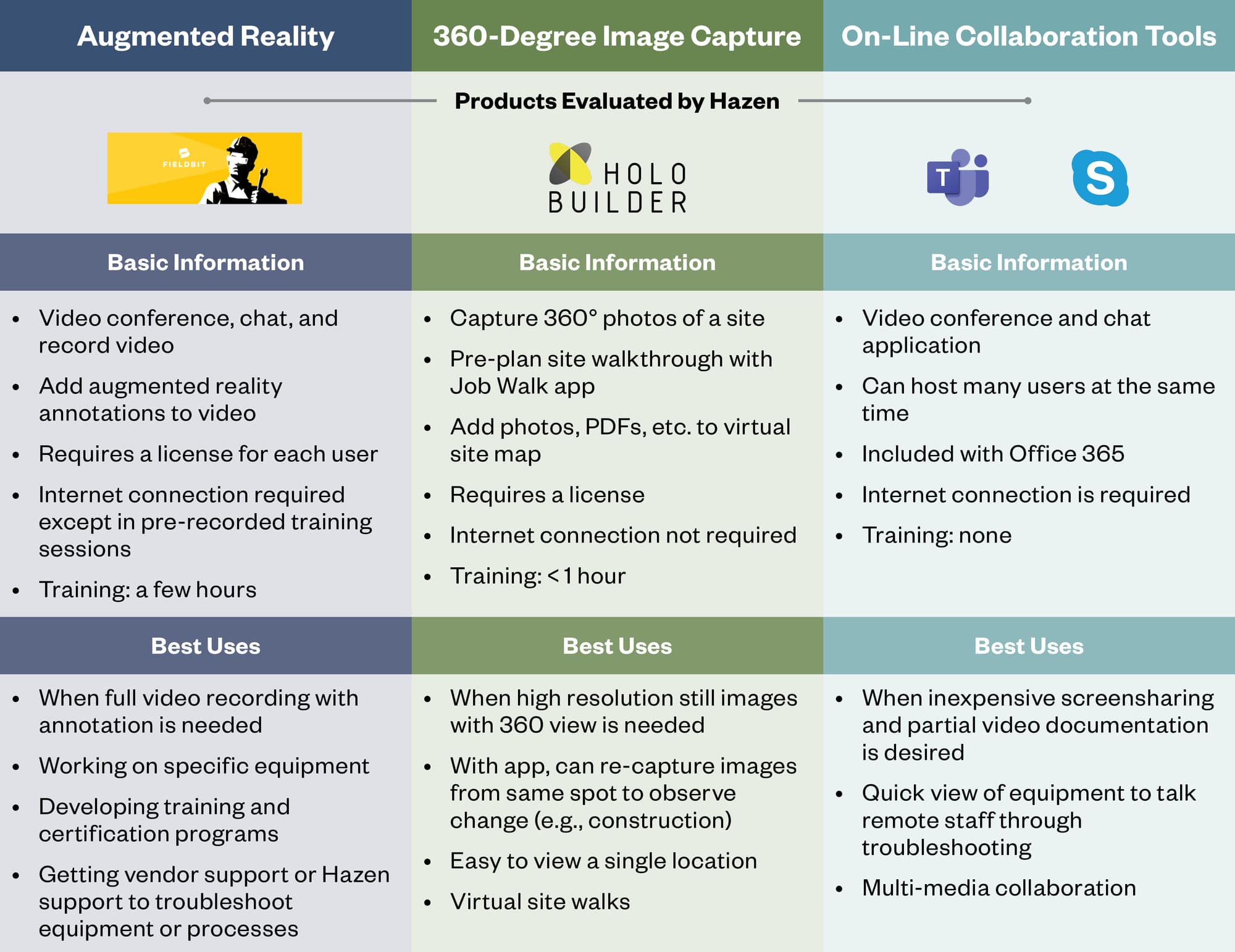 There is little doubt that the COVID-19 pandemic has changed the way that we view and use technology solutions in our everyday lives. On average, pandemics have occurred approximately once every 100 years over the past 2000 years and the last one to create the level of disruption observed today is the Spanish Flu of 1918. While other pandemics have had major impacts on human life and society in more recent times (e.g., HIV/AIDS with approximately 35 million dead worldwide), few happen with such severity and speed as to grind society to a halt within a few short weeks.
The water industry is tasked with being a front line, critical service to keep society running even when economic and social activity has slowed. From ensuring staff are healthy, safe, and able to work on system operation and maintenance to ensuring key projects continue as needed, all of us face a strain unlike any other we have experience in our lifetimes. Just as staff are being challenged with balancing the impacts of COVID-19 on themselves, their families, friends, and colleagues, the water and wastewater systems of this country and the world must continue to operate at the same degree of reliability and efficiency required for proper sanitation and hygiene.
With the COVID-19 situation we have seen an enormous increase in the use of on-line tools for collaboration, remote support, site visits, photo documentation, and even remote operation to keep our critical infrastructure working and reliable. At Hazen we have been evaluating such tools for several years and are now actively using those tools to support our staff and the water utilities who rely on us to provide engineering services. We are now actively using augmented reality (AR), 360-degree image capture and site mapping, native features to mobile devices (e.g., FaceTime), and Microsoft products such as Teams and Skype in various support scenarios. The remainder of this article provides an overview of each technology and where it is best suited for use during a crisis such as the one we are in today.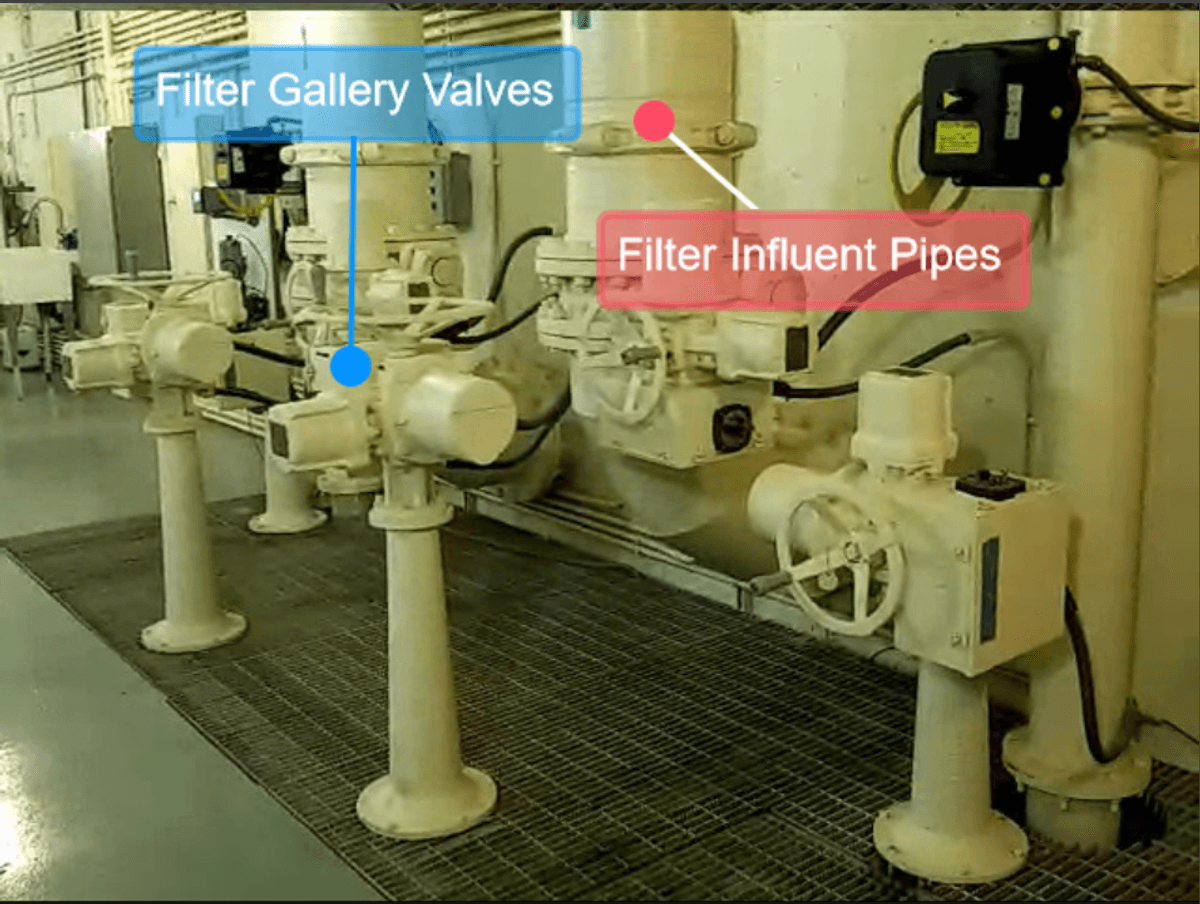 Augmented Reality (AR)
Augmented reality (different from virtual reality) allows for a person to receive enhanced details about a location or piece of equipment in real time through their smart phone, tablet, or smart glasses. Augmented reality has many applications including spatial orientation and tagging of key assets in a facility, collaboration and troubleshooting of equipment or process operations with remote teams, operator or technician training, compliance verification, and even real-time viewing of process performance data when looking at equipment. Several vendors of AR solutions are available and Hazen is currently testing Fieldbit for remote collaboration. The technology can be used to limit the number of people visiting a site, either through sending one Hazen employee to the location while others collaborate, record, and annotate from their home or office location, or by having a utility employee use an "instant ticket" whereby all Hazen staff remain off-site and the utility employee does the walkthrough or equipment troubleshooting using a one-time link sent to them via text message from Hazen. While the use of AR has been extremely helpful for remote collaboration, it does require a strong cell or internet signal for live video feed and voice connection. However, training material can be downloaded to the phone, tablet, or smart glasses ahead of time when being used in noisy environments or those without a wireless signal.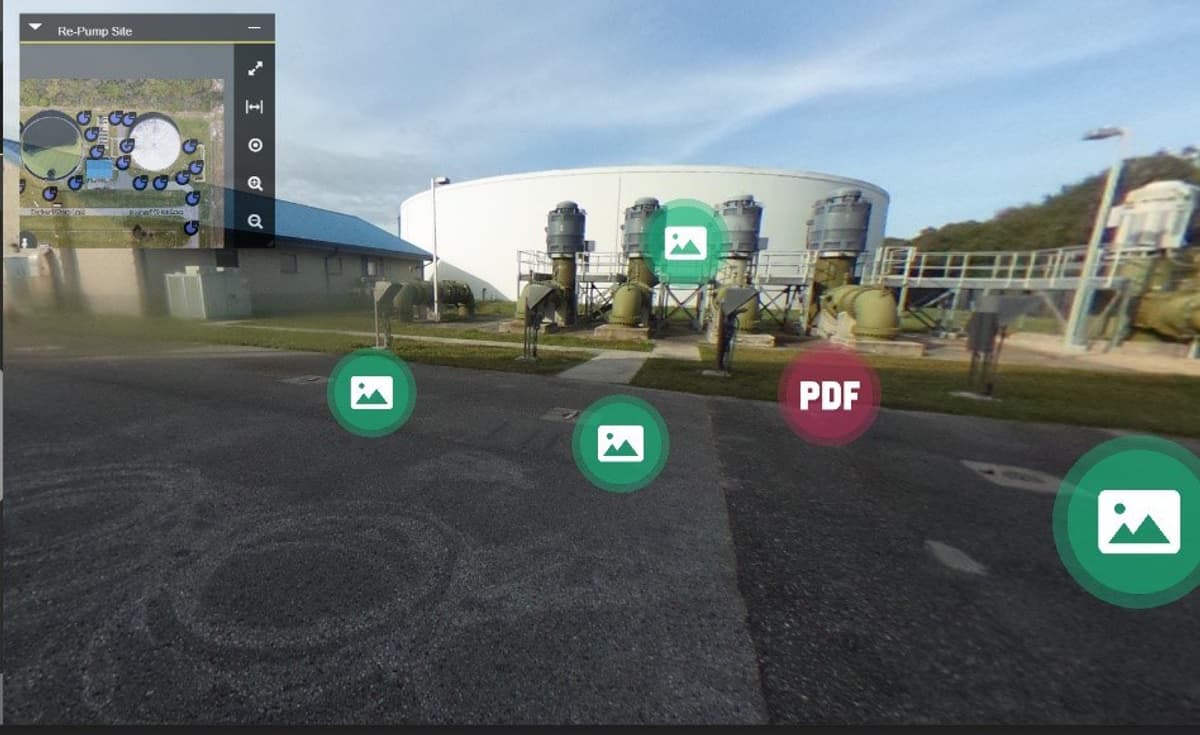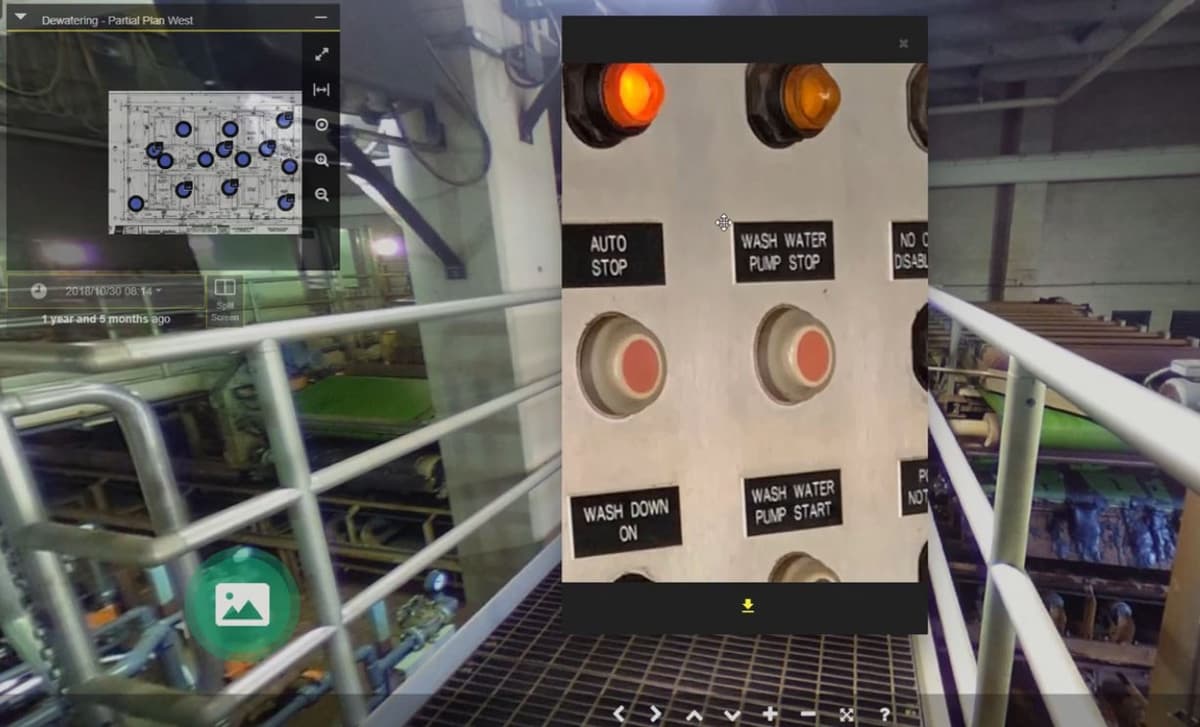 360-Degree Image Capture and Site Mapping
Using high-definition 360° cameras, site visits for inspections, planning, condition assessment, and time series overviews of construction progress can be completed quickly and with limited staff exposure on-site. Hazen has been using a product called HoloBuilder which enables users to create immersive 360° virtual tours that resemble Google Street View. Using HoloBuilder's Job Walk app, users can annotate 360° photos with relevant documents and close-up images of equipment (e.g., serial numbers, manufacturer tag plates, safety components, etc.). While there is some streaming capability through HoloBuilder, the application is best suited for sending one staff person to the field with a 360° camera, collecting the photos in a pre-planned sequence using Job Walk, and then sharing those photos with the project team when internet connectivity is available. Hazen has successfully been using HoloBuilder on dozens of projects and even linking information into GIS and asset management dashboards.
Microsoft Teams and Skype
The products available through Office365 such as Teams and Skype provide a great way for groups to collaborate at low cost and with very little training required. While both allow video feed, Teams uses multiple tools to facilitate collaboration including the ability to record video and audio meetings, whiteboard availability, live polling, notes storage, and file storage. With the Teams mobile app, one Hazen staff or utility employee can be present at a site location with any size group viewing recording and communicating throughout the visit. While in the chat session, remote staff view full screen video and can direct the person to move, zoom, or pan the camera as needed. However, the recorded version is low resolution and only provides a thumbnail of the actual video coverage. For quick collaboration and guidance with the ability to keep notes and records, Teams has excellent capability. However, for later review and use, the recorded files are of relatively low resolution and make it more difficult to review the small but important details at a site.
In short, there are several tools already available to most utilities that they can begin using immediately to support each other and to provide or obtain remote assistance. For more complex issues or tailored applications, specialized remote collaboration technology may be needed to provide the best support. Many of these are available at low cost and can provide a number of benefits to utilities now and in future crisis situations.

More COVID-19 resources